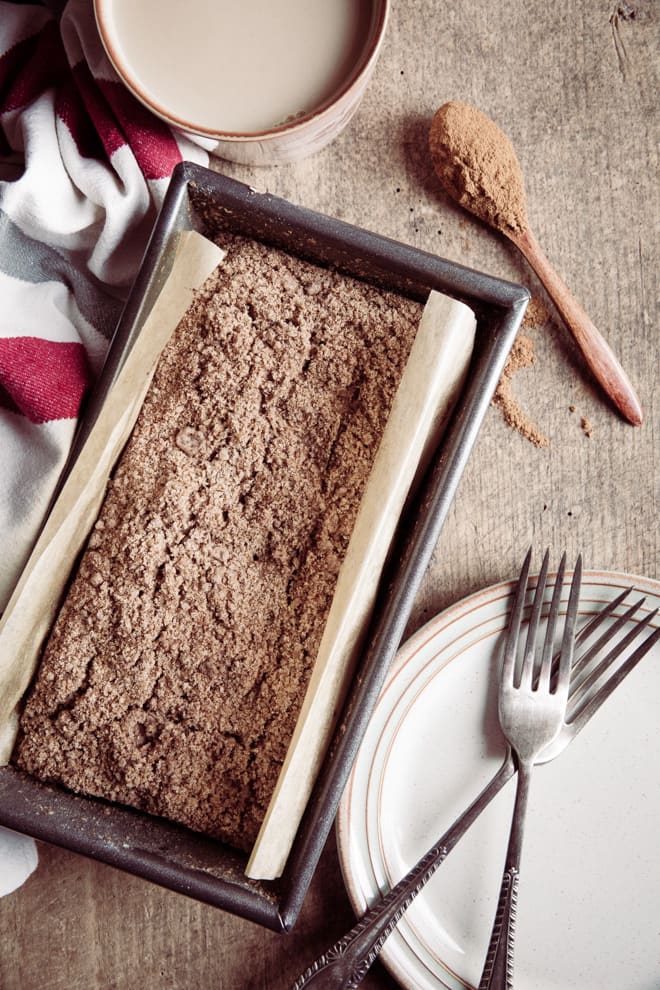 Posted in Recipes on 04.11.2017
Cinnamon Crumble Banana Bread
prep: 15 mins / cook: 60 mins / inactive: 0 mins / total: 1 hour 15 mins / quantity: 12 slices Print recipe?
Banana bread is one of those things – everyone has their own recipe.  Mine was always, ALWAYS, with shards of dark chocolate running through it and lots of malty dark brown sugar.  Mention to a certain someone that I'm making banana bread and there were 'ooohs' of anticipation and a little bit of drool.  The perfection that is banana bread is many-fold.  It's THE best way to use up over-ripe bananas.  It's SO easy to scale up and either make for a crowd or freeze for your own indulgent pleasure another time.  And it's THAT good it's been on afternoon tea menus at many of the hotels I used to work at.
So, should I go messing with perfection?  The problem with trying to eat as 'clean' as you can as often as you can is that certain 'indulgences' aren't even on your radar anymore.  But one thing Phil and I have found – and this may be different for other people – if we don't have those indulgences from time to time we're likely to get fed up and over-binge on crap.
The reason we started this food blog was born out of our trying to get healthier.  We're not getting any younger – anyone else finding that??!  Joints are starting to creak and Phil was diagnosed with Type 2 diabetes probably because <ahem> he married a pastry chef who LOVES to cook.
So I've been on a mission to try and make all those indulgences that little bit healthier.  No you still shouldn't eat a whole banana bread all to yourself (nope, never did that).  But a slice of something with only wholemeal flour, natural sugars and no butter is sometimes all you need to satisfy those cake cravings!
And then rather than just plain 'ol banana bread …
… how about a cinnamon crumble topping?
You do have to push the crumble topping into the cake batter so that it doesn't just fall off once it's cooked and you're trying to slice it.  Made that mistake the first time .. oh dear, had to make another banana bread.
We'd love to hear if you make this – leave us a comment if you've tried this or any of our other recipes ❤
If you make this recipe or any of the recipes from The Cook & Him we'd LOVE to see! Just snap a picture and share it on Instagram using #thecookandhim and tagging @thecookandhim in the photo itself (as this guarantees we'll see your picture!
)
And don't forget to follow us on Instagram , Facebook or Twitter for even more recipe inspiration and chat, competitions, behind the scenes and so much more!
Cinnamon Crumble Banana Bread
prep: 15 mins / cook: 60 mins / inactive: 0 mins / total: 1 hour 15 mins / quantity: 12 slices
Ingredients
3 large ripe bananas
2 eggs
½ cup natural 0% fat plain yoghurt
¼ cup coconut sugar
¼ cup maple syrup
1 tsp vanilla extract
2 cups wholemeal flour
1 tsp baking soda
½ tsp baking powder
Crumble topping
1/2 cup wholemeal flour
1 very heaped teaspoon ground cinnamon
1/4 cup coconut oil
1 tblsp coconut sugar
Instructions
Preheat the oven to 170 Fan / 190 C / 375 F / Gas 5.
Using a 3 x 9 inch loaf tin, grease and flour all the insides then lay a piece of greaseproof paper across the middle and up the longer sides, overhanging the sides slightly – this makes it easier to release and lift the cake out!
Peel the bananas and in a large bowl mash with a fork or potato masher. Crack in the 2 eggs and give a quick whisk with the fork
Add the yoghurt, coconut sugar, maple syrup and vanilla and give another quick whisk with the fork till combined
Add the flour, baking soda, baking powder and, using a spatula, stir this all together then tip into the prepared tin
For the crumble topping put the wholemeal flour and cinnamon into a medium bowl then add the coconut oil and 'rub in' using the tips of your fingers.  You want to incorporate the oil into the flour so that no lumps of oil remain.  Then stir in the sugar
Sprinkle this evenly over the top of the batter then lightly push down so the crumble is just sitting in the batter rather than resting on top.  This will help stop it falling off when you cut the cake!
Bake for 1 hour - 1 hour 15 minutes or until a skewer inserted in the middle comes out clean. Leave in the tin for 10 minutes before lifting out and cooling on a wire rack.
Notes
While, like most cake, this is best eaten fresh it will keep for a few days - once cooled, store the cake uncut in an airtight container for 3-4 days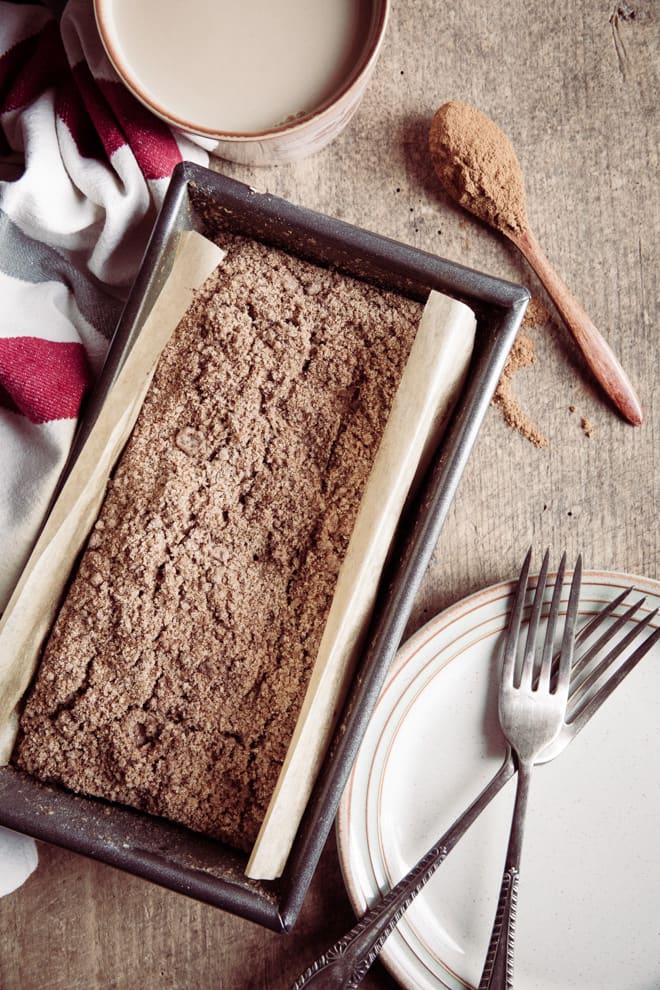 Hello and welcome to The Cook & Him.
We are Sam (The Cook), Phil (Him) and our little dog Nooch. What started with a plan to shed a few pounds back in 2016, soon became obvious that eating healthy doesn't have to be bland and boring.
So, combining Sam's 15 years of experience working within Michelin starred restaurants and our love for deliciously healthy food, we're creating recipes for you to make and enjoy. We've added our own unique spin on traditional and contemporary vegetarian and vegan recipes that keep you (and your pets!) healthy and full.  And we make sure they just work.
All things autumn - warming soups, savoury bakes and delicious sweet treats!
and I would like to see...
Or search for a recipe or post by keyword