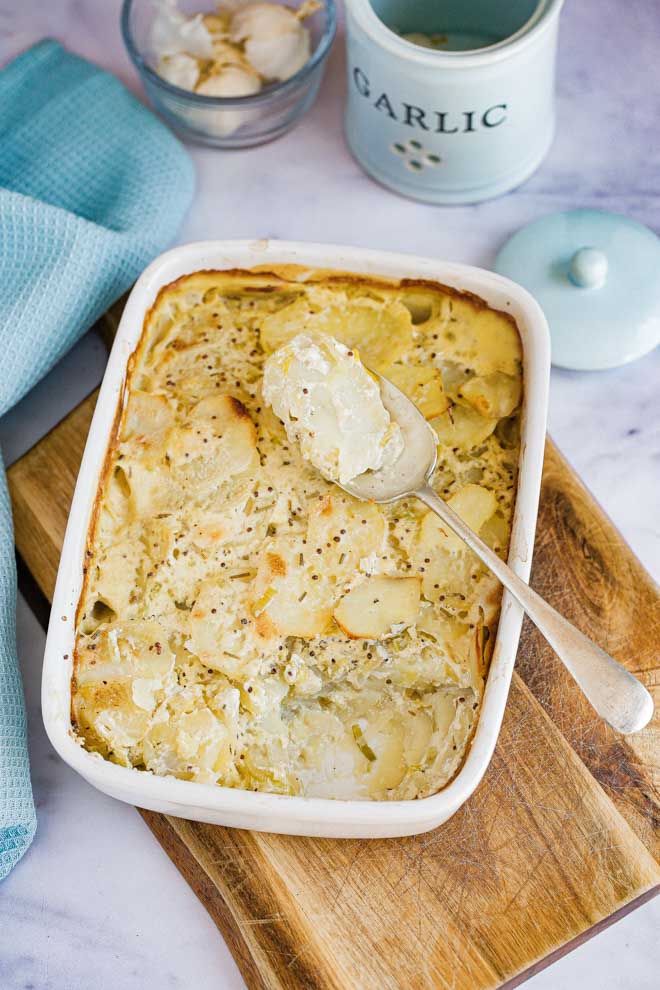 Posted in Recipes on 07.06.2021
Dauphinoise Potatoes with Leeks and Rosemary
prep: 20 mins / cook: 1 hour 20 mins / inactive: 0 mins / total: 1 hour 40 mins / quantity: 4 - 6 portions Print recipe?
Layers of leek and potato with a rich garlic, rosemary and mustard cream sauce takes these vegan dauphinoise from delicious to extraordinary! So simple to make and so satisfying to eat!
Dauphinoise has always been one of my all time very favourite dishes.  It's soft, creamy, garlicky layers and crisp, almost buttery, top is a thing of legend.  It was one of my dad's favourites too.  So this is my vegan homage to my Dad and all things that make eating so pleasurable!
I tried making vegan dauphinoise quite a while back with vegan milk and it was ok.  Certainly not the rich, creamy dish I remember from my non-vegan days.  It was a bit lacking.  And a bit too watery.  But now we have vegan cream and it's wonderful!  I use both Alpro soy single cream and Elmlea plant double cream for all sorts – both sweet and savoury vegan recipes.  They make a great quick pasta sauce or creamy curry.  And of course, work perfectly in vegan dauphinoise!
Let's talk ingredients!
Potato purists might say you have to use a certain type of potato for the best dauphinoise.  I've recently been buying perfectly imperfect veggies – carrots, parsnips, berries for smoothies and potatoes.  There's nothing wrong with them flavour wise, they're just not all perfectly symmetrical.  And that's fine by us.
A traditional dauphinoise doesn't usually have leeks in it either.  But I had a spare leek in the fridge and thought I'd try it in a dauphinoise.  Worked a treat!  Leeks are a milder flavour than onions and baked in a dauphinoise they become creamy, rich and almost buttery layered between the potatoes.
I've also added mustard, rosemary and nutritional yeast to the cream mixture.  Just because I love them and wanted to bring even more flavour to the already wonderful thing that is dauphinoise potatoes.
Random true story – one of our friends has a sister that thought this dish was called Dolphin Nose Potatoes.
How to make delicious vegan dauphinoise potatoes:
I've always made dauphinoise by warming the cream with the garlic.  Bring the cream and garlic to a gentle boil, turn off the heat, whisk in the mustard, nutritional yeast, rosemary and plenty of salt and pepper.  Leave those flavours to infuse together while you prepare the leeks and potatoes.
Peel the potatoes and finely slice each one.  You can do this on a mandolin or by hand.  It's important that they're not too thick but just as important is that they're all roughly the same thickness.  This will help with even cooking.
Slice the leeks and thoroughly wash.  Lots of bits of grit and dirt gets trapped in the layers of leeks.  No-one wants a crunchy bit of dirt in their soft and creamy potatoes!
Place a thick layer of potatoes to cover the bottom of a baking dish.  Sprinkle over enough leeks to cover the potatoes.  Repeat these layers until you've used up all the leeks and potatoes, ending with a top layer of potatoes.
Give the cream mixture another whisk.  Then pour it over the potatoes, making sure to scrape any bits of garlic out of the pan.  Cover the baking dish with foil and bake in a preheated 180 fan oven for 1 hour.  Pro tip:  lightly grease the foil before placing onto the baking dish – this will help prevent the potatoes from sticking when you remove the foil!
After 1 hour remove the foil.  Then return to the oven for a further 15-20 minutes until the top is crispy, golden and bubbling.
Is it wrong that I can sit and eat this straight out of the dish?  Not as a side but as the main part of the meal.  Honestly, I'm so glad vegan cream is a thing.  Nothing beats a bubbling dish of creamy, garlicky potatoes.  Except maybe cake.  Or cookies.  Or brownies.  Or bread.  Any bread.  Dauphinoise sandwich?
Looking for more ways to make veggie side dishes the star of the show?   Try these:
Honey Roast Root Veggies with Lemon and Thyme
Vegan Cauliflower Cheese with Crispy Crumb Topping
I'd also love to hear from you if you make this Vegan Dauphinoise with Leeks and Rosemary! Just leave a comment as it's so helpful and I love to hear how the recipe worked out for you! Thank you so much!
Don't forget to follow us on YouTube, Facebook or Pinterest for even more recipe inspiration and chat, competitions, behind the scenes and so much more!
Dauphinoise Potatoes with Leeks and Rosemary
prep: 20 mins / cook: 1 hour 20 mins / inactive: 0 mins / total: 1 hour 40 mins / quantity: 4 - 6 portions
Ingredients
1 + 1/2 cups (375ml) vegan cream (single or double)
4-5 large cloves garlic – peeled and crushed
1 heaped tsp wholegrain mustard
1 tsp dried rosemary
3 tblsp nutritional yeast
good pinch each of salt and pepper
3-4 large potatoes
1 medium leek
Baking dish 10 x 7 inches (26 x 18 cm)
Instructions
Put the cream and crushed garlic in a saucepan, gently bring to the boil then turn off the heat
Whisk in the mustard, rosemary, nutritional yeast, salt and pepper and set aside
Preheat your oven to 180 Fan / 200 C / 400 F / Gas 6
Slice the leek and wash to remove any bits of dirt in the layers. Drain thoroughly
Peel the potatoes and slice into fairly thin, but even, slices
Place a layer of potatoes into the baking dish to thickly cover the bottom
Cover with some of the leeks then repeat the layers until you've used up all the veggies, ending in a layer of potatoes
Give the cream a quick whisk then pour over the potatoes, scraping out any bits of garlic left in the pan
Lightly oil one side of a piece of foil then lay the oiled side down to cover the potatoes. Crimp the foil round the edges so it forms a lid over the potatoes
Bake for 1 hour then carefully remove the foil and return to the oven for another 15-20 minutes until the dauphinoise is crispy, golden and bubbling
Notes
Chill any leftovers and reheat thoroughly
Single vegan cream works great in this recipe, vegan double cream will give a slightly richer, creamier finished dish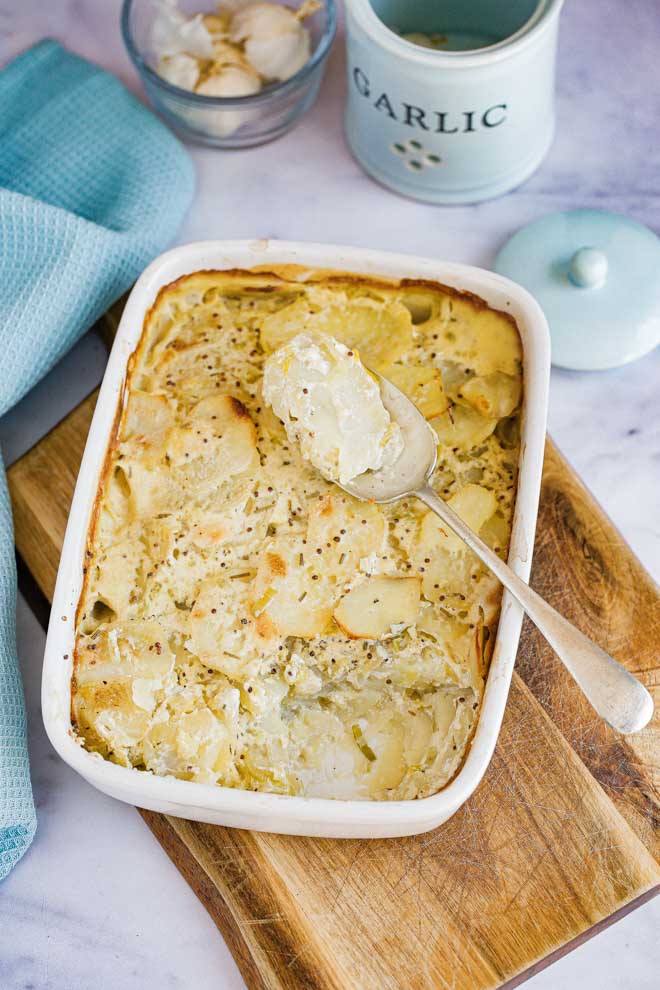 Hello and welcome to The Cook & Him.
We are Sam (The Cook), Phil (Him) and our little dog Nooch. What started with a plan to shed a few pounds back in 2016, soon became obvious that eating healthy doesn't have to be bland and boring.
So, combining Sam's 15 years of experience working within Michelin starred restaurants and our love for deliciously healthy food, we're creating recipes for you to make and enjoy. We've added our own unique spin on traditional and contemporary vegetarian and vegan recipes that keep you (and your pets!) healthy and full.  And we make sure they just work.
All things autumn - warming soups, savoury bakes and delicious sweet treats!
and I would like to see...
Or search for a recipe or post by keyword