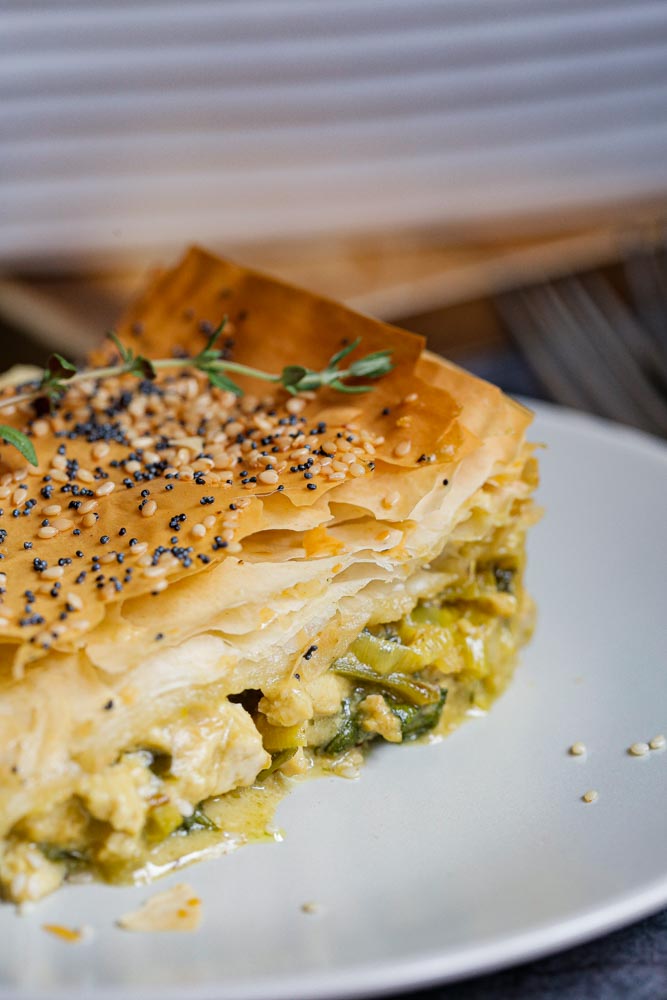 Posted in Recipes on 11.10.2021
Filo Pie with Leeks and Spinach
prep: 20 mins / cook: 40 mins / inactive: 0 mins / total: 60 mins / quantity: 4 servings Print recipe?
Crisp, ruffled pastry tops this filo pie. Packed with creamy leeks, spinach, black garlic and tofu as well as rich, hearty flavours!
This filo pie is a great vegan roast dinner alternative, is easy to prepare and can be served with anything from roast veggies to a simple seasonal salad for a truly versatile meal!  And as we're approaching the season of merriment this pie would also make a great vegan Christmas meal.  It can be prepared in advance and baked or reheated on the day.
I really do try to make my vegan recipes accessible to all.  I try to limit the strange ingredients so hopefully people will be encouraged to try them.  Especially if you're a new vegan or need to feed visiting vegans.  And if you aren't vegan but are trying to cut down on your animal consumption I don't want you to be put off by something complicated or has things you've never heard of.
Honestly, I question whether a lot of things Phil and I eat would even be identifiable as vegan if you didn't know.  Especially cake.  Oh and the vegan burgers and sausages available now.  Great stuff.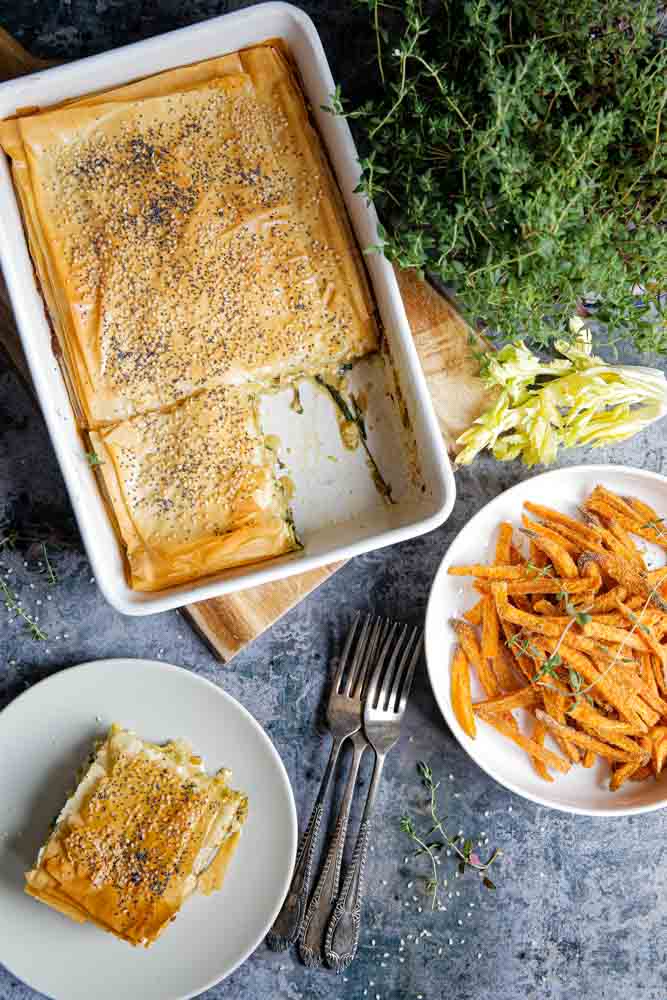 Tofu or not tofu …
If you have an aversion to tofu for whatever reason you can substitute with something like lentils or chickpeas or even the vegan 'chicken' pieces or mince you can buy now.  Not only is this filo versatile it's easily adaptable.  I know some people don't like the texture of tofu but in this recipe it's squished up and mixed with all the other ingredients to give it flavour.  On its own tofu is about the blandest thing you can eat but it is very good at soaking up all the flavour around it.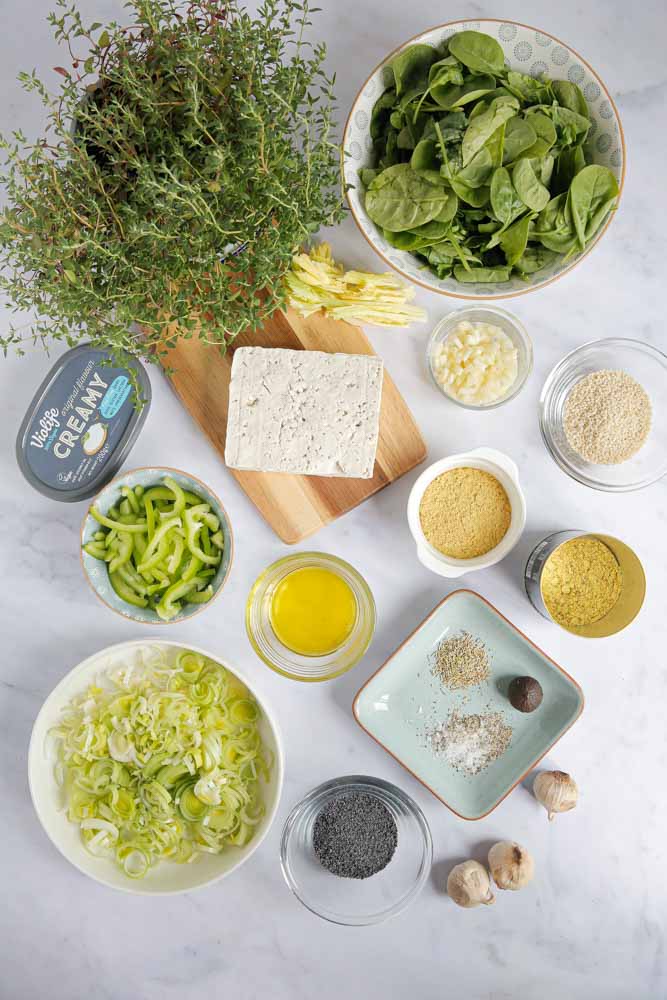 And this vegan pie is packed with flavour!
If you've never tried black garlic, welcome to your new favourite ingredient.  It has THE richest umami and molasses smell.  It might seem extravagant to use a whole clove in just one pie but trust me,  it's not as harsh in flavour as normal garlic and can even be eaten raw.
There's also lots of veggies, herbs and some vegan cream cheese packed into this pie.  If you have a stove to oven pan the whole thing can be made and baked in one dish.  We recently invested in some Tefal Ingenio stackable pans.  Living in a fifth wheel caravan means space is at a relative premium.  These pans have a detachable handle so they stack inside each other.  And because the handle can be removed they can go from stove to oven!  My only regret is not getting them sooner – we had one of those pan drawers where everything was stacked iggledy piggledy and getting one pan out usually involved drama and clattering.  Know what I mean?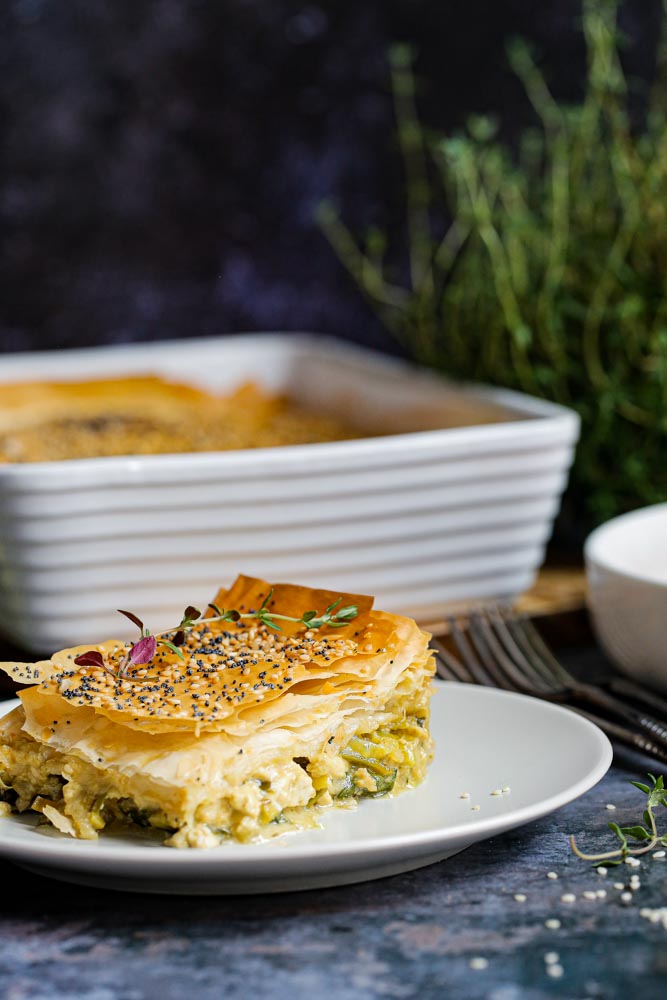 Looking for more easy vegan meal ideas like this filo pie?  Try these:
Lemon and Herb Orzo with Roasted Tomatoes – I make this almost every week as it's just as delicious for leftovers!
Instant Pot Mac and Cheese – Phil's favourite to make as it takes just 5 minutes to prepare and 4 minutes to cook!
Creamy Broccoli Soup with Toasted Cheese Sandwiches – perfect rainy day comfort food.  Bring on the hygge!
Chickpea and Potato Curry – another one pan meal packed with flavour.
I'd also love to hear from you if you make this vegan Filo Pie with Leeks and Spinach! Just leave a comment as it's so helpful and I love to hear how the recipe worked out for you! Thank you so much!
Don't forget to follow us on YouTube, Facebook or Pinterest for even more recipe inspiration and chat, competitions, behind the scenes and so much more!
Filo Pie with Leeks and Spinach
prep: 20 mins / cook: 40 mins / inactive: 0 mins / total: 60 mins / quantity: 4 servings
Ingredients
1 tblsp olive oil
1 bell pepper – sliced
1 leek – sliced and washed
1 stick celery – diced
2 whole bulbs black garlic – peeled and roughly diced
3 sprigs fresh rosemary – needles only (or sub with 1 tsp dried rosemary)
few sprigs fresh thyme – leaves only (or sub with 1 tsp dried thyme)
4 tblsp nutritional yeast
1 block firm tofu – drained
2 tsp bouillon or 2 vegetable stock cubes
3 tblsp vegan cream cheese
2 handfuls baby spinach
1 tsp salt
few grind of black pepper
10 sheets filo pastry
1/2 cup (115g) vegan butter – melted
sesame seeds and poppy seeds (optional)
Instructions
Preheat your oven to 180 Fan / 200 C / 400 F / Gas 6
Heat the oil in a large pan and saute the sliced pepper for a 2 minutes until starting to soften but not colour
Add the leeks, celery and thyme and cook for a further couple of minutes
Stir in the rosemary, black garlic and nutritional yeast
Mash the drained tofu with a fork until it looks like white scrambled eggs then stir that into the pan with the bouillon, salt and pepper
Stir in the cream cheese until it's melted
Stir in the spinach until it starts to wilt then tip the pie filling into a baking dish
Lay 5 sheets of filo into the bottom of a lightly oiled baking dish, brushing each layer of pastry with melted butter
Tip on the pie filling and spread out to cover the layers of pastry
Layer the remaining pastry, again each sheet brushed with melted butter then sprinkle the sesame and poppy seeds across the final layer
Bake the pie for 40-45 minutes until the pastry is crisp and golden
Serve immediately or cool and keep in the fridge, reheating until piping hot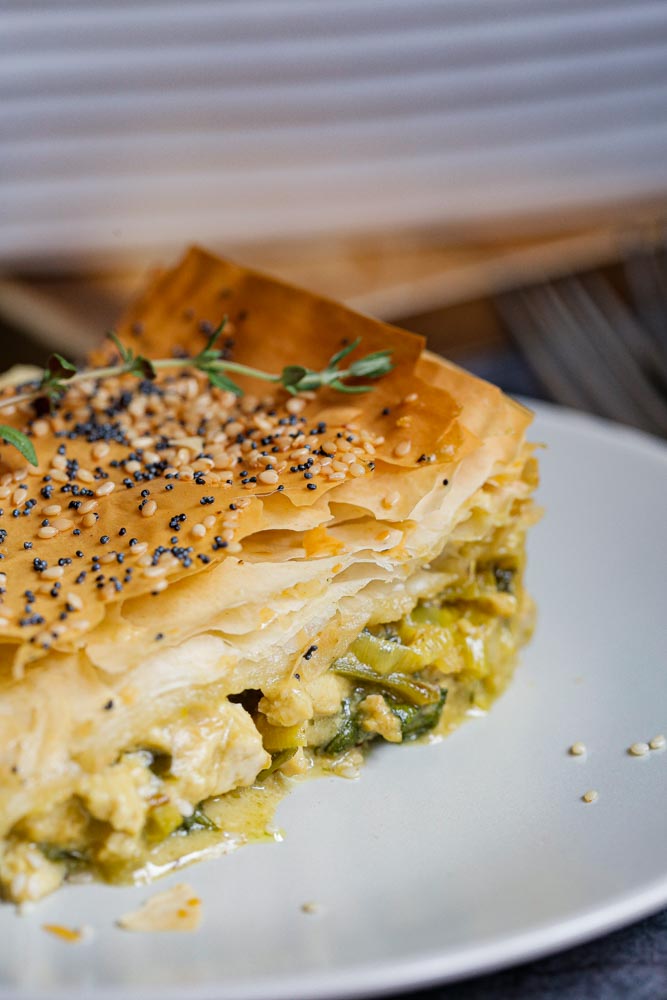 Hello and welcome to The Cook & Him.
We are Sam (The Cook), Phil (Him) and our little dog Nooch. What started with a plan to shed a few pounds back in 2016, soon became obvious that eating healthy doesn't have to be bland and boring.
So, combining Sam's 15 years of experience working within Michelin starred restaurants and our love for deliciously healthy food, we're creating recipes for you to make and enjoy. We've added our own unique spin on traditional and contemporary vegetarian and vegan recipes that keep you (and your pets!) healthy and full.  And we make sure they just work.
All things autumn - warming soups, savoury bakes and delicious sweet treats!
and I would like to see...
Or search for a recipe or post by keyword