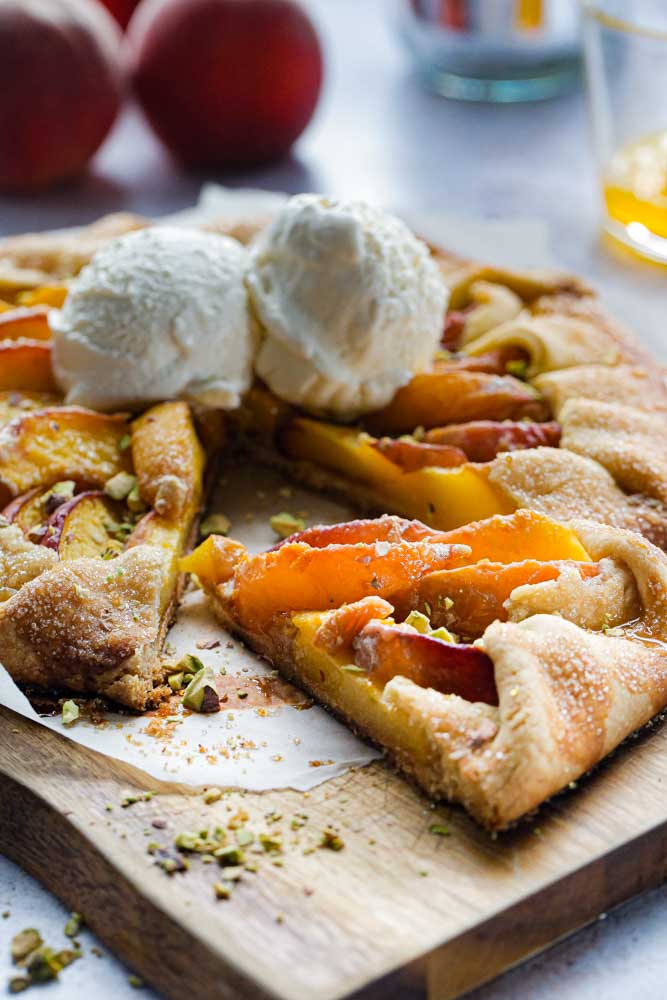 Posted in Recipes on 13.08.2021
Peach Tart with Orange and Cardamom Drizzle
prep: 20 mins / cook: 45 mins / inactive: 30 mins / total: 1 hour 35 mins / quantity: 6-8 slices Print recipe?
This easy, vegan peach tart is summer in every bite! Super simple homemade pastry brimming with fresh, juicy peaches served warm with a sweet orange and cardamom drizzle.
The first time I made this peach tart Phil was marshalling at Silverstone.  I had the day in the van to myself so thought I'd take advantage of the extra space ( … with 2 dogs .. pah!) and make something deliciously summery and light.  Do you love peaches?  I can eat them any which way – fresh, tinned, roasted, poached, griddled and on and on.  And I've nearly always got a bowl of peaches every week throughout summer.  Anyway, I made the tart, got it photographed then promptly ate half of it to myself in one afternoon.  Then when Phil came home the next day he ate the other half for breakfast.  Yep, it's THAT good.
Making a tart without a tin:
Because this is 'free form' tart it completely does away with any of the faff involved with lining a tart tin, baking it blind and worrying about shrinkage.  In fact with this form of tart, often called a galette, the more rustic it looks the better!  No uniform edges that have been perfectly crimped.  Instead it's uneven, crinkled edges shows it's been hand made with love.  And there's nothing better than home made as far as I'm concerned.
Don't be put off with making your own pastry!
If you've got a food processor it's even easier than going to the shop, finding the pastry, paying for it then schlepping it home!  Not that it's hard if you make it by literally by hand, but a food processor completely takes out any pastry making stress you might have.
How to make a deliciously summery peach tart:
Start with the pastry.  Simply put the flour, salt, sugar and vegan butter into a food processor and whizz until no lumps of butter remain and you have something that looks like sandy breadcrumbs.
Add enough water to make a soft but not sticky dough.  Add small amounts of water at a time, starting with 1-2 tablespoons.  A lot of factors affect how flour absorbs water – age of the flour, humidity, type of flour etc.  So the exact amount of water you'll need is not an exact science!  Once you have a soft dough, wrap in parchment or cling film and put in the fridge for half an hour.  You can make the pastry much further in advance of needing it.  Or even make a double batch and freeze half for an even quicker tart another day!
Thickly slice the peaches.  Remove and discard the stone then put the slices into a large bowl with the orange zest, sugar and cornflour and toss to coat the peaches.
Unwrap the pastry.  Then roll out on a floured surface, turning the dough frequently until you have a circle roughly 38 cm (15 inches) in diameter.  If, like me, your circle is a little square simply trim the dough to make more of a circle.  Dogs and birds love the cooked pastry trimmings!
Lay the pastry onto a large piece of parchment then put that onto a large baking tray.  If the pastry is larger than the tray don't worry as you'll be folding it over!
Fan the peaches into concentric circles about 8 cm (3 inches) in from the edge of the pastry.  Use up all the slices, overlapping them slightly so there's no gaps.
Fold the pastry up and over the outer circle of peaches, tucking it over itself until you've gone round the whole peach tart.  Then brush all the exposed pieces of pastry with a simple glaze made from a teaspoon each of plant milk and agave or maple syrup.  I love the sweet, sparkling crunch that comes from then sprinkling demerara sugar over the glazed bits but you could also use flaked almonds, nibbed sugar or even leave plain.
Bake until the peaches are soft and the pastry is lovely and golden.  This was the first time I'd used  the oven in the caravan for something other than warming up naan bread and I gotta tell you, STEEP learning curve.  There were definitely NO soggy bottoms.  I went from a lovely electric fan oven with all sorts of settings to a one shelf gas oven with 2 settings.  On and off.
While it's baking make the drizzle.  You might think this is gilding the lily a bit but I've been a long time fan of cardamom in sweet things and the sticky orangey drizzle just adds that intangible something to the whole thing.  All you need to do is gently bubble the drizzle ingredients together, stirring from time to time until it's reduced a little.  It thickens on cooling.
Serve the tart warm (so give it about 5 minutes out of the oven) with plenty of drizzle and lashings of vanilla ice cream!  A sprinkle of chopped pistachios doesn't hurt either.
Looking for more easy vegan summer desserts?  Try these …
Vegan Rhubarb and Strawberry Fool
Rum and Raisin Ice Cream with Grilled Pineapple
I'd also love to hear from you if you make this summery Peach Tart! Just leave a comment as it's so helpful and I love to hear how the recipe worked out for you! Thank you so much!
Don't forget to follow us on YouTube, Facebook or Pinterest for even more recipe inspiration and chat, competitions, behind the scenes and so much more!
Peach Tart with Orange and Cardamom Drizzle
prep: 20 mins / cook: 45 mins / inactive: 30 mins / total: 1 hour 35 mins / quantity: 6-8 slices
Ingredients
Pastry:
1 + 1/2 cups (200g) plain flour
1/2 cup (120g) vegan butter
1/2 tsp salt
3-5 tblsp ice cold water
2 tblsp caster sugar
Filling:
3 large fresh peaches
1/2 cup (30g) cornflour
1/4 cup (60g) light soft brown sugar
finely grated zest of 1 orange
Glaze:
1 tsp plant milk
1 tsp agave or maple syrup
1 tblsp demerara sugar
Drizzle:
2 tsp agave or maple syrup
juice of 1 orange
1/4 cup (60 ml) water
6 cardamom pods
To serve (optional):
Vanilla ice cream
Chopped pistachios
Instructions
To make the pastry put the flour, butter, salt and sugar into a food processor and whizz until the mixture looks like sandy breadcrumbs. To do this by hand simply rub the butter into the flour, salt and sugar using your fingertips until no lumps of butter remain
Add enough water to make a soft but not sticky dough. Wrap the dough in parchment or cling film and chill for 30 minutes
Thickly slice the peaches and put into a large bowl with the cornflour, light brown sugar and orange zest and toss to completely coat the peaches
Roll the pastry out on a lightly floured surface, turning the dough frequently until you have a rough circle measuring approximately 38 cm (15 inches) in diameter. If it's more square than circular simply trim to a circle shape!
Lift the pastry onto a large piece of parchment and lay onto a baking tray. It's ok if the pastry overhangs the tray as you'll be folding it over!
Preheat your oven to 180 Fan / 200 C / 400 F / Gas 6
Fan the peaches in concentric circles roughly 8 cm (3 inches) from the edge of the dough, overlapping the slices and not leaving any gaps
Fold the pastry over itself and half over the first circle of peaches until you've gone all the way round the tart
Mix together the plant milk and agave syrup and brush all over the exposed bits of the pastry, getting in all the nooks and crannies. Then sprinkle the demerara sugar over the glaze
Bake for 35-45 minutes until the peaches are soft and the pastry is golden and cooked underneath
While it's baking make the drizzle by gently bubbling all the ingredients in a small saucepan for a few minutes until reduced. It will thicken more on cooling
Leave the tart to cool for 5 minutes then serve warm with the drizzle, plenty of vanilla ice cream and a sprinkle of chopped pistachios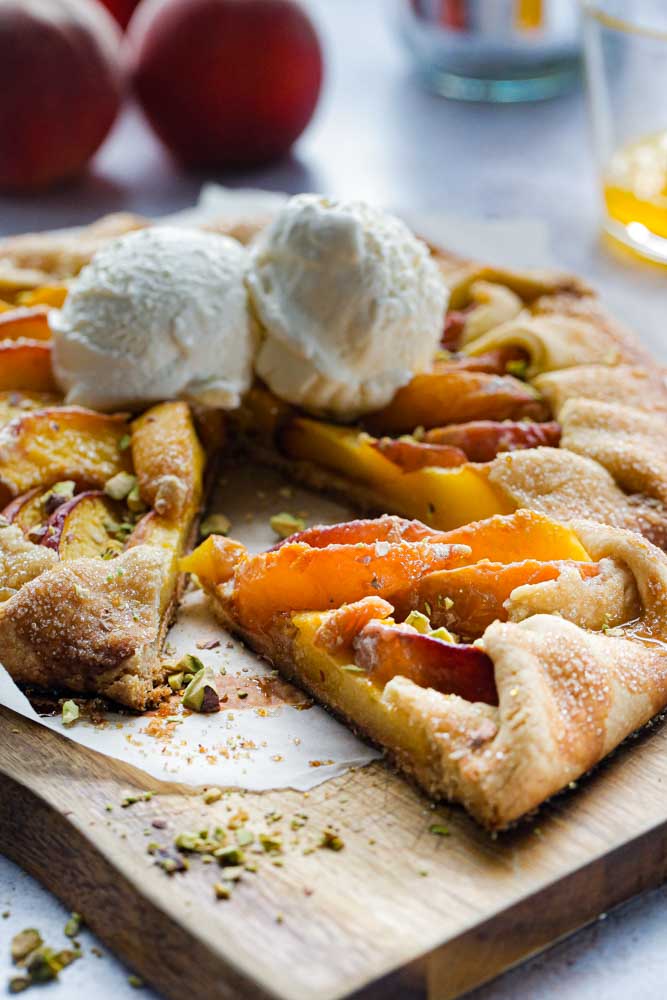 Hello and welcome to The Cook & Him.
We are Sam (The Cook), Phil (Him) and our little dog Nooch. What started with a plan to shed a few pounds back in 2016, soon became obvious that eating healthy doesn't have to be bland and boring.
So, combining Sam's 15 years of experience working within Michelin starred restaurants and our love for deliciously healthy food, we're creating recipes for you to make and enjoy. We've added our own unique spin on traditional and contemporary vegetarian and vegan recipes that keep you (and your pets!) healthy and full.  And we make sure they just work.
All things autumn - warming soups, savoury bakes and delicious sweet treats!
and I would like to see...
Or search for a recipe or post by keyword