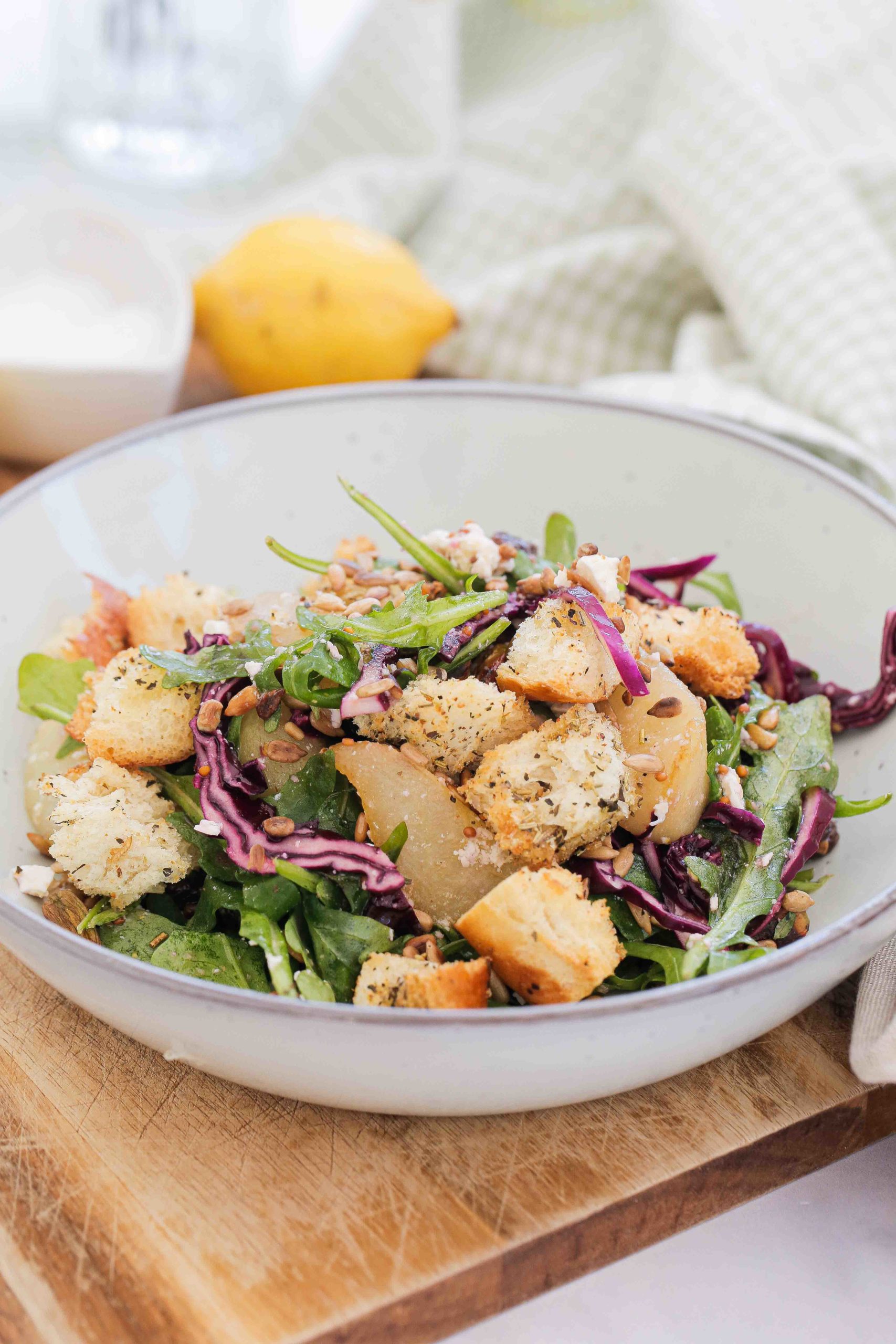 Posted in Recipes on 08.07.2023
Pear Salad with Red Cabbage and Homemade Croutons
prep: 15 mins / cook: 10 mins / inactive: 0 mins / total: 25 mins / quantity: 2 servings Print recipe?
This pear salad will easily become a seasonal favourite! Made with roasted pears, red cabbage, homemade croutons and a tangy mustard dressing.
Seasonally, I'm getting a little ahead of myself using pears as they come into their own around September.  But I love 'em.  Possibly even more than apples.  And when I saw some juicy pears at a local farmers market I realised I only have two other pear recipes on the website – and both very autumnal – pear and almond cake and maple roast pumpkin salad.  Now right next to the pears at the market were red cabbages, which I also love.  And so was born this pear salad.
Alongside the warm, juicy pears we've also got some salty vegan feta cheese, toasted pistachios and sunflower seeds, crisp arugula (or rocket) and homemade croutons.  The croutons are also a great way of using up any leftover or stale bread might have.  Everything is dressed in a tangy mustard dressing, making this pear salad an elegant enough meal for a special occasion but easy and delicious enough to have for a picnic or packed lunch.
Pear Salad Ingredients:
Fresh pears – use ones just ripe.  This way they will have all the flavour but won't fall apart when cooked.
Red cabbage – one of my favourite veggies!  And not just for coleslaw!  I love its crisp bite and vibrant colour.
Pistachios and sunflower seeds – toasted to really bring out the flavour and there for a bit of extra crunch.
Sultanas – another of my favourite ingredients.  They're like tiny fruity jewels and I love the burst of sweet flavour they bring to anything.
Homemade croutons – the perfect way to use up a stale loaf.  I make these a LOT.  Because you can't beat fresh bread but I also can't eat a whole loaf by myself before it goes stale.  I mean I can, but I also know I shouldn't.  Keep in an airtight container and they'll last quite a few days.
Vegan feta cheese – so happy this is a thing as a vegan, it's creamy, salty and perfect in this pear salad.
Salad dressing – literally just chuck everything in an old jam jar and shake.  The mustard gives a lovely warmth and the lemon juice, garlic and thyme add so much flavour.
How to make this easy warm salad:
Start with the croutons.  They don't take long and you can get on with other bits while they bake.  Tear the bread into rough chunks.  No need to be precious here, just literally tear.  Then toss with the oil, salt, garlic powder and dried herbs.  Put onto a baking tray and bake for just 10 minutes.
To toast the pistachios and sunflower seeds put into a dry pan over a medium heat and toss or stir them every so often.  Keep a fairly eagle eye on them as they can catch quickly if you walk off to check what the kids/dogs are up to.  Put into a bowl – don't wash the pan up yet!
For the dressing all you need to do is put all the ingredients into a jar and shake shake shake.
Peel the pears, cut into thickish wedges and remove the woody core.  Melt the vegan butter in the same frying pan you toasted the seeds until it's foamy and bubbling then saute the pears, tossing every so often until just golden and caramelised.
To assemble, put the arugula into a large bowl with the red cabbage and sultanas.  Crumble in the feta then throw in the seeds – reserve a spoonful.  Add the warm pears along with any juice from the pan then drizzle over the dressing.
Toss everything together then put into serving bowls and top with the croutons and reserved extra seeds.
DIG IN!  Honestly, it was so difficult to get this photographed before devouring.  It's filling, so full of flavour and texture and is currently on repeat in my meal plan!
Looking for even more delicious vegan salad recipes?  Try these:
Roasted new potato salad – with tzatziki and quick pickled onions.
Butterbean and arugula salad – with walnuts, quinoa and a zingy red pepper and caper dressing.
Wheat berry summer salad – with a creamy, garlic and tahini dressing.
Herb and lemon tomato salad – with lots of fresh herbs, lemon juice and extra garlic!
If you make this recipe or any of the recipes from The Cook & Him I'd LOVE to see! Just snap a picture and share it on Instagram using #thecookandhim and tagging @thecookandhim in the photo itself (as this guarantees I'll see your picture!
)
Don't forget to follow me on Facebook or Pinterest for even more recipe inspiration and chat, competitions, behind the scenes and so much more!
Pear Salad with Red Cabbage and Homemade Croutons
prep: 15 mins / cook: 10 mins / inactive: 0 mins / total: 25 mins / quantity: 2 servings
Ingredients
Croutons ingredients:
2 thick slices of bread – can be fresh or stale
1 teaspoon oil
1 teaspoon dried basil
1 teaspoon dried rosemary
1 teaspoon garlic powder
pinch salt
Dressing ingredients:
2 tablespoons oil
1 lemon juice
2 cloves garlic – peeled and crushed
1 teaspoon fresh thyme leaves
1 teaspoon wholegrain mustard
1 teaspoon agave or maple syrup
large pinch salt
Pear salad ingredients:
1/4 cup (25g) shelled pistachios
1/4 cup (40g) sunflower seeds
2 large handfuls (60g) arugula/rocket
1/4 large red cabbage
1/2 cup (75g) vegan feta cheese
1/4 cup (40g) sultanas
2-3 medium pears
roughly 2 tablespoons vegan butter
Instructions
Preheat your oven to 170 Fan / 190 C / 375 F / Gas 5
Tear the bread into bite sized pieces and pop into a bowl with the oil, basil, rosemary, garlic powder and salt and toss together until well mixed
Tip onto a baking tray and bake for 10 minutes until golden and crisp
In a dry frying pan cook the pistachios and sunflowers seeds over a medium heat, tossing frequently until just starting to colour. Tip into a bowl - don't wash the pan up yet!
For the dressing put all the dressing ingredients into a jar with a lid and shake until well combined
Thinly slice the cabbage and put into a large bowl with the arugula then crumble in the feta and add the sultanas and 3/4 of the nuts and seeds
Peel the pears, slice into thickish wedges and remove the woody core
Heat the butter in the frying pan you used before until it's foamy and bubbling then add the pears, tossing them well in the butter. Cook for a few minutes, tossing frequently
Tip the pears into the bowl with the arugula and cabbage, along with any of the pan juices
Drizzle over the dressing then toss the whole lot together
Transfer to serving bowls and top with the croutons and remaining nuts/seeds
Notes
Sunflower seeds could be substituted with pumpkin seeds and pistachios can be subbed with cashews, hazelnuts, macadamia nuts, peanuts or pine nuts
Hello and welcome to The Cook & Him.
We are Sam (The Cook), Phil (Him) and our little dog Nooch. What started with a plan to shed a few pounds back in 2016, soon became obvious that eating healthy doesn't have to be bland and boring.
So, combining Sam's 15 years of experience working within Michelin starred restaurants and our love for deliciously healthy food, we're creating recipes for you to make and enjoy. We've added our own unique spin on traditional and contemporary vegetarian and vegan recipes that keep you (and your pets!) healthy and full.  And we make sure they just work.
All things autumn - warming soups, savoury bakes and delicious sweet treats!
and I would like to see...
Or search for a recipe or post by keyword