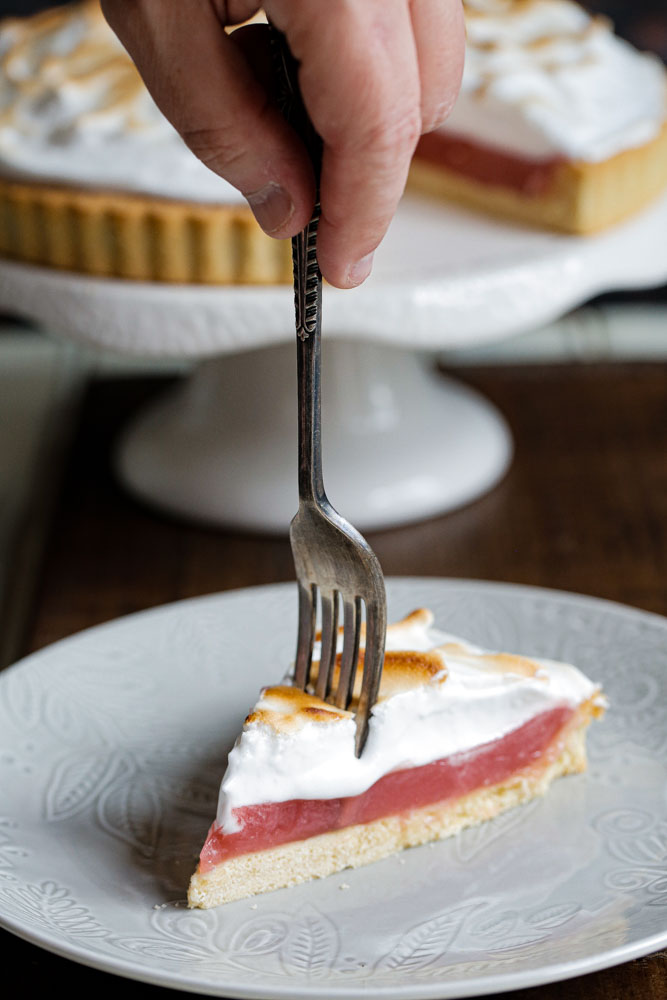 Posted in Recipes on 18.08.2021
Raspberry Meringue Pie
prep: 60 mins / cook: 30 mins / inactive: 60 mins / total: 2 hours 30 mins / quantity: 8 slices Print recipe?
A deliciously summery vegan twist on classic lemon, this raspberry meringue pie delivers slice after slice of pretty pink heaven!
Right up there with bread and butter pudding, lemon meringue pie was one of my Dad's all time favourite desserts.  And Phil's now that I come to think about it.  Phil also loves raspberries so, it still being summer and all (just – the days are darkening and the weather getting cooler) something raspberry seemed in order.  And a vegan raspberry meringue pie with its buttery base, sweet filling and cloud like meringue topping means it has the most gorgeous flavours as well as lovely textures.  It's also a hit with adults and kids alike.
And it doesn't need any extra accompaniment.  Just a slice of the pie is enough.  Or maybe two.
Why make this raspberry meringue pie:
The raspberry curd filling is so silky smooth, while the pastry is rich, buttery and shortbread like in both taste and texture.  Top the whole lot off with a fluffy, sugary sweet meringue that's been gently toasted so it's crisp on the outside and melt in the mouth inside.  And do you still need to ask why you should make this? 😉
How to make this vibrant vegan pie:
First don't be put off by making your own pastry.  It's just as easy as going to the shop and buying it – promise.  It's also rich and buttery and a lovely, almost shortbread like contrast to the silky raspberry curd and the soft, fluffy meringue.
Make the pastry first.  If you have a food processor it's as easy as putting the flour, butter, icing sugar and cornflour into the bowl and whizzing until you get a crumb like texture.  Then add enough milk to make a soft but not sticky dough.  How much milk you need to add depends on a few factors – local humidity, brand of flour etc.  So start with a small amount of milk and add a little at a time until you get the right consistency.  If you don't have a food processor don't worry.  Put the dry ingredients and the butter into a bowl and 'rub' the butter in using your fingertips until you've no lumps of butter left and you have the same crumb like texture.  Then add the milk as above.
Tip the dough into the tart tin.  Use floured hands to push the crust to line the base and sides of a 9 1/2 inch (25cm) pie or tart tin.  You can also use the bottom of something flat like a rolling pin or glass to really get the dough into the edges and give a nice flat base.  Prick the base all over with a fork.
Freeze the raw tart shell.  Just 30 minutes is needed.  I find this better (and less faff) than using baking beans.
Bake the pastry case.  Because we're not baking the tart, rather making the curd and leaving it to set in the cooked tart case, we need to completely bake the pastry.  This should take 20-25 minutes.
Once the case is cooked, make the raspberry curd filling.  Instead of using fresh raspberries I've gone with one of my favourite Foodie Flavours lovely flavourings.  It makes it SO easy to get a really intense raspberry flavour – and no straining out of the raspberry seeds for a silky smooth curd!  I'm also using a little bit of pinky red food colouring.  The flavouring alone won't give it that vibrant colour that screams raspberry.
Put the cornflour in a small bowl and mix in enough of the measured milk to make a runny paste.  Put the rest of the milk in a saucepan with the sugar and heat until just boiling.  Pour in the cornflour and whisk until it just starts to bubble and thicken.  Turn off the heat then add in the butter, raspberry flavouring and enough of the pinky red colouring to give a really vibrant colour.
Pour the curd into the tart case.  Then chill in the fridge for around half and hour until cooled and set.
Make the meringue.  If you've never made vegan meringue you might be a little shocked that we'll be using the water drained from a can of chickpeas.  I don't begin to understand the science behind it but it really does make vegan meringue.  You'll want an electric whisk because whipping the aquafaba (chickpea water) to peaks stiff enough to hold their shape takes a little longer than egg whites.  I also use a smidge of cream of tartar as this helps stabilise any meringue, vegan or otherwise.  Whisk the aquafaba until you have prominent peaks.  Then add the cream of tartar, then gradually add the caster sugar while still whisking.
Use the meringue to top your curd.  You can pipe the meringue if you like or you can just spread it on.  If you don't have a cooks blow torch you can put the whole pie under a hot grill.  You WILL need to watch it like a hawk as it can go from the perfect caramel colour to burnt, acrid and filling the kitchen with smoke in a heartbeat.
Looking for more raspberry recipes?  Try these:
White Chocolate Raspberry Cookies
Oat and Raspberry Crumble Bars
Chocolate and Raspberry Vegan Cheesecakes
I'd also love to hear from you if you make this Raspberry Meringue Pie! Just leave a comment as it's so helpful and I love to hear how the recipe worked out for you! Thank you so much!
Don't forget to follow us on YouTube, Facebook or Pinterest for even more recipe inspiration and chat, competitions, behind the scenes and so much more!
Raspberry Meringue Pie
prep: 60 mins / cook: 30 mins / inactive: 60 mins / total: 2 hours 30 mins / quantity: 8 slices
Ingredients
Pastry:
1 + 3/4 cup (300g) plain flour
1/2 cup (100g) icing sugar
1/3 cup (45g) cornflour
2/3 cup (150g) vegan butter
3-5 tblsp oat milk
Curd:
1 + 1/4 cups (315ml) oat milk
1 +1/4 cups (250g) caster sugar
1/4 cup (35g) cornflour
1 tblsp (15g) vegan butter
pink or red food colouring
Meringue:
drained liquid from 1 x 400g can chickpeas
1/2 cup (150g) caster sugar
1/4 tsp cream of tartar
Equipment:
Instructions
To make the pastry put the flour, icing sugar, cornflour and butter into a food processor and whizz until you have a crumb texture. If you're doing this by hand simply rub the cubed butter into the dry ingredients until no lumps of butter remain
Add enough milk to make a soft but not sticky dough
Tip the dough into your tin and push it across the base and up the sides. Use your hands to start then use something flat like the end of a rolling pin or glass to really get it into the corners and give a nice flat base
Prick the base all over with a fork then freeze the whole thing for 30 minutes
Preheat your oven to 180 Fan / 200 C / 400 F / Gas 6 then bake the frozen tart base for 20-25 minutes until lightly golden and cooked through. Leave the cooked case in the tin to cool
To make the curd put the cornflour into a small jug or bowl then add enough of the measured milk to make a runny paste. Put the rest of the milk in a saucepan with the sugar and bring to the boil
Add the cornflour and whisk until the mixture thickens. Turn off the heat then whisk in the butter, Raspberry Flavouring and enough of the food colouring to make a vibrant colour!
Pour the curd into the pie crust and smooth with a knife. Chill for around 30 minutes until cooled and set
To make the meringue use an electric whisk to whisk the chickpea water (aquafaba) to soft peaks
Whisk in the cream of tartar then gradually whisk in the caster sugar
Spoon or pipe the meringue on top of the curd then brown the top of the meringue with a cooks torch or under a hot grill - keeping an eye on it to prevent it burning
Serve immediately. Leftovers can be stored in the fridge for up to a couple of days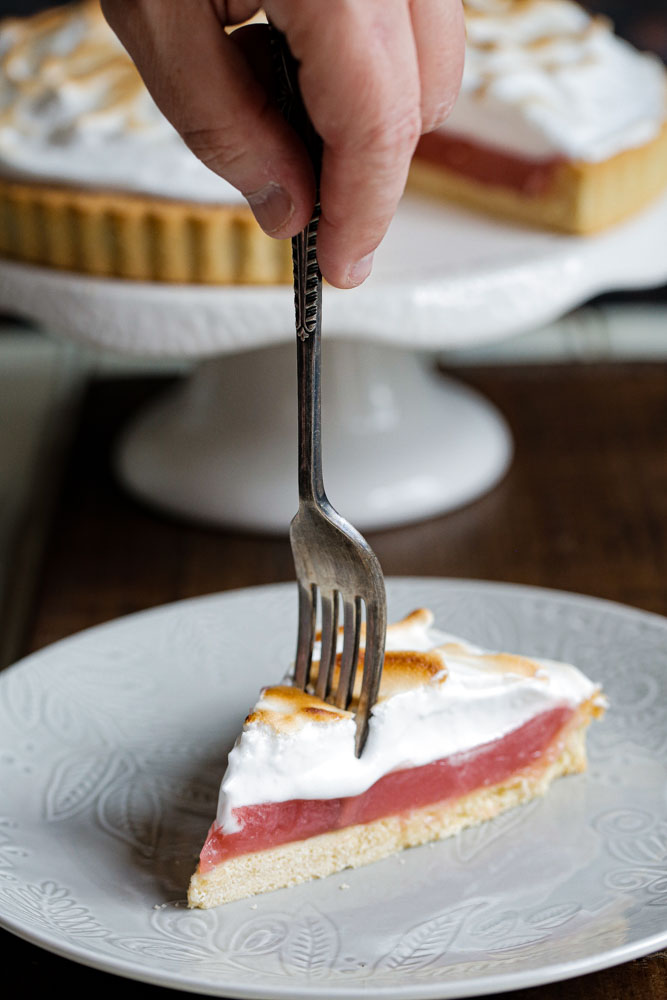 Hello and welcome to The Cook & Him.
We are Sam (The Cook), Phil (Him) and our little dog Nooch. What started with a plan to shed a few pounds back in 2016, soon became obvious that eating healthy doesn't have to be bland and boring.
So, combining Sam's 15 years of experience working within Michelin starred restaurants and our love for deliciously healthy food, we're creating recipes for you to make and enjoy. We've added our own unique spin on traditional and contemporary vegetarian and vegan recipes that keep you (and your pets!) healthy and full.  And we make sure they just work.
All things autumn - warming soups, savoury bakes and delicious sweet treats!
and I would like to see...
Or search for a recipe or post by keyword