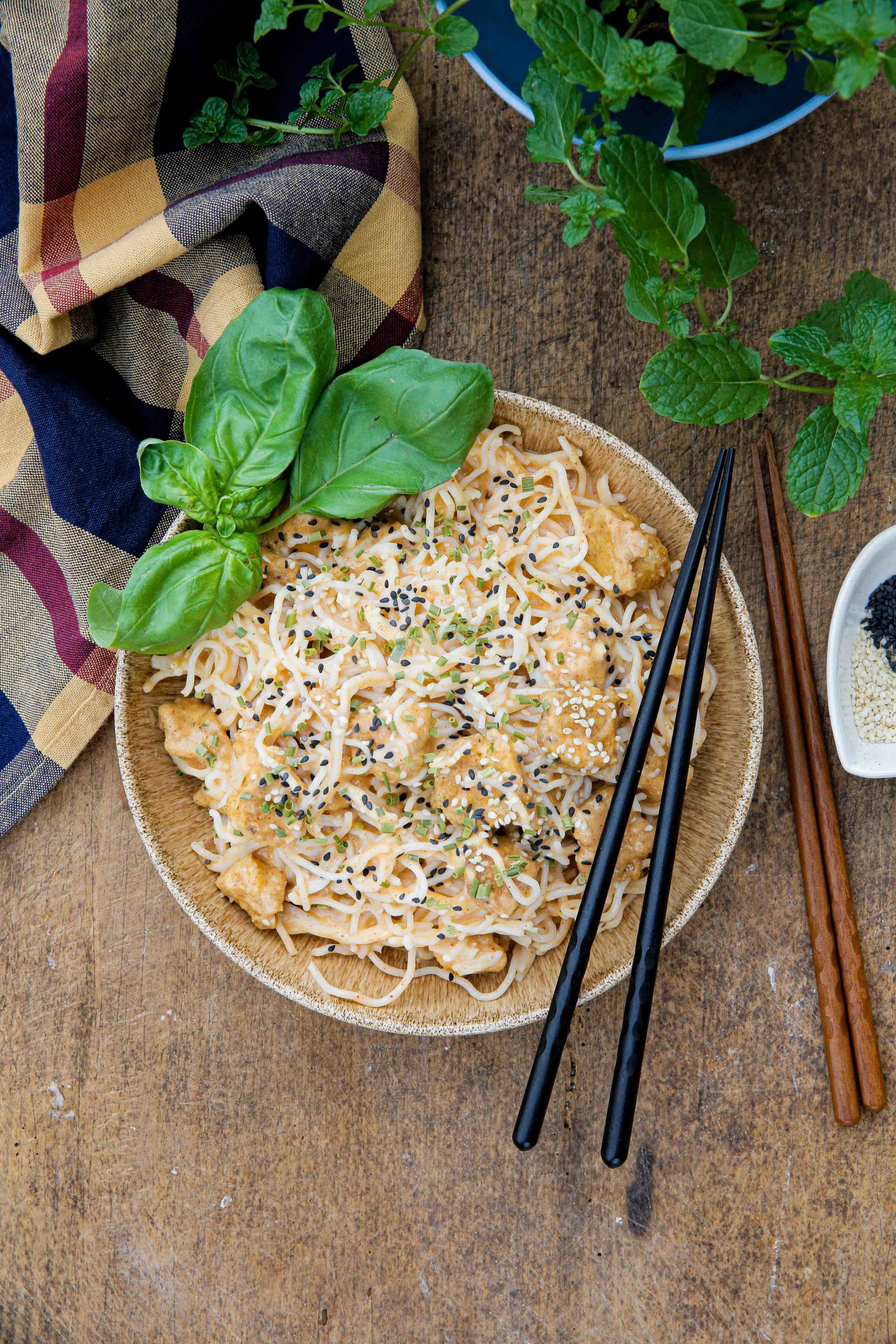 Posted in Recipes on 05.04.2023
Sesame Ginger Crispy Tofu
prep: 15 mins / cook: 25 mins / inactive: 0 mins / total: 40 mins / quantity: 2 servings Print recipe?
Fragrant and aromatic this sesame ginger crispy tofu is a deliciously easy Asian inspired meal packed with flavour and protein!
I know, tofu can feel like a tricky thing to cook.  But I promise you, even with little effort, this sesame ginger crispy tofu WILL be crispy.  And tasty obvs.  Like, lick the bowl tasty.  Because if there's anything I dislike (kitchen-wise) more than washing up is bland, blergh food.  Or non crispy tofu.  Unless it's tofu scramble.  Or chocolate pie.
I digress.
I'm a fan of tofu if you hadn't noticed.  It's so very versatile.  And really, pinky swear, not difficult to cook.  In fact I wrote a whole post about how to cook tofu and just how easy it is to make it delicious.
Did you know tofu is a low calorie, protein and nutrient packed powerhouse?  Or that it has zero cholesterol and even been shown to protect your heart, kidneys and lower your risk of cancer?
How to make crispy tofu:
There's no big secret to getting crispy tofu.  I don't even use a press.  First you want to use firm tofu.  Silken tofu will NOT work here.  Save that for a silky, creamy basil pasta sauce or a no bake chocolate and hazelnut tart.  Simply drain the water from the packet (if there is any), squeeze the tofu a little if it needs it then wrap in a couple of sheets of kitchen paper for as little as 15 minutes.  But honestly, sometimes I'm so lazy I don't even bother with the kitchen paper and it still comes out crispy enough!
If there is a secret to crispy tofu, it's coating the drained tofu in cornflour (or cornstarch for my American readers 😉 ).  Then use a large enough baking tray so you can keep it fairly well spaced out.  Like anything you bake that you want crispy – think sweet potato fries – if they're packed too tightly together while baking they tend to steam rather than go crispy.
The only flavour we're adding at this stage is a little sesame oil and some salt and pepper.  Bake the tofu for around 25 minutes, turning the tray half way through.  Because even my nice fan oven still cooks quicker at the front than it does at the back!
How to make the sesame ginger sauce:
It's all done in one pan (yay!) and just involves a bit of dolloping, whisking then stirring.
Start with the water – put into a wok or large saucepan – then add the cornflour.  Whisk until you've got no lumps of cornflour left.
Add the bouillon, smoked paprika, soy sauce, tahini, agave, miso, garlic and ginger and cook until thickened.
Stir in the cooked noodles making sure they're well coated then stir in the baked tofu.
Ta da!  Wasn't that deliciously easy?!
For extra sesame-ness I recommend a sprinkle of sesame seeds once you've dished up.
This sesame ginger crispy tofu makes great leftovers so don't be afraid to double up the recipe and have a quick, filling and oh so tasty lunch waiting for you in the fridge!
Looking for even more tofu recipes?  Try these:
Za'atar Tofu and Cauliflower with Tzatziki Sauce
Peri Peri Tacos with Sweetcorn Salsa
My famous (in my house anyway) Chocolate Pie
Don't forget to follow us on Facebook or Pinterest for even more recipe inspiration and chat, competitions, behind the scenes and so much more!
Sesame Ginger Crispy Tofu
prep: 15 mins / cook: 25 mins / inactive: 0 mins / total: 40 mins / quantity: 2 servings
Ingredients
Crispy tofu:
400g block firm tofu
2 tablespoons sesame oil
2 tablespoons cornflour
pinch each of salt and pepper
Sesame ginger sauce:
3 tablespoons cornflour
1 cup (250ml) water
1 teaspoon vegetable bouillon or 1 vegetable stock cube
1 heaped teaspoon smoked paprika
2 tablespoons (30g) tahini
2 tablespoons soy sauce
1 tablespoon agave syrup
4 large cloves garlic – peeled and crushed
thumb sized piece of ginger – peeled and grated
1 heaped teaspoon miso paste
300g cooked noodles to serve
sesame seeds (optional)
Instructions
Drain the tofu of any water from the packet then wrap in kitchen paper for 15-30 minutes
Preheat your oven to 180 Fan / 200 C / 400 F / Gas 6 and line a baking tray with parchment or a silicon mat
Tear or cut the tofu into even bite sized pieces and put into a bowl. Drizzle with the sesame oil then scatter over the cornflour and salt and pepper and toss to coat the tofu
Tip onto your prepared baking tray then bake for 25 minutes until crispy on the outside, turning the tray half way through baking
Meanwhile make the sauce - pour the water into a wok or large saucepan then whisk in the cornflour, whisking until there's no lumps of cornflour
Whisk in the bouillon, smoked paprika, tahini, soy sauce, agave, garlic, ginger and miso paste
Whisk or stir the sauce until it thickens then turn off the heat - this allows the flavours to infuse while the tofu finishes baking
Once the tofu is baked, reheat the sauce then stir in the noodles making sure they're well coated and hot then stir in the tofu
Serve with a sprinkle of sesame seeds
Chill any leftovers then store in the fridge. Can be eaten cold or reheated in a saucepan or microwave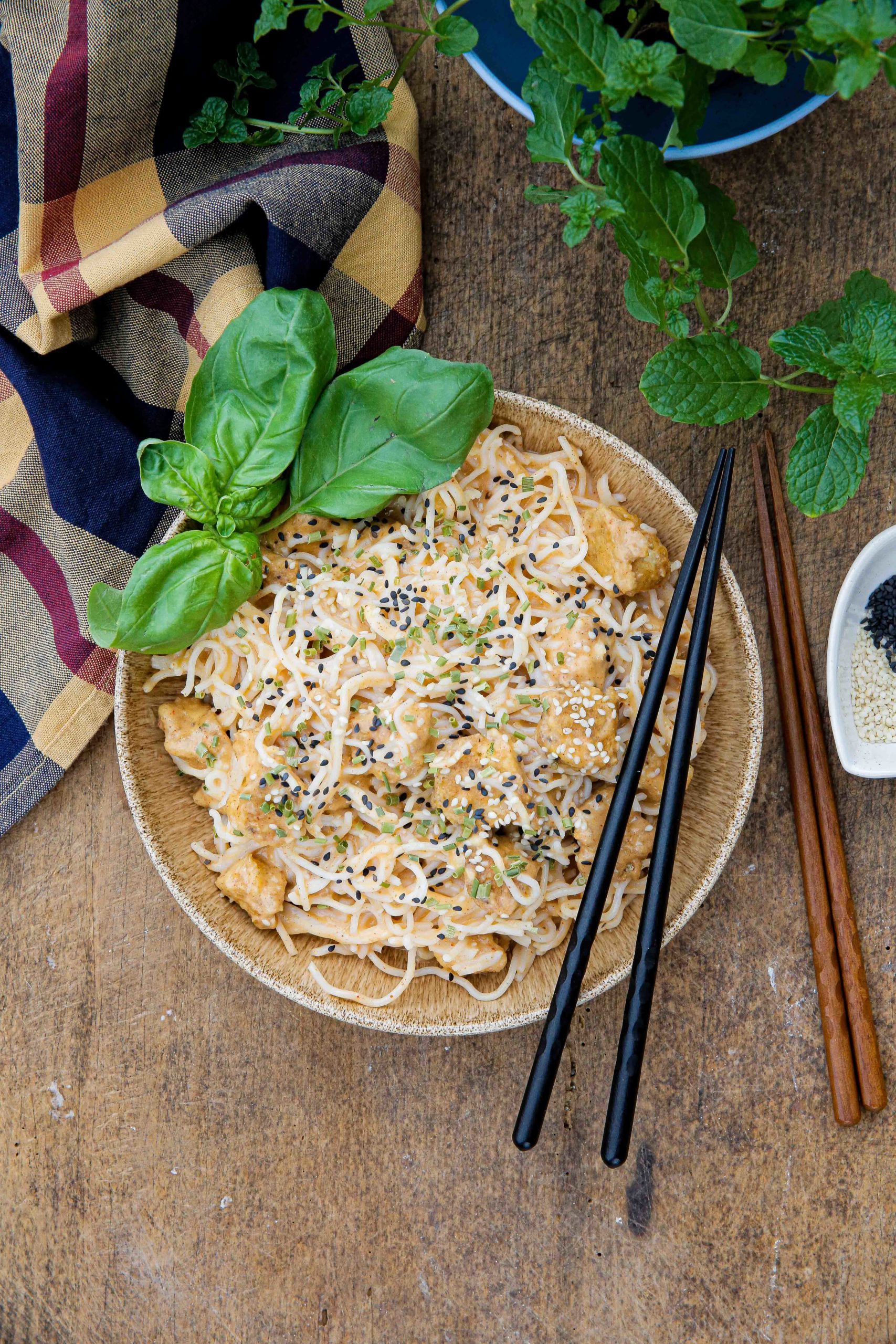 Hello and welcome to The Cook & Him.
We are Sam (The Cook), Phil (Him) and our little dog Nooch. What started with a plan to shed a few pounds back in 2016, soon became obvious that eating healthy doesn't have to be bland and boring.
So, combining Sam's 15 years of experience working within Michelin starred restaurants and our love for deliciously healthy food, we're creating recipes for you to make and enjoy. We've added our own unique spin on traditional and contemporary vegetarian and vegan recipes that keep you (and your pets!) healthy and full.  And we make sure they just work.
All things autumn - warming soups, savoury bakes and delicious sweet treats!
and I would like to see...
Or search for a recipe or post by keyword