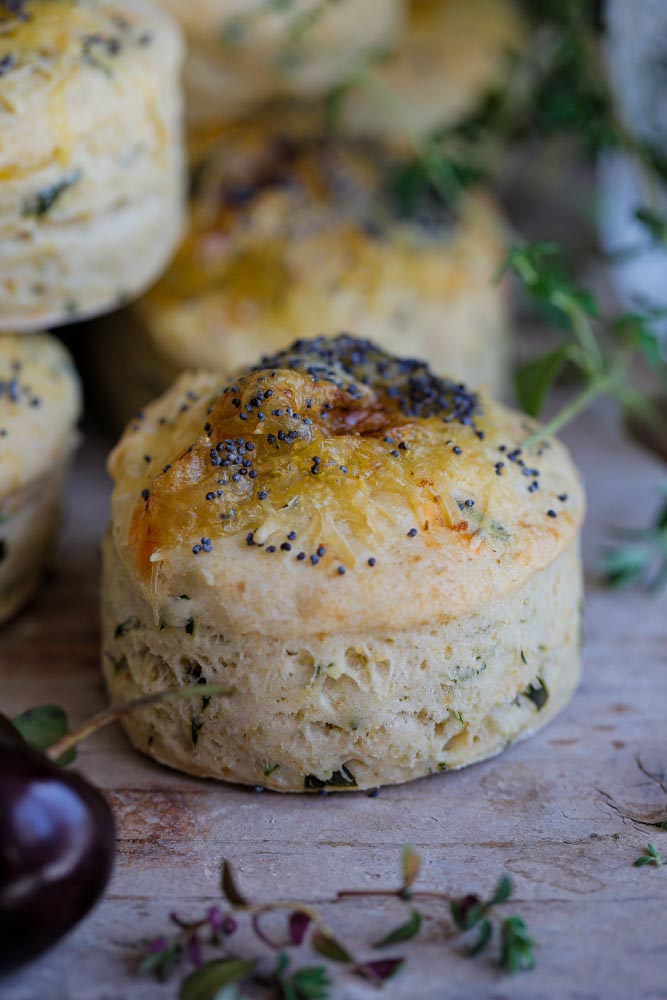 Posted in Recipes on 25.10.2021
Smoked Applewood Cheese and Herb Scones
prep: 20 mins / cook: 15 mins / inactive: 0 mins / total: 35 mins / quantity: 12 scones Print recipe?
Light and fluffy vegan Smoked Applewood Cheese and Herb Scones that are just as delicious warm or cold. An easy to follow recipe, perfect for picnics, lunchboxes, savoury snack or serve alongside a hearty stew.
I love savoury cheese and herb scones just as much as traditional scones with jam and cream.  There's something quintessentially British about both.  They're delicate, dainty and absolutely must be eaten with the pinky finger extended 😉
I prefer my scones on the fluffier rather than the dense side.  I feel far less guilty slathering on the toppings.  Savoury cheese and herb scones though are generally less controversial when it comes to what topping should go on first.  Just split in half and serve with lashings of butter!
How to make the perfect scone:
There are a few basic rules to follow when making scones generally, not just savoury ones.
Try to handle the dough as little as possible.  You can use your hands or a stand mixer and once all the ingredients are combined and you have a dough, stop mixing.  Over kneading the dough can leave you with tough, dense scones not the light fluffy ones I personally prefer.
Use cold vegan butter.  Try and use the block type of vegan butter rather than the margarine tub type spread.  It has a better flavour and tends to contain less water so your scones should have a better rise.
Adding the liquid is not an exact science.  Ambience, type of flour, geographical location can all alter how much liquid you need to add to your scones to get the right consistency.  For a rule of thumb, you want the dough slightly on the side of sticky than too dry.
When cutting the scones try not to twist the cutter.  Twisting can mean that the shape of the scone may be a little lopsided when baked.  If you find your cutter sticking slightly, dip into flour beforehand.
Try not to over bake your scones.  If you're worried about them being undercooked, when you've finished rolling out the dough you're usually left with a bit that's too small to cut into a scone.  Just roll into a ball and break in half after the baking time to see if your other, prettier scones are cooked!
Because scones come together really quickly it may also help you to have all your ingredients ready to go before you start mixing.
Weigh out the dry ingredients.
Chop the herbs.
Grate the cheese.
Have the milk in a jug.
Have your rolling pin ready.
Have your baking tray lined and oven preheated.
That way you will have everything to hand and the whole scone making process should take less than 10 minutes!  Baking only takes around 15 minutes so fresh, warm, buttery, cheese and herb scones can be from bowl to plate in around half an hour.
And seriously, who can resist a freshly cooked scone?  One that steams as you split it in half and the butter your spread on it melts in, making it all gooey and sososoSO delicious.
Excuse me, I'm off to bake another batch of cheese and herb scones 😉
Looking for more vegan scone recipes?  Try these:
Gluten Free Walnut and Herb Scones
White Chocolate, Berry and Orange Scones
Double Chocolate Scones with Blackberry Jam
I'd also love to hear from you if you make these Smoked Applewood Cheese and Herb Scones! Just leave a comment as it's so helpful and I love to hear how the recipe worked out for you! Thank you so much!
Don't forget to follow us on YouTube, Facebook or Pinterest for even more recipe inspiration and chat, competitions, behind the scenes and so much more!
Smoked Applewood Cheese and Herb Scones
prep: 20 mins / cook: 15 mins / inactive: 0 mins / total: 35 mins / quantity: 12 scones
Ingredients
Scones:
350g self raising flour
1 tsp baking powder
1/2 tsp salt
1 tsp onion powder
95g vegan butter
75g grated Vegan Smoked Applewood Cheese – grated weight
1 tblsp finely chopped thyme leaves (sub 1 tsp dried)
2 tblsp shredded basil leaves (sub 1 tsp dried)
3 tblsp finely chopped parsley leaves (sub 1 + 1/2 tsp dried)
150ml plant milk
Topping:
1-2 tblsp plant milk
25g grated Vegan Smoked Applewood Cheese – grated weight
1-2 tblsp poppy seeds
Instructions
Preheat your oven to 200 Fan / 220 C / 425 F / Gas 7 and line a large baking tray with parchment or a silicon mat
In a large bowl stir together the flour, baking powder, salt and onion powder
Use your fingertips to rub the butter into the flour mixture until no lumps of butter remain
Stir in the grated cheese and all the chopped herbs
Add enough milk to make a soft, slightly sticky dough. Try not to over mix the dough - knead it only just enough to bring it together into a dough
Turn the dough out onto a lightly floured surface and roll out to 1 inch (2.5 cm) thick
Use a 2 inch (5 cm) straight edge cutter to cut our your scones. Don't twist the cutter, just push straight down through the dough then lift the scone out. If you find your cutter is sticking, dip it in flour between each cut
Place the scones on your prepared baking tray
Squish the trimmings together and re-roll the dough until you have 12 scones. If you have a little piece of dough left that's not big enough to roll out simply roll into a ball and put on the tray with the scones
Brush the top of each scone with a little milk then scatter over the grated cheese and poppy seeds
Bake for 15 minutes until just golden
You can use your little ball of dough to test if the scones are cooked - break in half, the centre should be slightly doughy but not raw
Serve warm or leave to cool and store in an airtight container at room temperature or in the fridge if you want to keep them a bit longer. They can also be frozen, defrost thoroughly before eating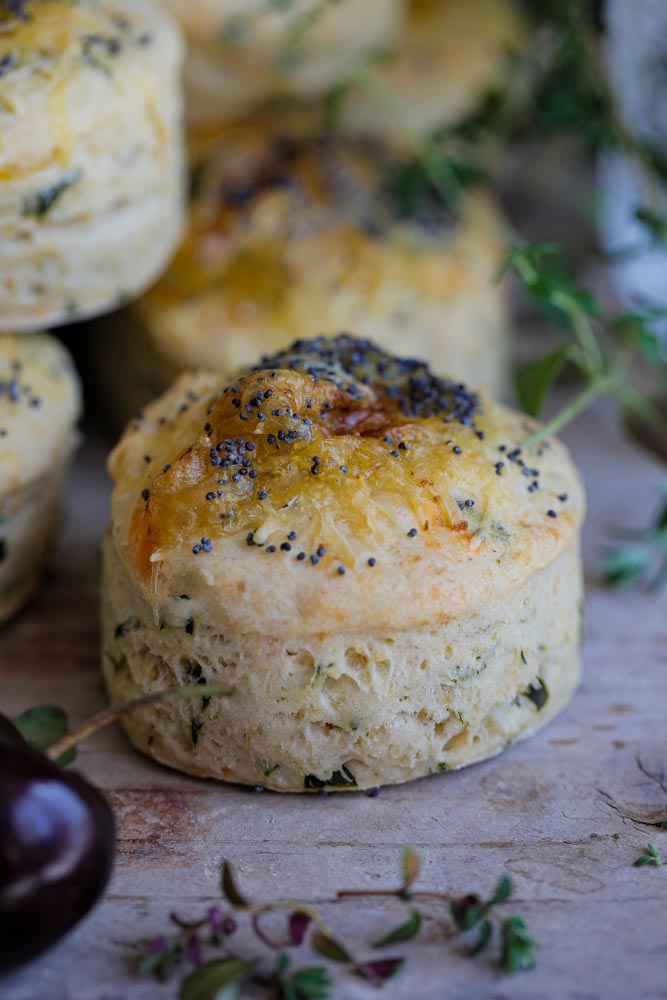 Hello and welcome to The Cook & Him.
We are Sam (The Cook), Phil (Him) and our little dog Nooch. What started with a plan to shed a few pounds back in 2016, soon became obvious that eating healthy doesn't have to be bland and boring.
So, combining Sam's 15 years of experience working within Michelin starred restaurants and our love for deliciously healthy food, we're creating recipes for you to make and enjoy. We've added our own unique spin on traditional and contemporary vegetarian and vegan recipes that keep you (and your pets!) healthy and full.  And we make sure they just work.
All things autumn - warming soups, savoury bakes and delicious sweet treats!
and I would like to see...
Or search for a recipe or post by keyword