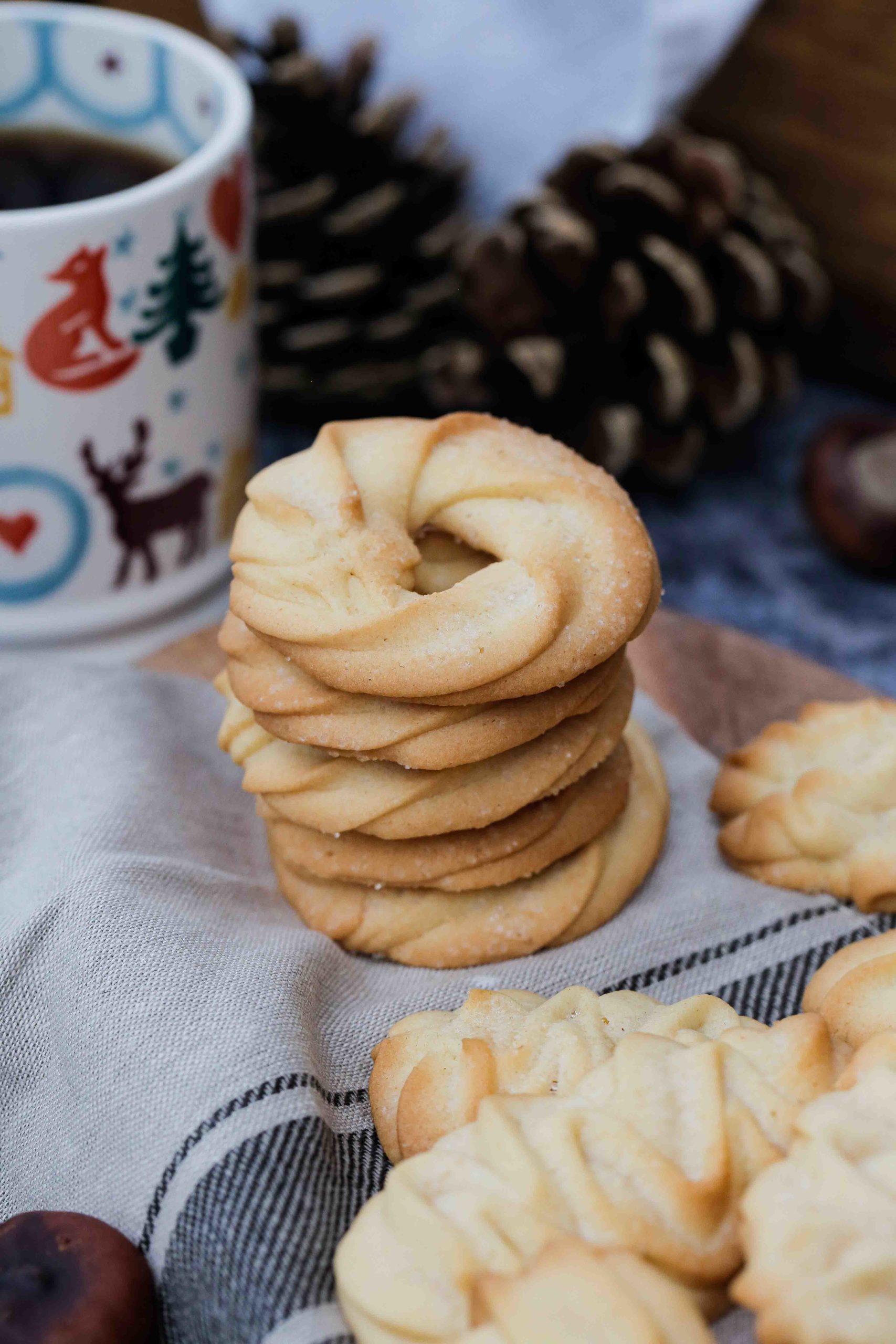 Posted in Recipes on 03.12.2022
Vegan Danish Butter Cookies
prep: 30 mins / cook: 20 mins / inactive: 30 mins / total: 1 hour 20 mins / quantity: 35-40 cookies Print recipe?
Light, crisp and delicate, my vegan version of the classic Danish Butter Cookie makes absolutely melt in the mouth delicious cookies!
This Danish Butter Cookies blog post and recipe are sponsored but all opinions, as always, are completely my own.
I have such fond memories of Danish Butter Cookies.  Those special biscuits that came in a beautiful tin whilst inside sat sparkling cookies, nestled in their own paper cases  Fancy cookies that were only ever purchased at Christmas time.  Oh how I loved them, all sparkly with sugar and so melt in the mouth and moreish.
Do they make these cookies any other time of they year?  And does anyone buy them?
Random other question – why can I no longer get cornflour in Tesco?  Do other supermarkets stock it?  Limited to shopping being delivered since becoming car-less, I'm at the behest of what Tesco has to offer.  And no cornflour AT ALL?
When I received the Butter Flavouring from Foodie Flavours this was the first recipe that sprang to mind.  How could I resist?  the flavour of my childhood Christmases … made vegan!
Just a few ingredients are needed for this simple vegan recipe that makes quite a few biscuits – perfect if you're looking for a homemade gift idea!  I've been consciously trying to gift more mindfully the last couple of years.  Moving into (and back out of) a caravan really brought home just how much STUFF you accumulate.  Stuff you never use.  Stuff you forget you even have.  And it seems something edible and downright nibbly tends to be very well recieved!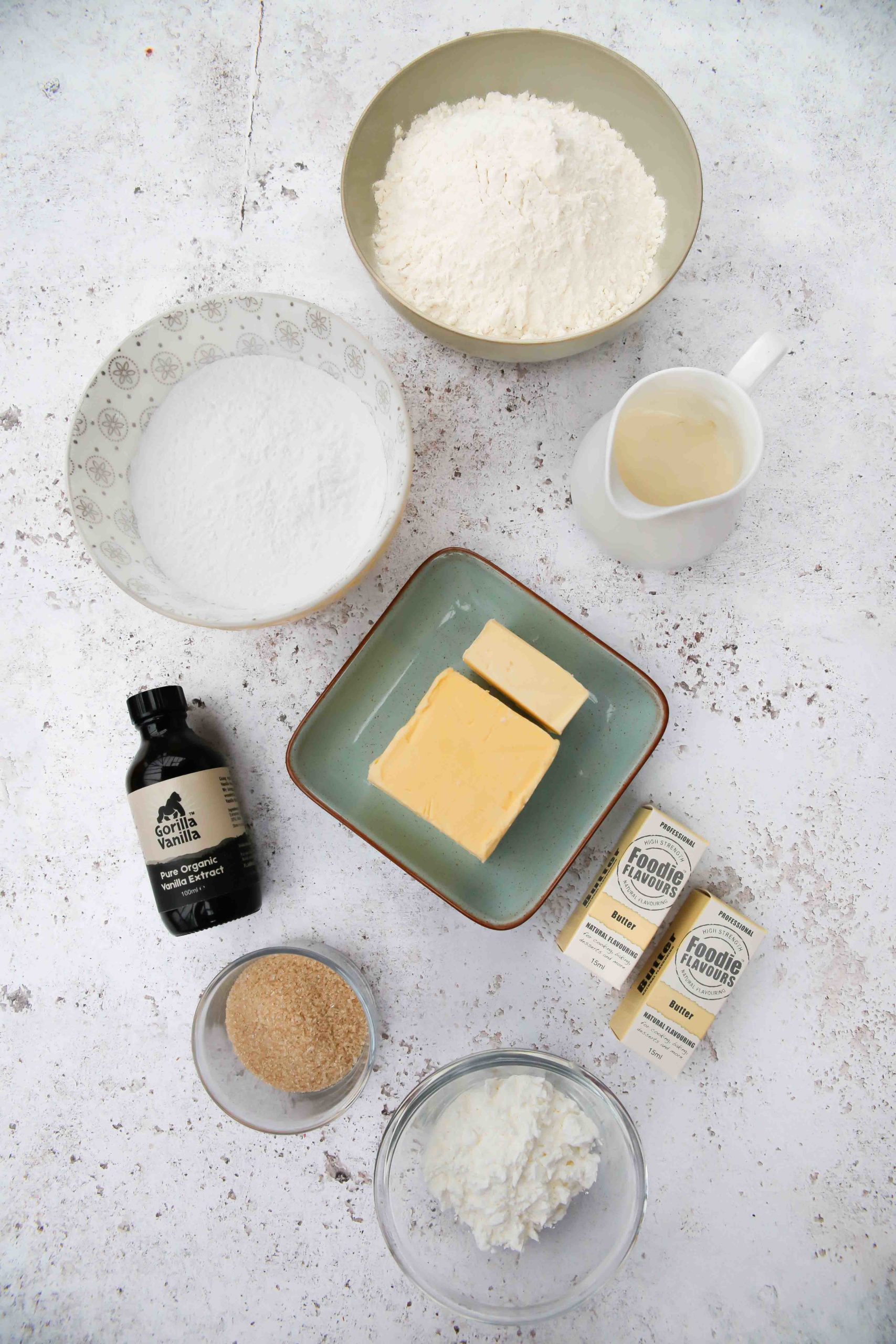 Lets talk flavouring
Why add butter flavouring to a recipe that already contains butter (I hear you ask)?  Well, vegan butter on it's own isn't half bad flavour wise.  And some are actually rather good.  But I wanted my butter biscuits to scream that iconic rich buttery flavour I remember so well.
And while you can make the cookie batter by hand but it will help enormously if you've got a stand mixer with a paddle attachment.
How to make vegan butter biscuits:
Start by making sure your butter is soft.  Otherwise you're going to need Popeye arms to pipe the batter.  Either take it out of the fridge the night before or soften it in the microwave.  Though I do need to mention, we want the butter soft NOT melted so don't go too nuclear with the microwave!
Beat the butter until pale.  Then add the icing sugar, cough in the cloud of sweet dust and beat that in too until the mixture is creamy and fluffy.  Scrape down the bowl and paddle from time to time so that it's all getting well mixed in.
Add the Butter Flavouring.  I added around 30 drops for this cookie recipe.  And to me that was enough.  It gave the baked cookies a really rich flavour without being cloying or overpowering.
Add the flour, cornflour and vanilla and beat just until everything is mixed together.  The cornflour helps stabilise the dough and prevents them spreading too much.  I've also used Foodie Flavours Gorilla Vanilla organic extract.  You can read about why here and I've been asked a few times to recommend a really good vanilla.  Well this is it.  Vanilla extracts can be like balsamic vinegar – you tend to get what you pay for.  Sure you can can get a vanilla-ish flavour from the cheaper bottles but sometimes it's really worth the little extra for layers of heavenly flavour.  And it helps the gorillas 😉
If the dough is feeling too stiff to pipe you can add a few drops of boiling water.  You want a sticky dough that you can pipe.
Spoon the dough into a large piping bag fitted with a star nozzle.  To make it easier you can draw on the underside of some parchment to guide you while you pipe.  Pipe whatever shapes you fancy until you've used up all the mixture.
Put the trays of raw biscuits into the fridge for around 30 minutes.  This hardens the butter and also helps them not to spread while baking.
Before you put them in the oven sprinkle them with sugar.  The coarser the sugar the better.  I only had demerara that was course but you can use regular granulated or even sugar nibs for an extra sweet crunch!
Bake until golden and just set – they will firm up a little more as they cool.
How to store your baked cookies:
Store in an airtight container once completely cooled.  The cookies keep well for up to a week at room temperature.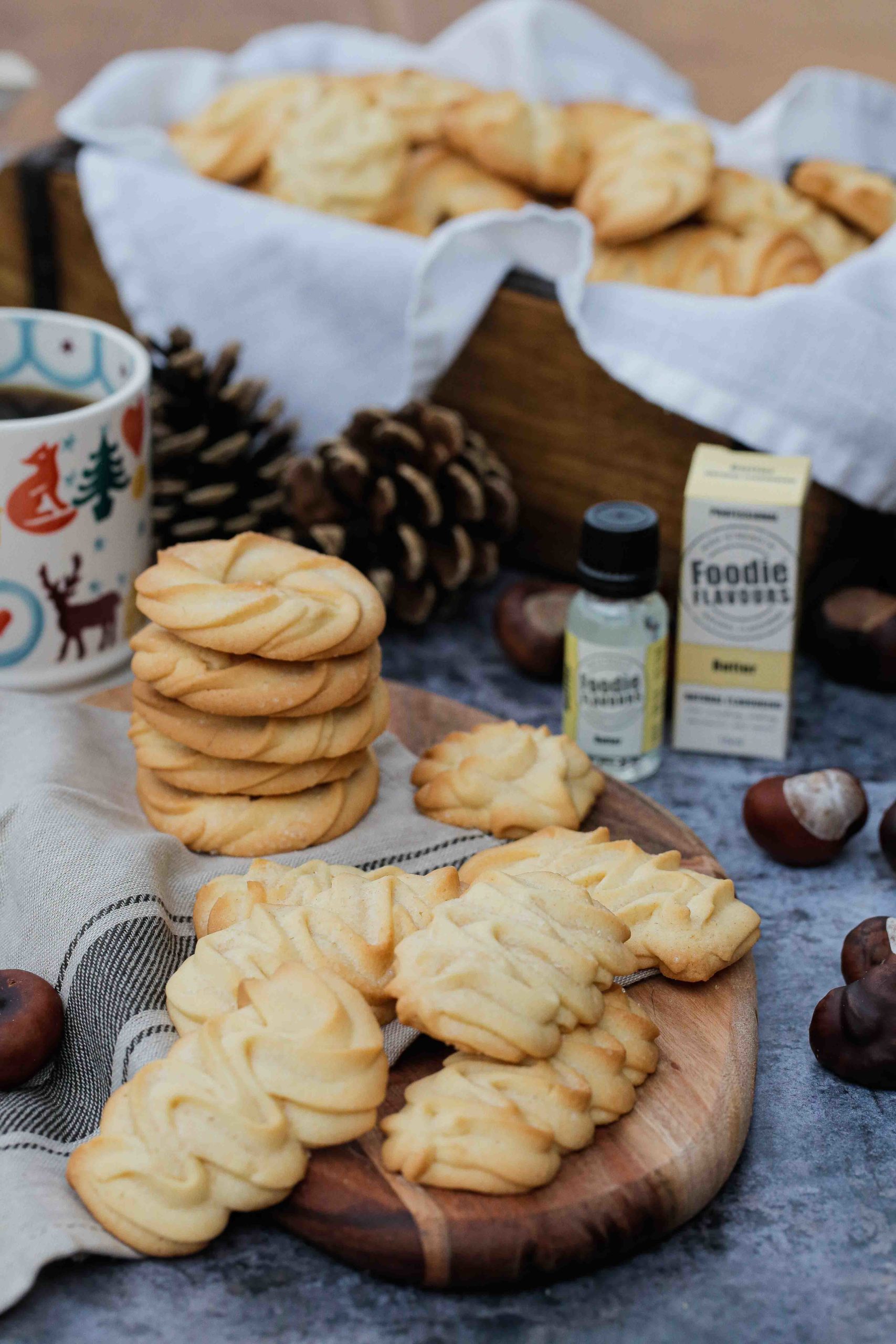 Have you heard of the Swedish tradition of fika?  These cookies pair especially well with a warm beverage as an afternoon treat.  I support anything that advocates this kind of behaviour 😉
Looking for even more vegan cookie recipes?  Try these:
Chocolate and orange shortbread cookies
Cinnamon sugar cream cheese cookies
White chocolate and raspberry cookies
I'd also love to hear from you if you make these vegan Danish Butter Cookies! Just leave a comment as it's so helpful and I love to hear how the recipe worked out for you! Thank you so much!
Don't forget to follow along on Instagram, Facebook or Pinterest for even more recipe inspiration and chat, competitions, behind the scenes and so much more!
Vegan Danish Butter Cookies
prep: 30 mins / cook: 20 mins / inactive: 30 mins / total: 1 hour 20 mins / quantity: 35-40 cookies
Ingredients
Instructions
Preheat your oven to 170 Fan / 190 C / 375 F and line a couple of large trays with parchment or silicon mats
If you're planning ahead, you'll want to leave the butter out overnight or at least for a few hours to soften. Alternatively soften the butter in a microwave. Make sure to soften only, not melt!
Put the butter in the bowl of a stand mixer with a paddle attachment and beat until pale
Add the icing sugar and beat together with the butter until creamy and fluffy. Scrape down the sides of the bowl once or twice to make sure everything is mixing well
Add the butter flavouring, flour, cornflour and vanilla and beat just until the mixture forms a sticky dough
If the mixture is too stiff to pipe beat in a few drops of boiling water
Transfer the dough to a piping bag and pipe shapes until you've used all the dough. If it helps, draw in pencil on the underside of the parchment as a guide while piping
Chill the trays in the fridge for at least 30 minutes
Sprinkle the granulated sugar over the cookies then bake for 20 minutes until golden - they will firm up a little on cooling
Store in an airtight container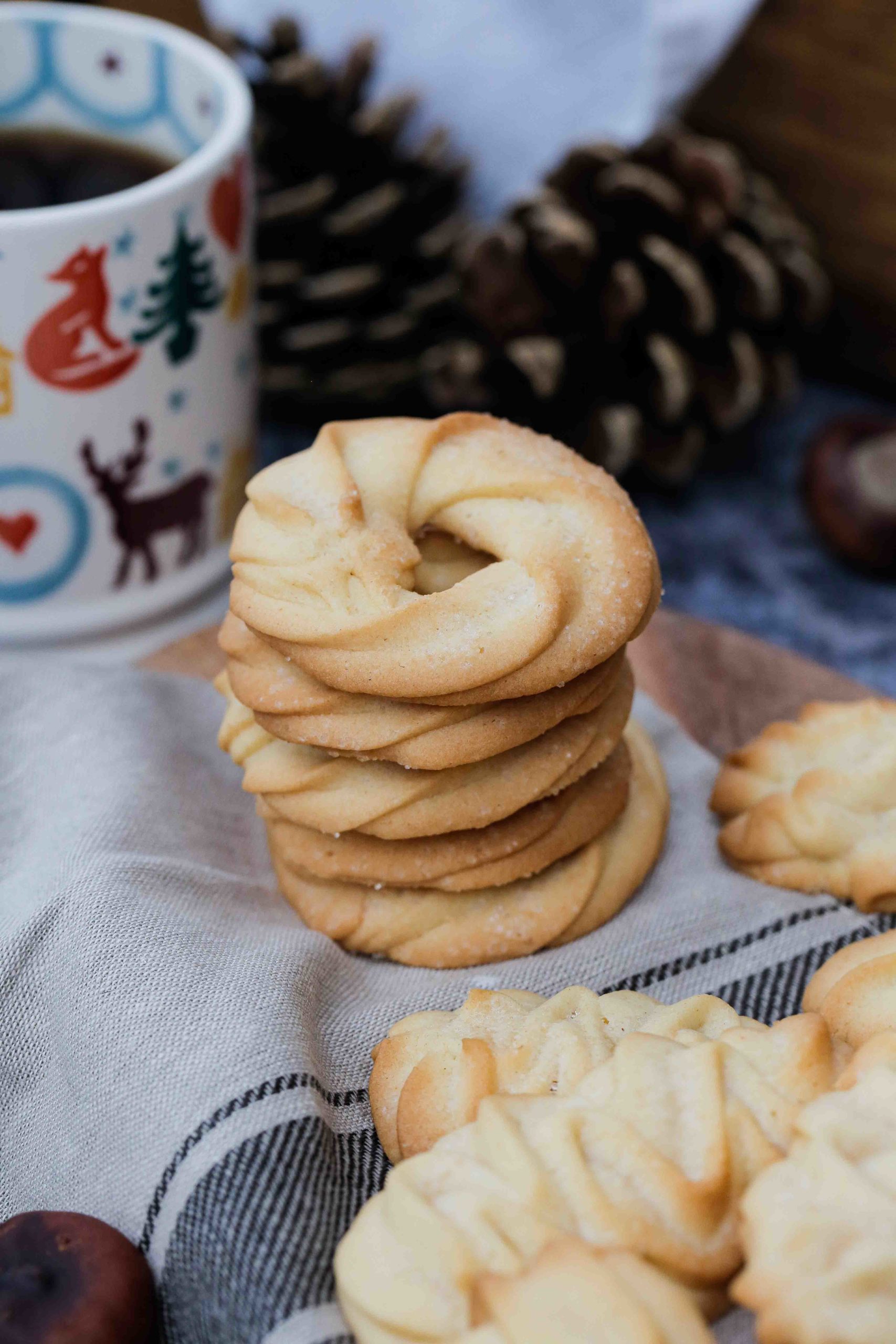 Hello and welcome to The Cook & Him.
We are Sam (The Cook), Phil (Him) and our little dog Nooch. What started with a plan to shed a few pounds back in 2016, soon became obvious that eating healthy doesn't have to be bland and boring.
So, combining Sam's 15 years of experience working within Michelin starred restaurants and our love for deliciously healthy food, we're creating recipes for you to make and enjoy. We've added our own unique spin on traditional and contemporary vegetarian and vegan recipes that keep you (and your pets!) healthy and full.  And we make sure they just work.
All things autumn - warming soups, savoury bakes and delicious sweet treats!
and I would like to see...
Or search for a recipe or post by keyword