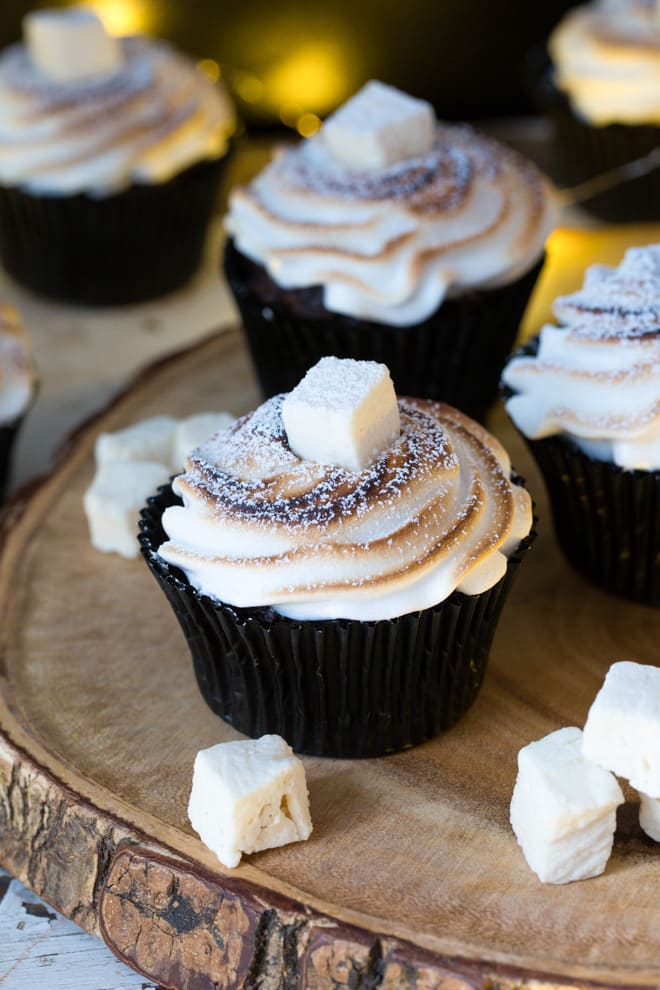 Posted in Recipes on 15.12.2017
Vegan Hot Chocolate Muffins
prep: 30 mins / cook: 20 mins / inactive: 0 mins / total: 50 mins / quantity: 12 muffins Print recipe?
I'm not exactly a nouveau vegan by any stretch but in my naivety there were still things that I'd (wrongly) assumed would be always be off limits.  Like marshmallows.  The idea of gelatin really never appealed even pre-vegan.
We are a poor hard working 1 car family *insert tiny violin here*  so I get the shopping delivered.  It's often a rushed job late at night to get the order in before the delivery slot expires so I don't tend to 'browse the virtual aisles'.  And up until recently I hadn't realised there was such a thing as vegan marshmallows.  Wait, what?
Please coddle me and tell me I wasn't alone in not knowing this??
Wait – it gets worse – one of the makers of these vegan pillowy things is local to me!!  The shame.
To make up for it I wanted to make something that was so decadently rich and chocolatey you'd forget all about my transgression, forgive me immediately, get your pinny on and bake these muffins.  Now I'm going to warn you here.  I'm making and writing about these muffins at Christmas.  CHRISTMAS.  Well, December but it still counts.  So healthy isn't highest on my agenda right now.  But it's f-ing freezing, I'm nesting, the Christmas songs are on repeat shuffle and all I want is a blanket, a mug of hot tea and a chocolate muffin that will stick to my teeth and ribs.
Even naked they look pretty darn edible right?
That rich, dark colour comes from the wonderful thing that is raw cacao powder – high in antioxidants, iron, magnesium and calcium – so there's a little bit of healthy stuff in there.
And I can kid myself as much as I want that vegan meringue is healthy because it's vegan.  No egg whites.  Just chickpea water.  How much of that miracle liquid did I chuck down the sink before I discovered aquafaba??  I hate to think ?  If you're wondering what to do with a drained can of chickpeas, try these Garlic and Parmesan Roasted Chickpeas or this Sun Dried Tomato and Basil Hummus.
But even without egg whites it's still got a crap tonne of sugar in it.  Which is ok because the muffins themselves aren't overly sweet.  They're ok just plain – a bit sticky – so the meringue tops them off perfectly and gives them a sweet nudge.  Top it off with one of Ananda's soft pillowy vegan marshmallows and I guarantee you'll be thanking me you made these!
So you'll come join me in my Christmas haze and pretend the raw cacao powder makes these healthy right?
If you make this recipe or any of the recipes from The Cook & Him we'd LOVE to see! Just snap a picture and share it on Instagram using #thecookandhim and tagging @thecookandhim in the photo itself (as this guarantees we'll see your picture!
)
And don't forget to follow us on Instagram , Facebook or Twitter for even more recipe inspiration and chat, competitions, behind the scenes and so much more!
Vegan Hot Chocolate Muffins
prep: 30 mins / cook: 20 mins / inactive: 0 mins / total: 50 mins / quantity: 12 muffins
Ingredients
1/4 cup coconut oil
1 + 1/2 cups plain flour
1 tsp bicarbonate of soda
1/2 cup raw cacao powder
1 cup coconut sugar
1 tsp apple cider vinegar
1 + 1/4 cups hot water
100g dairy free dark chocolate chips
For the meringue topping
Roughly half the liquid from a 400g can of chickpeas
1/4 cup icing sugar
1/2 tsp cream of tartar (see note)
1 packet of Ananda's Madacascan Vanilla Marshmallows
Stand mixer or hand held electric whisk
Kitchen blow torch (not essential – I just used a hot grill!)
Instructions
Melt the coconut oil and set aside to cool slightly while you prepare everything else
Preheat your oven to 180 Fan / 200 C / 400 F / Gas 6 and line your muffin tin with 12 cases
In a large bowl mix together the plain flour, bicarbonate of soda, cacao powder and coconut sugar.  I just use a rubber spatula for this and stir until well mixed
Put the kettle on to boil
Whisk the cider vinegar into the coconut oil then add to your bowl of dry ingredients along with the hot water and stir until just mixed together
Stir in the dairy free chocolate chips
Divide the mixture between your cases, filling each case about 3/4 full.
Bake for 20-25 minutes until a skewer inserted in the centre of a muffin comes out clean.  Leave to cool in the tin for 5 minutes before removing from the tin and cooling completely on a wire rack
Once they're cool, make the meringue - you'll need an electric whisk for this (unless you have Popeye muscles!)
Preheat your grill to its hottest setting (unless you're using a kitchen blow torch) and put your muffins onto a baking tray
Put the chickpea water into the bowl of a stand mixer or just into a medium bowl if using an electric hand whisk and stir the cream of tartar into the icing sugar
Whisk until it forms soft snowy peaks - this usually takes at least a couple of minutes.  Then gradually add (a spoonful at a time) the icing sugar/cream of tartar mix whisking continuously while doing this
Once you've added all the icing sugar and you have glossy peaked meringue, spoon it into a piping bag and pipe onto the top of your cooled muffins.  I used a star nozzle but if you don't have a piping bag you can just spoon the meringue on to the top of each muffin
Put the muffins under the grill.  DO NOT WALK AWAY!!  Apologies for the caps but I can't stress this part enough!  If you've preheated your grill they take literally seconds to go from perfectly toasted to burnt mess!  Keep your eye on them and turn the tray if necessary to get even toasting
Cool slightly before topping with a vegan marshmallow for sheer indulgence ?
Store in an airtight container for up to 5 days.  I didn't store ours in the fridge as normal meringue has a tendency to 'weep' if put in the fridge and I assume the same would happen with this vegan meringue!
Notes
The cream of tartar is there to help keep the meringue stable.  Adding this helps prevent the meringue from slowly dissolving if you don't eat all of these muffins straight away - because who would ever do that??  These lasted a whole 3 days the last time I made them and the meringue was still in perfect shape!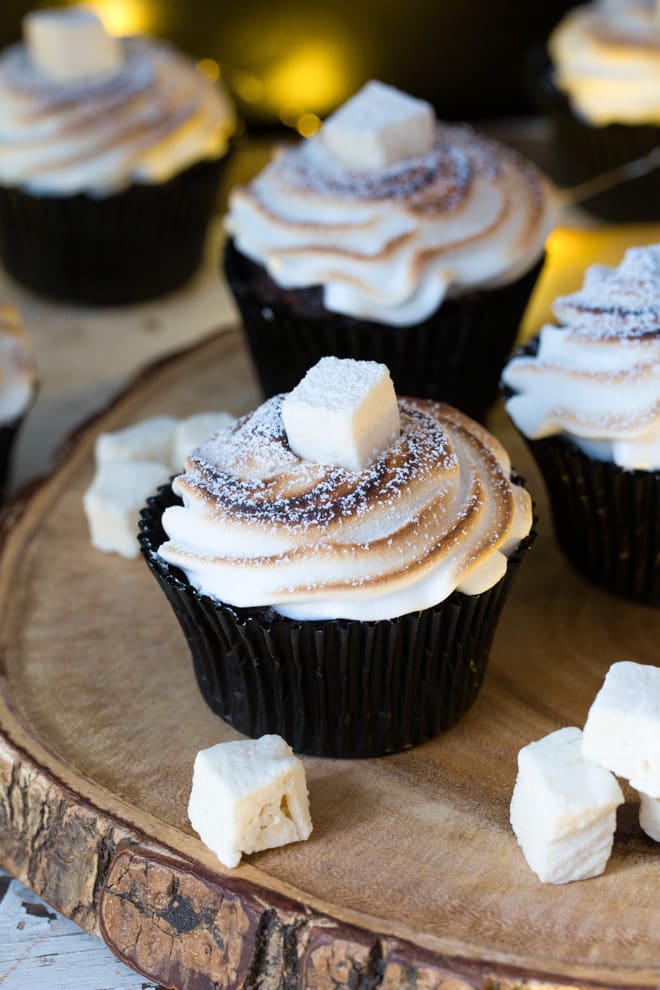 Hello and welcome to The Cook & Him.
We are Sam (The Cook), Phil (Him) and our little dog Nooch. What started with a plan to shed a few pounds back in 2016, soon became obvious that eating healthy doesn't have to be bland and boring.
So, combining Sam's 15 years of experience working within Michelin starred restaurants and our love for deliciously healthy food, we're creating recipes for you to make and enjoy. We've added our own unique spin on traditional and contemporary vegetarian and vegan recipes that keep you (and your pets!) healthy and full.  And we make sure they just work.
All things autumn - warming soups, savoury bakes and delicious sweet treats!
and I would like to see...
Or search for a recipe or post by keyword