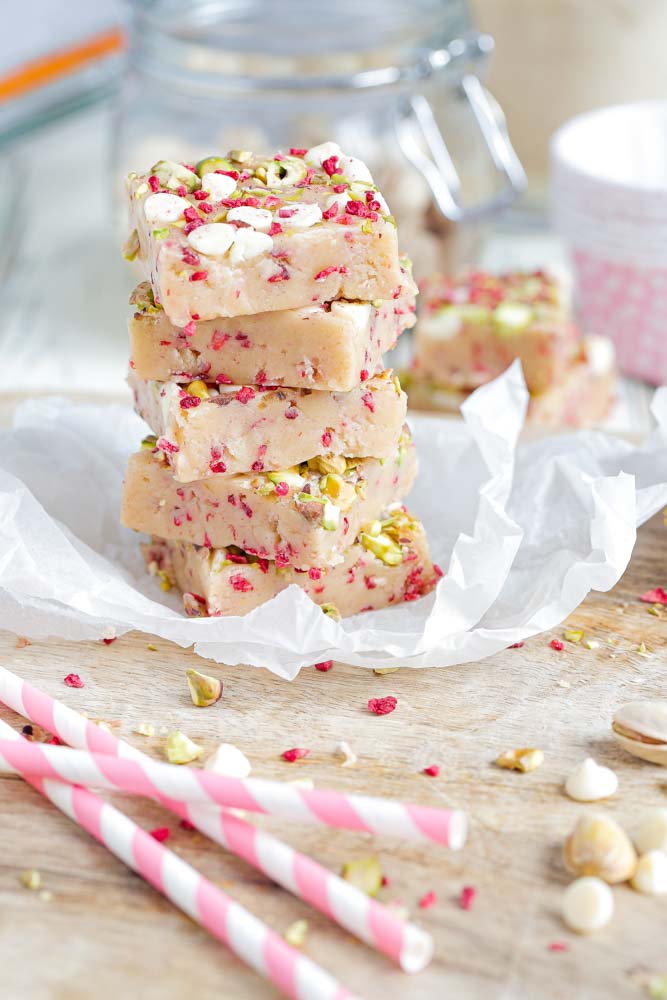 Posted in Recipes on 08.11.2021
White Chocolate and Candy Floss Fudge
prep: 10 mins / cook: 15 mins / inactive: 3 hours 0 mins / total: 3 hours 25 mins / quantity: approximately 20 squares of fudge Print recipe?
Super easy vegan candy floss fudge! Sprinkled with raspberry pieces, chopped pistachios and vegan white chocolate chips. A divinely sweet treat for yourself or wrapped in some pretty waxed paper for a special homemade gift!
Are you planning for Christmas?  I find with Christmas it starts to creep slowly around October, gather pace in November then by the beginning of December I start to worry that I won't have enough time to get everything done I need to!  This year Christmas is definitely going to be different for us since we moved full time into a RV fifth wheel caravan earlier this summer.  Will there be any other people on the campsite?  I hope so as I love making homemade gifts for friends and neighbours and this candy floss fudge is definitely on the going to make list!
I get very whimsical about Christmas.  It isn't *just* about the gifts, especially the older you get.  It's about a feeling.  A warmth.  Everything is a little sparklier.  I love the way my kitchen constantly smells like cinnamon and mulled wine.  There's the rustle of tissue paper and presents being wrapped.
What are your family Christmas traditions?  Are they ones you've had for generations of have you made some of your own?
Of course candy floss fudge isn't just for Christmas kids!  It just looks so festive and pretty and I imagined it being wrapped up in parchment or waxed paper and tied with a bow!
The candy floss flavour comes from a truly wonderful creation by Foodie Flavours.  Oh my, I want to bathe in this stuff.  Or at least have it made into a scented candle.  It's caramel, butter and home.
The smell of candy floss always reminds me of winter as the town I literally grew up in used to have a fair that came for two weekends every November.  The town centre was closed to traffic and the stand outside my parents shop was the candy apple and candy floss stand.  Oh my, so many happy memories.  Though mum wasn't too happy when I kept winning goldfish and bringing them home so they could be liberated from their tiny plastic bags.
Anyhoo …
Making homemade fudge really isn't hard!
If you've never made fudge or have been put off because it involves (very) hot liquid and sugar thermometers don't worry.  This recipe is super easy and won't involve burns or splats.
You can use a sugar thermometer if you want to but you can also use a spoon and a bowl of iced water. And the vegan Carnation condensed milk means that making vegan fudge is pretty much the same as making non-vegan fudge!
You'll need a couple of bits of equipment.  A heavy based saucepan as this helps prevent the liquid burning while it bubbles to the correct temperature.  Some kind of stand mixer with a paddle is also really helpful, or your arms are going to get a serious work out.
How to make easy homemade candy floss fudge:
Put the Carnation condensed milk, oat milk, sugar, vegan butter and vanilla in your saucepan and melt until the sugar dissolves.  I'd recommend using caster sugar rather than granulated sugar as it dissolves quicker.
Bring everything to the boil then bubble rapidly for 5 minutes, stirring continuously.
Have your bowl of iced water nearby then use a spoon to drop a small amount of the fudge into the water.  Use your fingers to test the fudge – the consistency should be like chewed chewing gum – holds its shape but has a soft feel to it.  If the piece of fudge is still too stringy boil and stir and repeat the water dipping process.  If you're using a sugar thermometer you want to it to reach soft ball or 112 to 114 °C (234 to 237 °F).  Don't be tempted to take it off before this or leave it on for longer.  The temperature is needed so that the sugar will partly caramelise and that's what gives the fudge its consistency.  Undercook and your fudge won't set properly.  Overcook and the fudge will be more like hard caramel.
Once it's at the right temperature take off the heat and carefully pour into the bowl of your stand mixer.  If you're doing this next bit by hand, get ready to sweat!
Add in the Foodie Flavours Candy Floss (25-30 drops is plenty!) and beat the fudge for 8-10 minutes using the paddle attachment.  The fudge should be less shiny and will be quite thick.  Add the raspberry bits and beat just until they're mixed in.
Pour the (still quite hot) fudge into a parchment lined tin, flatten and push to the corners then sprinkle on the chopped pistachios and white chocolate chips.  Gently push these into the fudge so they don't fall off when you cut it up!
Allow to chill at room temperature for an hour before putting in the fridge for about 2 hours.  Then cut up into whatever shape you fancy!  Store at room temperature – it will harden considerably if you store it in the fridge.
Tin Size and Fudge Size
If you use a smaller tin or dish than I did your fudge pieces will be taller.  How big you cut up your pieces is also up to you.  Less is usually more with fudge – because of its ingredients it's very sweet!  But oh so very good.
Looking for even more easy vegan sweet treats?  Try these:
Creamy Buttery Caramel Cupcakes
Honey Flavoured Chocolate Bars
I'd also love to hear from you if you make this Jamaican Ginger Sticky Pudding Cake! Just leave a comment as it's so helpful and I love to hear how the recipe worked out for you! Thank you so much!
Don't forget to follow us on YouTube, Facebook or Pinterest for even more recipe inspiration and chat, competitions, behind the scenes and so much more!
White Chocolate and Candy Floss Fudge
prep: 10 mins / cook: 15 mins / inactive: 3 hours 0 mins / total: 3 hours 25 mins / quantity: approximately 20 squares of fudge
Ingredients
Instructions
Line a heatproof tin or dish 7 inches (17.5 cm) square with parchment
Put the condensed milk, oat milk, sugar and butter into a heavy based saucepan and heat gently until the sugar has dissolved
Bring the pan to the boil then bubble rapidly for 5 minutes, stirring almost consistently (see note)
Have a bowl of iced water nearby and after 5 minutes test the fudge by carefully lifting some of the liquid out with a spoon then immersing in the iced water
The mixture should be soft and squidgy to the touch - if it's too liquid still continue to boil and stir and repeat the testing process
If you're using a sugar thermometer the temperature needed is 112 to 114 °C (234 to 237 °F)
Once your fudge is ready, take off the heat and pour into a stand mixer with the paddle attachment
Add the Candy Floss drops and beat the fudge for 8-10 minutes until it starts to lose its shine and it's become quite thick
Reserve 1 tblsp of the raspberry pieces and add the rest to the fudge, beating just long enough so they're mixed in
Pour and spread the fudge into your prepared dish, flattening the top
Sprinkle over the pistachios, chocolate chips and reserved raspberry pieces, pushing them gently into the fudge - this helps stop them falling off when you cut it up!
Allow the candy floss fudge to cool at room temperature for an hour then set in the fridge for around 2 hours before cutting into squares
Store at room temperature
Notes
If you don't stir the fudge often while it's boiling it might catch and burn at the bottom of the pan
Try not to store your fudge in the fridge - this will make it harden considerably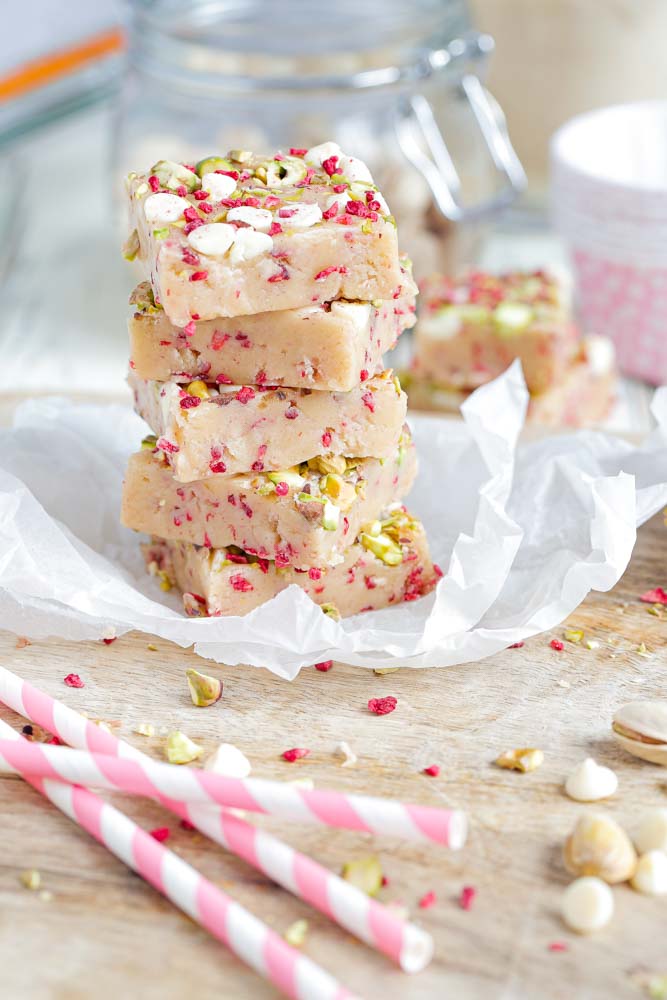 Hello and welcome to The Cook & Him.
We are Sam (The Cook), Phil (Him) and our little dog Nooch. What started with a plan to shed a few pounds back in 2016, soon became obvious that eating healthy doesn't have to be bland and boring.
So, combining Sam's 15 years of experience working within Michelin starred restaurants and our love for deliciously healthy food, we're creating recipes for you to make and enjoy. We've added our own unique spin on traditional and contemporary vegetarian and vegan recipes that keep you (and your pets!) healthy and full.  And we make sure they just work.
All things autumn - warming soups, savoury bakes and delicious sweet treats!
and I would like to see...
Or search for a recipe or post by keyword