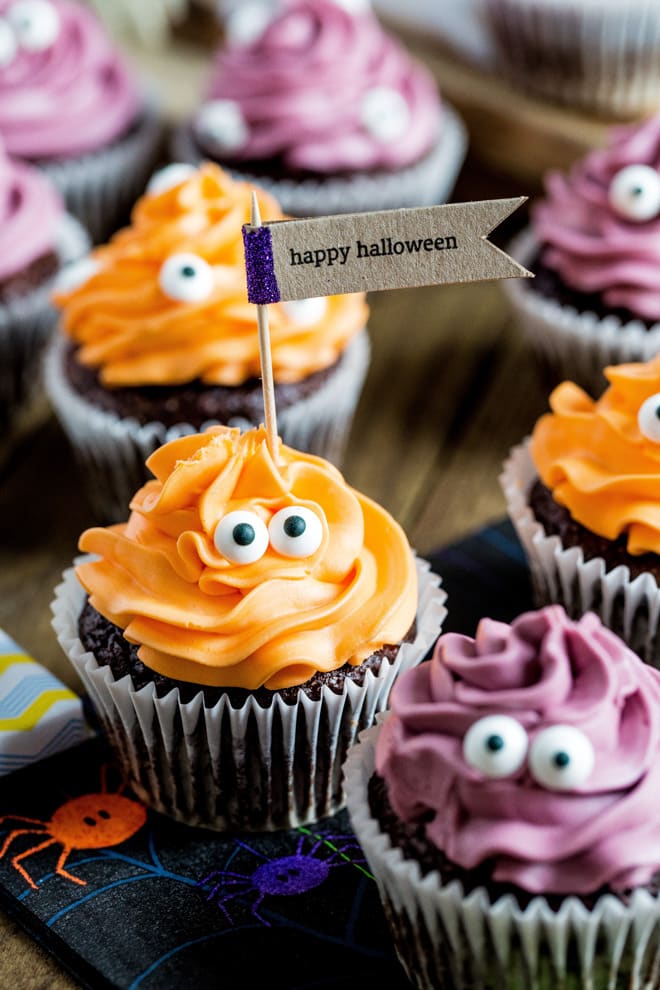 Posted in Recipes on 26.10.2018
Death by Chocolate Cupcakes
prep: 30 mins / cook: 25 mins / inactive: 60 mins / total: 1 hour 55 mins / quantity: 12 cupcakes Print recipe?
These spooky cute Death by Chocolate Cupcakes with devilishly dark vegan chocolate and supernaturally sweet vegan frosting are a super easy Halloween recipe!
I LOVE cooking.  More specifically baking.  It's where my ❤ calls home.  But developing recipes can have its stressful moments when things don't work out either quite or even anything like you'd intended.  There aren't exactly tears and tantrums but there is much phooing and throwing of hands in the air.  And maybe an occasional swear word.  Or three.  But I had SO MUCH fun making these Death by Chocolate Cupcakes!
Mostly from just attaching the eyes and seeing my little monsters come to life!!
Double Chocolate Goodness
And if you're going to call something Death by Chocolate it should really blood curdlingly SCREAM chocolate.   Can you tell I love Halloween?  I'm not really even sure why.  I guess because I've always been a fan of the slightly quirky, ever so creepy, get dressed up and scare the daylights out of small children 😉
There's both cacao powder and dark chocolate chips (or chunks) in the cupcake batter.  I use and mention cacao powder a LOT.  It's much less processed than cocoa powder, no added sugar giving it such a rich chocolate flavour as well as being full of heart healthy antioxidants.
How to make death by chocolate cupcakes:
Start by mixing the milk with the vinegar.  This curdles the milk, making it more like buttermilk and gives a richer flavour in vegan baking.  Set that aside while you weigh out the dry ingredients.
In a large bowl put the flour, sugar, cacao powder, baking powder and bicarb and mix together.  Stir in the chocolate chips.
Whisk the oil into the milk then add that to the bowl of dry ingredients and mix well, stirring up from the bottom of the bowl and making sure no flour 'pockets' remain.
Divide the mix equally between the muffin cases (this mix makes roughly 12 large cupcakes).  I've used the larger muffin cases for this cupcake recipe because greedy me much prefers a large cupcake than a dainty one 😉
If you use the smaller cupcake cases this batter will make a LOT more and likely take less time to cook!
Bake for 20-25 minutes (23 minutes was the sweet spot in my oven).  They should be springy to touch.  You can also test with a cocktail stick inserted in the centre of a cupcake.  Once removed there should be no raw cake mix clinging to the stick.  If so, bake for a few more minutes and repeat the testing process.
Making the googly eyes:
While they're baking make the googly eyes if not using bought ones.  I've used both on the different occasions I've made these death by chocolate cupcakes.  The bought ones can be a little harder to get hold of as supermarket ones seem to have shellac (which makes me shudder even when it's not spooky season).  Amazon is a good place to get them but can also be a minefield with ambiguous ingredients.
And it only takes a few minutes to make your own.  Simply melt a couple of squares of vegan white chocolate, spoon into a mini piping bag (YouTube tutorial here if you're feeling adventurous) or small food bag.  If using a food bag, spoon into one corner then snip a small piece of the corner off so you can pipe out the chocolate.
Pipe small blobs of white chocolate onto a piece of parchment.  Then repeat this process with a square or two of dark chocolate, piping the 'iris' bit in the middle of the white chocolate 'eyeball'.  Or give your little monsters completely wonky eyes and pipe off centre!  Set in the fridge for a few minutes
Decorating Death by Chocolate Cupcakes
To make the icing, beat together the vegan butter with the icing sugar.  I recommend using the block type of vegan butter rather than tub margarine.  Soften the butter first if you're mixing my hand.  Beat until very pale and fluffy, a few tiny drops of boiling water really help to fluff up the buttercream!
Divide the icing in half and colour one half with purple colouring and the other half with orange colouring.  Spoon one of the colours into a piping bag fitted with a star nozzle.
Once the cupcakes are cooked and cooled (transfer to a wire rack to speed up the cooling) pipe large swirls on top of each cupcake, using one colour then the other.  You can of course make the frosting any colour you wish and use just one colour rather than two.  Completely up to you!
I used large tweezers to place the eyes onto the cupcakes.  Arrange to make them look as bonkers as you'd like!
Store the cupcakes in an airtight container at room temperature where they'll keep reasonably well for a few days.  The unfrosted cupcakes can also be frozen.
Lots more vegan Halloween recipes here.
If you make this recipe or any of the recipes from The Cook & Him I'd LOVE to see! Just snap a picture and share it on Instagram using #thecookandhim and tagging @thecookandhim in the photo itself (as this guarantees I'll see your picture!
)
Don't forget to follow me on Facebook or Pinterest for even more recipe inspiration and chat, competitions, behind the scenes and so much more!
Death by Chocolate Cupcakes
prep: 30 mins / cook: 25 mins / inactive: 60 mins / total: 1 hour 55 mins / quantity: 12 cupcakes
Ingredients
Cupcakes:
1 + 1/4 cups (290ml) plant milk
1 tablespoon apple cider vinegar
1 + 1/4 cups (200g) self raising flour
1 cup (200g) golden or white caster sugar
1/4 teaspoon baking powder
1/2 teaspoon baking soda
1/4 cup (30g) cacao powder
1/2 cup (100g) dark chocolate chips or chopped dark chocolate (dairy free)
1/3 cup (80ml) light vegetable oil
Frosting:
1 + 1/4 cups (250g) vegan butter
2 cups (300g) icing sugar
Couple of squares each of vegan dark and white chocolate (or bought candy eyes)
Optional: orange and purple food colouring
Equipment:
Instructions
Preheat your oven to 180 Fan / 200 C / 400 F / Gas 6 and line a 12 hole muffin tin with muffin cases
Whisk the milk and vinegar together in a bowl or jug then set aside
Weigh the flour, sugar, baking powder, baking soda and cacao powder into a large bowl and mix together
Stir in the chopped chocolate or chocolate chips
Whisk the oil into the milk then pour that into the bowl of dry ingredients, mixing well and making sure no flour 'pockets' remain
Evenly spoon the mixture between the muffin cases and bake for 20-25 minutes until a skewer or cocktail stick inserted into one of the muffins comes out clean
Leave to cool in the tin for 5 minutes before lifting out onto a wire rack to cool completely
While they're cooking and cooling you can make the eyes and frosting. For the eyes melt a couple of squares of vegan white chocolate and pipe small blobs onto parchment. Repeat with a square of dark chocolate, piping the 'iris' parts of the eyes in the centre of the white chocolate. Set in the fridge
For the frosting, if you're doing more than one colour (I chose orange and purple) beat the vegan butter with the icing sugar in one batch, then divide the mixture into separate bowls for however many colours your using!
Add the colouring(s), mixing them well through the frosting
When the cupcakes are completely cold spoon the frosting into piping bags fitted with a star nozzle and pipe swirls on top of each cupcake
Add the googly eyes and marvel at your witchy skills!
Store in an airtight container
Notes
Unfrosted cupcakes can be frozen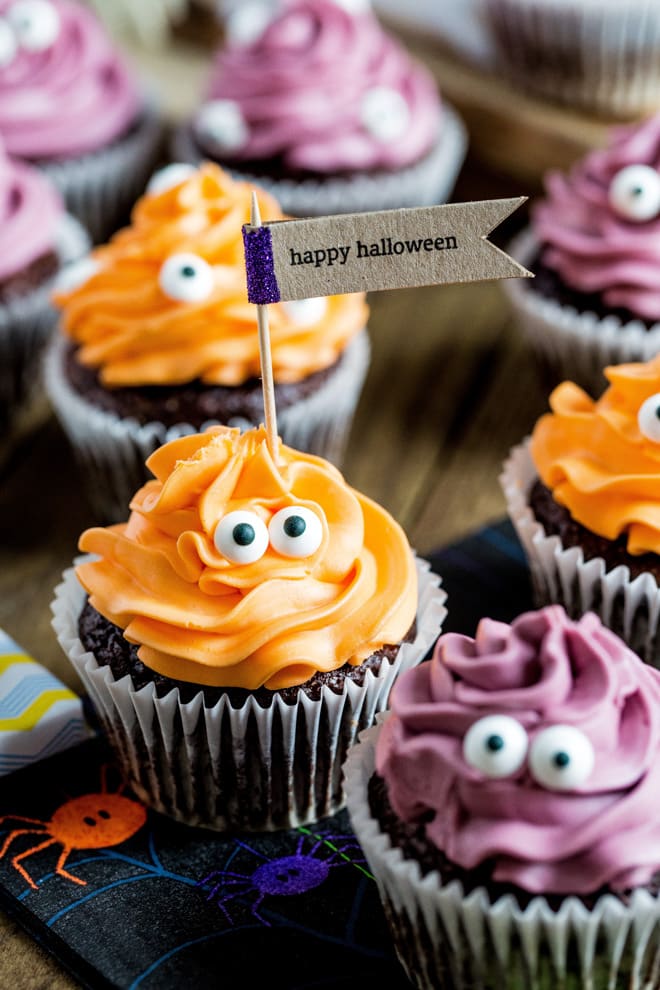 Some products I used in today's post...
Some of the links above are affiliate links, which pay us a small commission for our referral at no extra cost to you! Thank you for supporting The Cook & Him.
Hello and welcome to The Cook & Him.
We are Sam (The Cook), Phil (Him) and our little dog Nooch. What started with a plan to shed a few pounds back in 2016, soon became obvious that eating healthy doesn't have to be bland and boring.
So, combining Sam's 15 years of experience working within Michelin starred restaurants and our love for deliciously healthy food, we're creating recipes for you to make and enjoy. We've added our own unique spin on traditional and contemporary vegetarian and vegan recipes that keep you (and your pets!) healthy and full.  And we make sure they just work.
All things autumn - warming soups, savoury bakes and delicious sweet treats!
and I would like to see...
Or search for a recipe or post by keyword