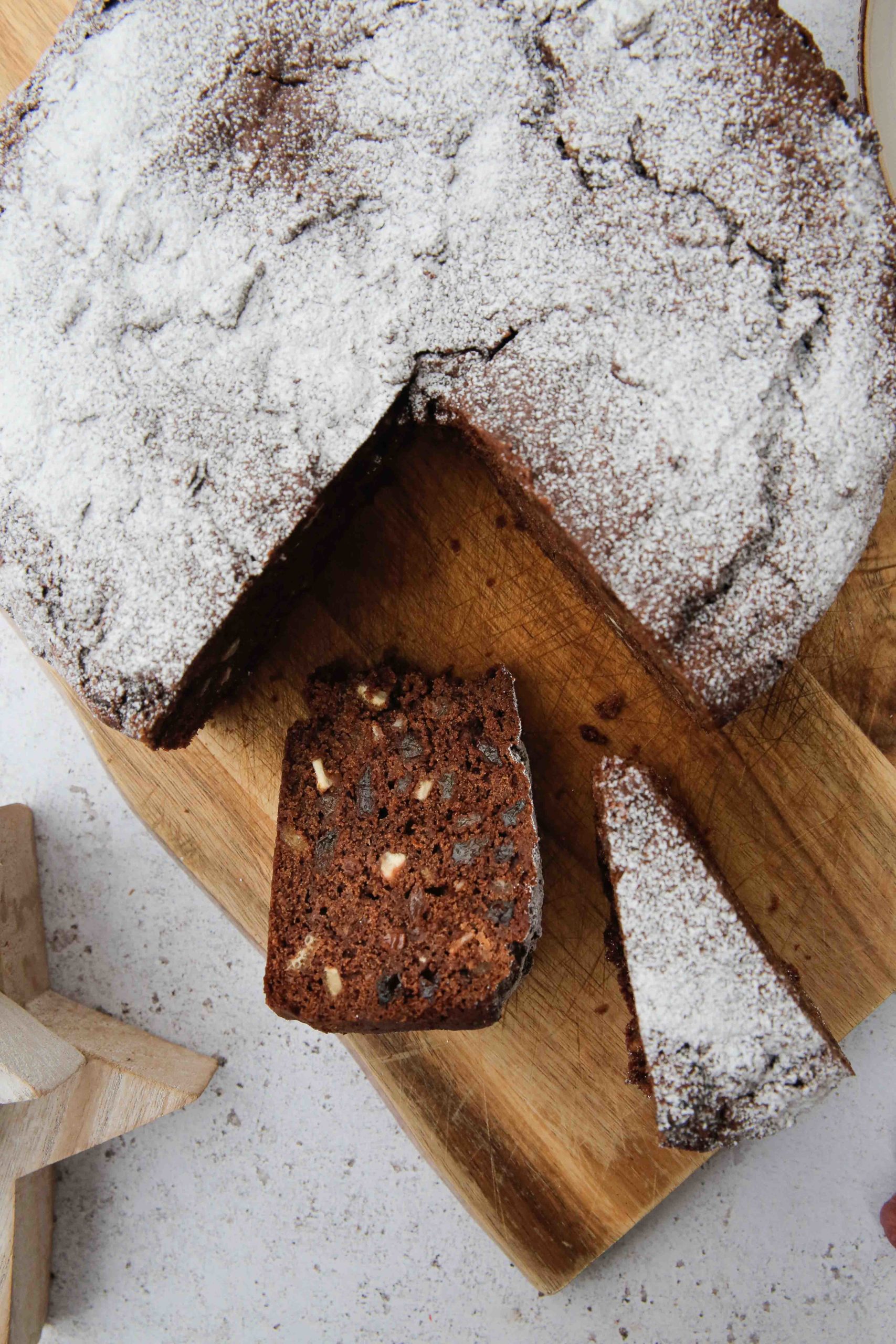 Posted in Recipes on 10.12.2022
Chocolate Christmas Cake
prep: 20 mins / cook: 1 hour 10 mins / inactive: 0 mins / total: 1 hour 30 mins / quantity: 12 slices Print recipe?
This chocolate Christmas cake is dark, squidgy and delicious!
It's also packed with fruit and a hint of orange.  The chocolate flavour is subtle but defined and adds a whole new level of flavour to a traditional Christmas cake!  And it came about after a subscriber got in touch to ask if I knew of a vegan chocolate Christmas cake recipe, or were perhaps even thinking about making one.  It wasn't something that I had seen or was on my radar to make but chocolate + Christmas cake?  How could I NOT make it!
And it could not be easier.  It DOES take a bit of time as ideally you'll want to soak the fruit and the alcohol the day before so that they're all plump and juicy before being plunged into the rich, dark, divine cake batter.
How to make a vegan chocolate Christmas cake:
Start the day before by soaking the fruit in the orange zest, juice and brandy.  If you have an aversion to alcohol try apple juice instead.  Oh and don't forget to zest the oranges BEFORE you juice them.  A habit I have finally acquired after forgetting way too many times.  I blame my eagerness to get going with a recipe.  Or could just be my often forgetful mind.
While you're doing stuff in cake preparation, take the vegan butter out of the fridge.  If you're using a stand mixer you won't need to do this.  If you're mixing by hand it's a must.  Or you could just microwave it until just soft (no melty melty here please).
From here on it's just straightforward cake making!
Beat the butter with the dark brown sugar and golden syrup.  If using a stand mixer use the paddle attachment.  Little tip, when weighing the sugar and syrup, make a little indent in the sugar then weigh in the syrup.  Saves a sticky mess!
Scrape down the sides of the bowl a couple of times then continue beating.  This just helps incorporate the butter with the sugar and syrup better.
In a separate bowl whisk together the flour, cacao powder, cornflour, ground almonds, spices, bicarb and baking soda.
Side note about raw cacao powder
I've used raw cacao powder because that's what I always use when baking anything chocolate.  If it's possible for chocolate to be considered healthy then this is it. Raw cacao powder is essentially chocolate at its purest form. It's straight out of the cacao pod, right from the bean, unroasted and – relatively – unprocessed.  It is made by cold-pressing unroasted cacao beans, which is said to keep most of the nutritional value intact.  It also has the absolute best flavour!  It is of course more expensive than regular cocoa powder so if that's what you have or can afford go with that 🙂
Back to the cake …
To the bowl of the beaten butter and sugar add the flax water mixture – this is also known as a flax egg and were using this as an egg replacement for vegan baking.
Then add the milk and all the dry ingredients.  Beat slowly until literally just mixed together then beat in the soaked fruit and any 'spare' liquid from the bowl.  Again beat until just incorporated.  The batter is fairly stiff, but don't worry, that just makes the cake more squidgy!
Spoon into your prepared tin, level the top and bake for just over an hour or until a skewer inserted in the centre of the cake comes out clean with no raw cake clinging to it.  Leave to cool in the tin for around 30 minutes before transferring to a wire rack to cool completely.  I also generally wait until the cake is cold before taking it off the cake tin base.
I can confirm I'm a compete convert.  I adore this chocolate Christmas cake.  It's the absolute best of both worlds!  The only technical hitch was, now I'm a singleton, I really shouldn't eat a whole cake to myself, no matter how much I'd like to.  So I advertised it in the village Facebook group and it only all bloody went! I got one slice.  ONE SLICE!!
And the village verdict?  Stupendous was one remark (thank you Penny x).  I love this village.
Looking for even more vegan Christmas baking recipes?  Try these …
Christmas Pudding Muffins with Irish Cream Frosting
If you make this recipe or any of the recipes from The Cook & Him I'd LOVE to see! Just snap a picture and share it on Instagram using #thecookandhim and tagging @thecookandhim in the photo itself (as this guarantees I'll see your picture!
)
Don't forget to follow me on Facebook or Pinterest for even more recipe inspiration and chat, competitions, behind the scenes and so much more!
Chocolate Christmas Cake
prep: 20 mins / cook: 1 hour 10 mins / inactive: 0 mins / total: 1 hour 30 mins / quantity: 12 slices
Ingredients
To soak the day before:
2 cups (275g) sultanas
1 + 1/4 cups (200g) candied peel
1/3 cup ((70g) dried apricots – roughly chopped
1/2 cup (125ml) brandy (see note)
2 oranges – finely grated zest and juice
Cake batter:
2 tablespoons ground flax seeds
1/3 cup (80ml) cold water
3/4 cup (175g) vegan butter
1 cup (240g) dark brown sugar
1/4 cup (60g) golden syrup
1/2 cup (120ml) unsweetened dairy free milk – I used oat milk
2 cups (350g) plain flour
1/3 cup (40g) ground almonds
2 teaspoons ground cinnamon
2 teaspoons ground nutmeg
1 teaspoon ground allspice
1 teaspoon bicarbonate of soda
1 teaspoon baking powder
1/4 cup (35g) cornflour
1/2 cup (60g) raw cacao powder (see note)
Instructions
Ideally start the day before by soaking the fruit in the orange zest, juice and brandy. Put these into a bowl, cover and leave somewhere cool
The day of baking, preheat your oven to 140 Fan / 160 C / 320 F and line a 9 inch (23cm) round cake tin with parchment to cover the base and sides
Mix the flax seeds with the water in a small bowl or mug and set aside
To the bowl of a stand mixer with the paddle attachment add the butter, sugar and syrup. Beat together until well mixed, scraping down the sides of the bowl a couple of times with a spatula
In a separate bowl whisk together the remaining dry ingredients - the flour, ground almonds, spices, bicarb, baking powder, cornflour and cacao powder
Add the milk and the flax seed mixture along with the mixed dry ingredients and beat together until just mixed
Tip in the fruit and any excess liquid and beat until full incorporated
Scoop the mixture into your prepared tin, flatten the surface and bake for 1 hour - 1 hour 15 minutes until a cocktail stick inserted in the centre of the cake comes out clean with no raw cake clinging to it
Leave to cool in the tin for around 30 minutes before turning out onto a cooling rack to cool completely
Once the cake is cooled wrap in foil to completely cover or store in an airtight container at room temperature
Notes
If you don't want to use alcohol substitute for apple juice
I always use raw cacao powder for any chocolate recipe but normal unsweetened cocoa powder should also work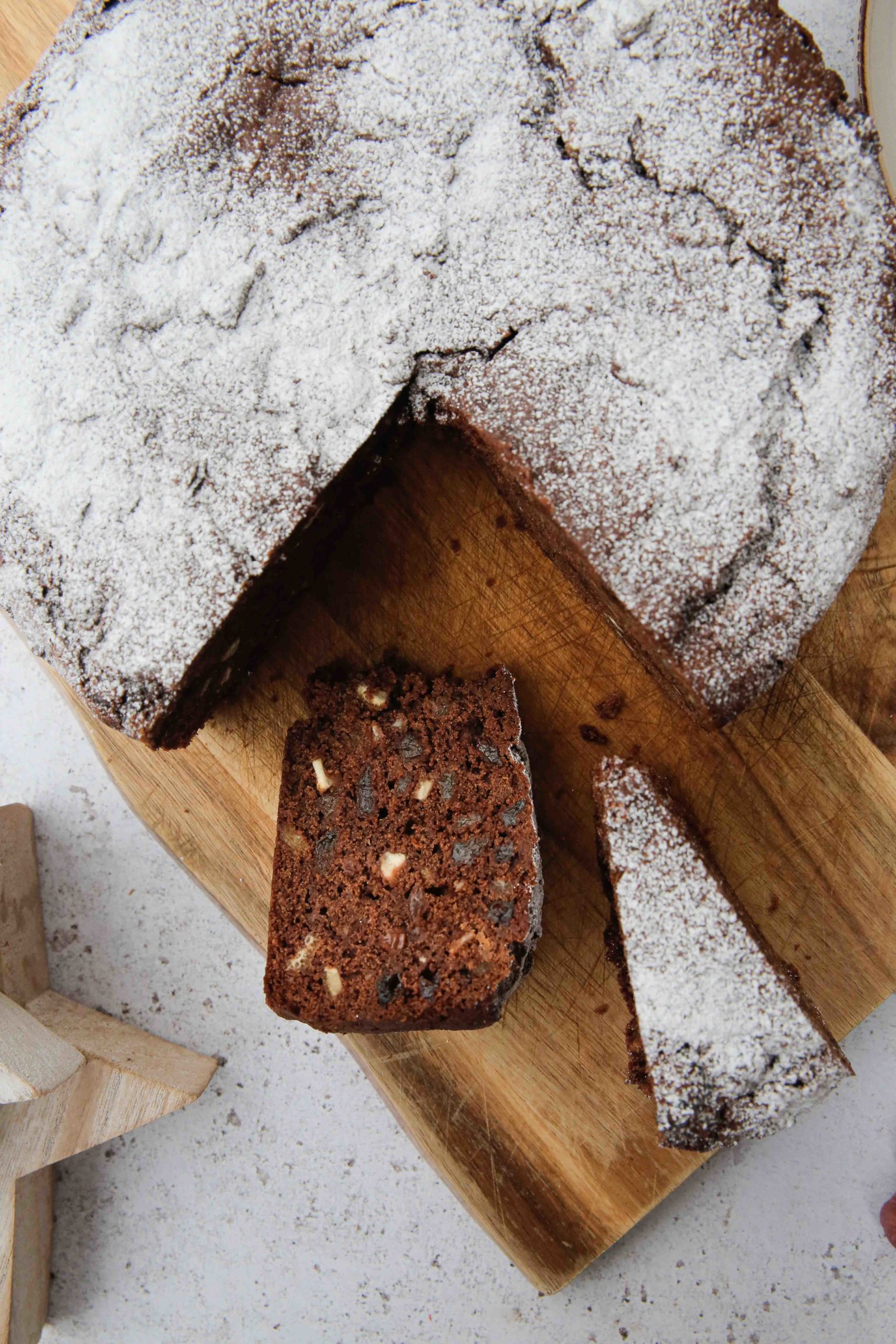 Hello and welcome to The Cook & Him.
We are Sam (The Cook), Phil (Him) and our little dog Nooch. What started with a plan to shed a few pounds back in 2016, soon became obvious that eating healthy doesn't have to be bland and boring.
So, combining Sam's 15 years of experience working within Michelin starred restaurants and our love for deliciously healthy food, we're creating recipes for you to make and enjoy. We've added our own unique spin on traditional and contemporary vegetarian and vegan recipes that keep you (and your pets!) healthy and full.  And we make sure they just work.
All things autumn - warming soups, savoury bakes and delicious sweet treats!
and I would like to see...
Or search for a recipe or post by keyword