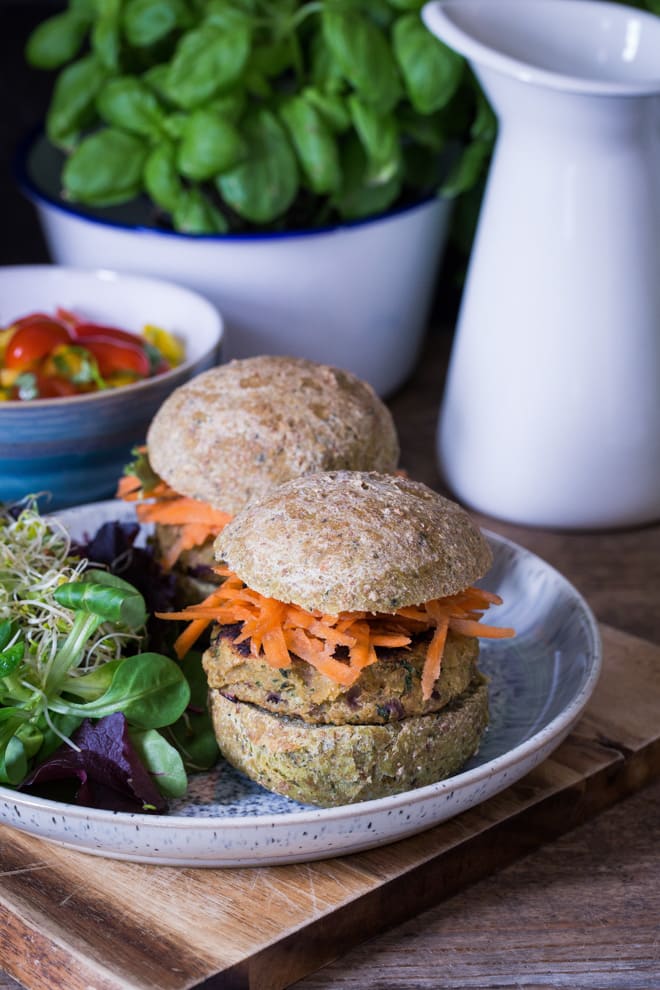 Posted in Recipes on 17.03.2018
Falafel Recipe
prep: 15 mins / cook: 30 mins / inactive: 0 mins / total: 45 mins / quantity: 4 / 12 falafel / rolls Print recipe?
What is Falafel?
Falafel is a traditional Middle Eastern dish that has been enjoyed for centuries, its essentially a vegan pattie or ball made from ground chickpeas, garlic and lots of herbs. Falafel has also become quite popular in America and now, with the growth of veganism its popularity is growing in Europe and the UK too. (Are we still Europe, I don't understand all this "Brexit" stuff!).
The name "Falafel" can refer to the entire dish, but most accurately it describes the main ingredient – falafel balls or patties.
Historically, Falafel was made from fava beans, chickpeas or a mixture of both, but these days falafel is usually just made from Chickpeas (aka Garbanzo Beans!) mixed with garlic and a good hit of herbs.
How to make Falafel
If you've never made your own falafel it's easier than you might  think.  And, in all honesty, so much tastier.  I find the shop bought ones to be either too bland or conversely over-spiced.  The best thing about making your own anything is YOU get to decide what goes in it.  And you don't need much to make more than decent falafel!
To make falafel, sweat some onions in a frying pan, then whizz them in a food process or along with the garlic, pesto, cumin, basil leaves, chickpeas a little flour and a good crack of salt and pepper.
Chop, fry, whizz, shape, sizzle, done! Making falafel could not be simpler!
How to cook Falafel
Now that you have a lovely bowl of Falafel ready to cook, what the best way to cook it? Frying is the traditional way to cook falafel, and I honestly believe that is the best way.
You can bake the falafel (because, you know, healthier and stuff) but they just don't get that lovely crispy outside that's such a wonderful contrast to the soft, squidgy inside.
So a gentle sizzle in a little olive oil and you have the perfect falafel burger!
Can I make Falafel ahead and freeze?
Yes! You can make the patties or balls and freeze them for use as needed!
Prepare the falafel mixture as above then then make them into your patties or balls.  Line a baking sheet with parchment paper and pop them in the freezer, Once hardened you can move them into a freezer bag or freezer proof Tupperware. They should be OK in the freezer for around a month, but as usual in our house, nothing last that long as we eat well! You can cook the falafel straight from frozen but do ensure that its piping hot in the center before serving!
What can I do with leftover Chickpeas?
Chickpeas are amazing aren't they?  Falafel, hummus, crackers, roasted, in a pie … even meringue!  Well not strictly meringue as you only use the water tinned chickpeas come in but it's still a chickpea derivative ?
How to serve Falafel
We love falafel as "falafel burgers", served hot inside a freshly baked bread roll, especial a homemade spinach bread roll.
Now, homemade bread rolls to go with these take a little more time and involvement but I've always found bread to be one of THE most rewarding things to make in a kitchen.  A little bit of mixing and kneading then potter around while the yeast does its wonderful thing.
And spinach – a leafy green known for good health and popular for its remarkable abilities to restore energy, increase vitality and improve the quality of the our blood.  Bake it into bread and the fussy eaters will have no idea it's even there!  Tell them it's pureed frog instead if they notice the slight green tinge ??
You can also make smaller patties and serve them in wraps chock full of hummus and salad – yep, I'm SO trying that next ?
Here are some items I used in making these Falafel Burgers with Spinach Oat Rolls:
If you make this recipe or any of the recipes from The Cook & Him we'd LOVE to see! Just snap a picture and share it on Instagram using #thecookandhim and tagging @thecookandhim in the photo itself (as this guarantees we'll see your picture!
)
And don't forget to follow us on Instagram , Facebook or Twitter for even more recipe inspiration and chat, competitions, behind the scenes and so much more!
Falafel Recipe
prep: 15 mins / cook: 30 mins / inactive: 0 mins / total: 45 mins / quantity: 4 / 12 falafel / rolls
Ingredients
Falafel
1 red onion – peeled
2 cloves garlic – peeled
400g can of chickpeas – drained
2 tsp ground cumin
1 tblsp vegan basil pesto
handful fresh basil leaves
2 tblsp wholemeal flour
salt and pepper
drizzle of olive oil
Spinach Oat Rolls
225g wholemeal bread flour
225g strong white bread flour
50g oats
1 tsp active dry yeast
1 tsp sugar
75g baby spinach leaves
1 tblsp olive oil
1 tsp salt
300ml tepid water
Instructions
If you're not making the rolls, start from point number 9. If you're making the rolls, start with those first - in a large bowl mix tip both the flours, the oats, yeast and sugar.  Stir until mixed together well
Into a food processor put the spinach, salt, oil and about 1/4 of the water.  Whizz until the spinach is very well chopped
Add the spinach mixture to your large bowl of dry ingredients and mix until a dough starts to form
Tip out onto a floured work surface and knead for around 10 minutes.  This might seem a long time but it's a good workout and is very important to the finished bread result 
Once the dough feels soft but elastic put into a clean bowl that you've rubbed with a little olive oil
Cover with a tea-towel and leave in a warm place for around an hour until doubled in size 
Once the bread has doubled in size tip it out of the bowl and knead again to knock the air out.  This might seem counter-intuitive but kneading a second time results in a better crumb and no giant air pockets!
Line a large baking tray with parchment or a silicon mat.  Equally divide the dough into 12 and shape into rolls using the cups of your hands.  Put on the tray, cover in a piece of oiled clingfilm and again leave in a warm place until doubled in size
In the meantime, make the falafel burgers - roughly chop the peeled onion and garlic (you don't need to be too precise as it's going to get whizzed up in a food processor!)  
Put into a small frying pan with a drizzle of olive oil and gently fry for a few minutes over a medium heat until the onion is soft and turns translucent
Into a food processor tip the drained chickpeas, whizz until they're quite well chopped, using a spatula to scrape down the sides of the bowl as necessary
Then add the cooked onion and garlic, the pesto, cumin, basil leaves, flour and a good pinch of salt and pepper whizz again until everything is well chopped together, again scraping down the sides.  Remove the blade and put the bowl in the fridge till your rolls are ready (if you're not making the bread, skip straight to step 15!)
Once your rolls are almost doubled in size preheat the oven to 200 Fan / 220 C / 425 F / Gas 7.  Once up to temperature, bake the rolls for 30 minutes - tap the bottom to see if they're cooked - they will sound hollow when they're done!
Transfer to a wire rack to cool while you make the burgers
Divide the falafel mixture into 4 equal(ish) balls and flatten and shape into burger patties with your hands
Gently warm a little olive oil in a frying pan and carefully place in the burgers
Cook for around 10 minutes each side until crisp and golden
Serve immediately in a split bread roll - we like them slathered in hummus and grated carrot too ?
Notes
If you want to understand about bread, why the ingredients are there and why the all the processes I wrote a step by step guide right here for perfect bread every time!
The rolls freeze really well, so don't worry about having too many!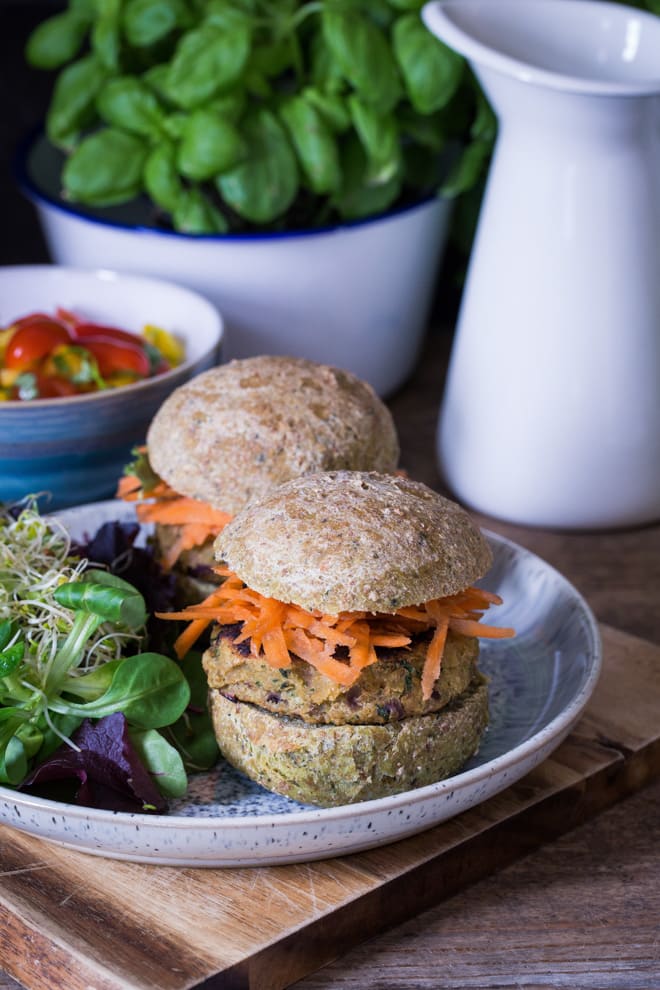 Hello and welcome to The Cook & Him.
We are Sam (The Cook), Phil (Him) and our little dog Nooch. What started with a plan to shed a few pounds back in 2016, soon became obvious that eating healthy doesn't have to be bland and boring.
So, combining Sam's 15 years of experience working within Michelin starred restaurants and our love for deliciously healthy food, we're creating recipes for you to make and enjoy. We've added our own unique spin on traditional and contemporary vegetarian and vegan recipes that keep you (and your pets!) healthy and full.  And we make sure they just work.
All things autumn - warming soups, savoury bakes and delicious sweet treats!
and I would like to see...
Or search for a recipe or post by keyword