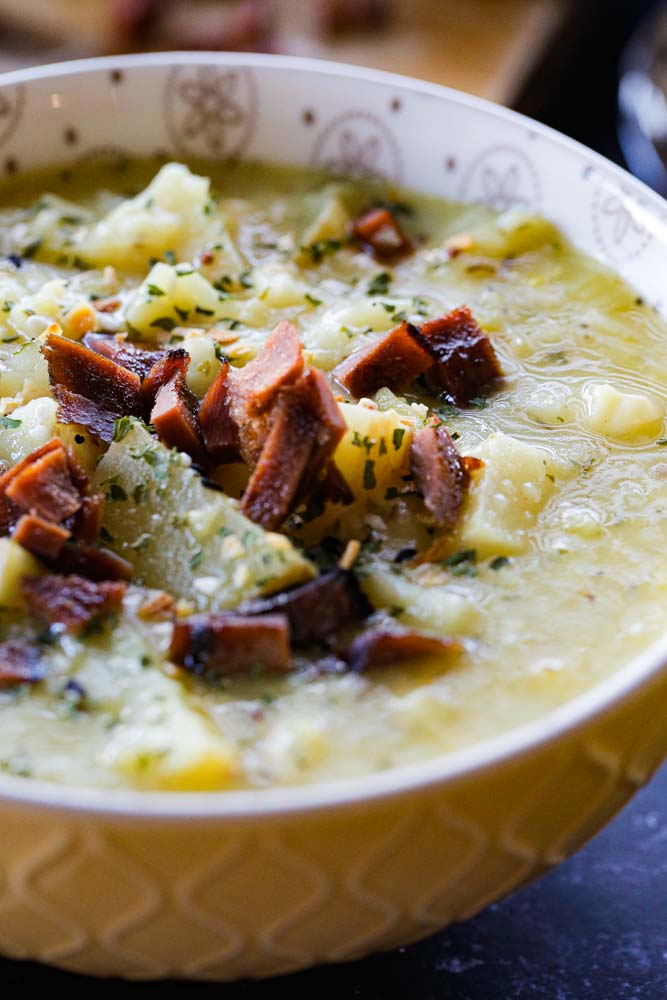 Posted in Recipes on 01.11.2021
Leek and Potato Soup with Crispy Vegan Bacon
prep: 15 mins / cook: 20 mins / inactive: 0 mins / total: 35 mins / quantity: 4 portions Print recipe?
Baby potatoes, fragrant leeks, herbs, garlic, apple cider and vegan cheese are all in this easy, rich and hearty soup. Add crumbled vegan bacon bits for a crispy, salty topping, turning this leek and potato soup into pure comfort food heaven!
Do you relish warming bowls of food when the days start getting colder?  Phil and I tend to nest in the autumn and winter, there's something about the crisp mornings, darker, more moody days, tumbling leaves and general chill that makes me want to make all the hearty foods.  And food doesn't come much heartier than this leek and potato soup.
Sometimes I can be a really lazy cook.  How about you?  Do you cook from scratch all the time or mix it up?  Would you like to cook from scratch more?  What's your lazy go to food?
My lazy food has always been a tin of soup.  But there are so many soups that just aren't vegan.  Somehow milk seems to creep into the most unlikely of soups.  So I've become more consistent with making my own soup.  Batch cooking it so I've got some in the freezer when the lazies crop up.
How to give a basic leek and potato soup lots of flavour:
The base of the soup is good old veggies – leek, garlic, celery, parsnips and of course potatoes.  I've used new potatoes for this recipe as I had some in the fridge that needed to be used but you can use chopped up larger potatoes if that's what you have.  To add to those base flavours there's also thyme – fresh if you can get it – and vegetable stock.  I use Marigold Vegan Bouillon Powder.  It tastes good and lends itself nicely to my inner lazy cook as you just add around 4 teaspoons per litre of water.
For the next level of flavour I've added some apple cider and wholegrain mustard.  The cider lightens up the rich flavours in this homemade soup and gives the whole thing such lovely depth.  While we've been living in Wales we've visited some fruit farms and an apple cider producer for some of the most amazing local ciders.  There have been sharp, crisp, buttery and even earthy ciders.
But bacon though …
I've also gone with some vegan cheddar type cheese and a dash of cream to fully round out the flavours.  This leek and potato soup is cold weather comfort, only made better by topping the whole lot off with some crispy, salty vegan bacon bits.
Have you noticed that vegan bacon, much like vegan cheese, is slowly advancing?  I remember getting these wafer thin vegan bacon rashers a few years ago that were almost inseparable from each other in the pack and went from raw to curled and burnt if you dared look away.  Since then we've tried a few different vegan bacons and our favourites are This Isn't Bacon and Naked Without The Oink.  They taste really good, not too salty, not too smokey and don't leave an unpleasant acrid taste in your mouth. They also crisp up really well!
You may have also spotted the bread in the photo.  These are something I'm working on – Apple Cider Pretzel Bites.  I've made them a couple of times now and they taste SO good but I cannot get the shape right.  They tend to come out more like rolls than bites.  Not the nubbly little shapes that are great for dipping – in things like leek and potato soup!  Ah such a shame I will have to try again 😉
Looking for more vegan soup recipes?  Try these:
Creamy Broccoli Soup (with a side of toasted vegan cheese sandwiches!)
Red Pepper and Tomato Soup with Roasted Cauliflower
I'd also love to hear from you if you make this Vegan Leek and Potato Soup! Just leave a comment as it's so helpful and I love to hear how the recipe worked out for you! Thank you so much!
Don't forget to follow us on YouTube, Facebook or Pinterest for even more recipe inspiration and chat, competitions, behind the scenes and so much more!
Leek and Potato Soup with Crispy Vegan Bacon
prep: 15 mins / cook: 20 mins / inactive: 0 mins / total: 35 mins / quantity: 4 portions
Ingredients
1 tblsp oil
1 large leek – white part only finely sliced
1 stick celery – finely diced
1 large parsnip – peeled and finely diced (discard woody core)
5 cloves garlic – peeled and crushed
1 tblsp fresh thyme leaves, stalk discarded (or sub 1 tsp dried)
3 cups (450g) diced potatoes (see note)
3 cups (750ml) vegetable stock
1 cup (250ml) apple cider
1 tsp wholegrain mustard
1 cup (250ml) vegan cream
1 cup (80g) grated vegan cheese (see note)
salt and pepper to taste
a few strips of vegan bacon
Optional:
Snipped fresh chives and/or chopped fresh parsley
Instructions
Heat the oil in a large saucepan over a medium heat then saute the leek, celery, parsnip and garlic for 2-3 minutes
Add the thyme and cook for a further minute
Add the potatoes, vegetable stock, cider and mustard and cook until the potatoes are just soft - you want a tiny bit of bite left
While the soup is cooking fry the bacon strips until crisp then chop or crumble into small pieces
Scoop out 2 cups (500ml) of the soup and puree in a blender or with an immersion blender
Stir in the cream and cheese and stir until the cheese has just melted
Taste and season with salt and pepper as needed - you could also add some chilli or red pepper flakes if you'd like a little heat/spice
Spoon into serving bowls and top with the crumbled bacon pieces
Notes
I used baby new potatoes and left them with the skin on. If you use larger potatoes you might want to peel first.
For the cheese I used a cheddar type vegan cheese for flavour - a smoked vegan cheese like Applewood might also be nice or a shredded vegan mozzarella.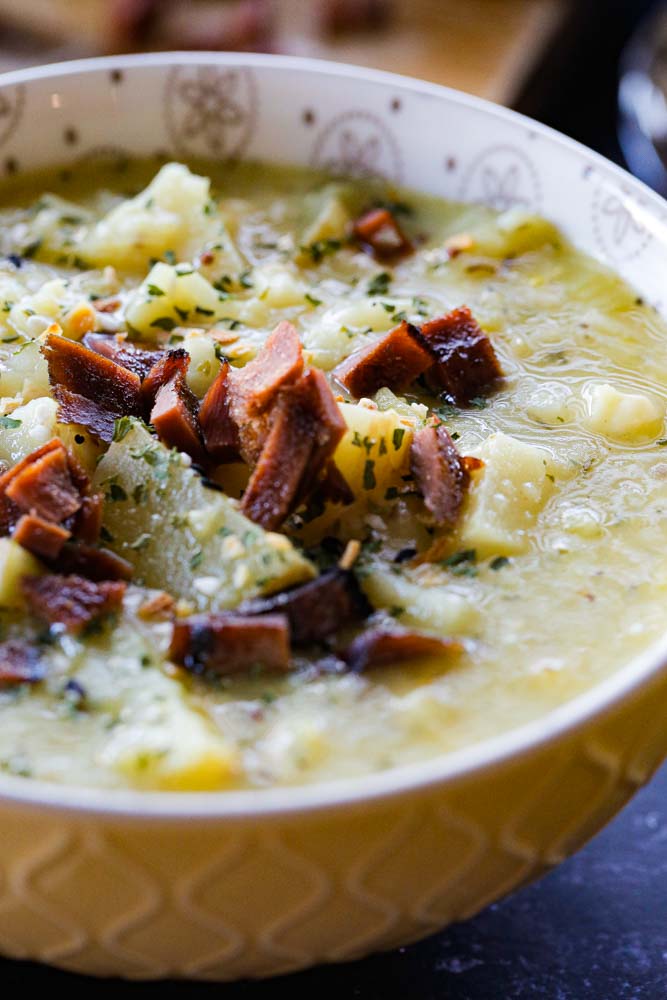 Hello and welcome to The Cook & Him.
We are Sam (The Cook), Phil (Him) and our little dog Nooch. What started with a plan to shed a few pounds back in 2016, soon became obvious that eating healthy doesn't have to be bland and boring.
So, combining Sam's 15 years of experience working within Michelin starred restaurants and our love for deliciously healthy food, we're creating recipes for you to make and enjoy. We've added our own unique spin on traditional and contemporary vegetarian and vegan recipes that keep you (and your pets!) healthy and full.  And we make sure they just work.
All things autumn - warming soups, savoury bakes and delicious sweet treats!
and I would like to see...
Or search for a recipe or post by keyword