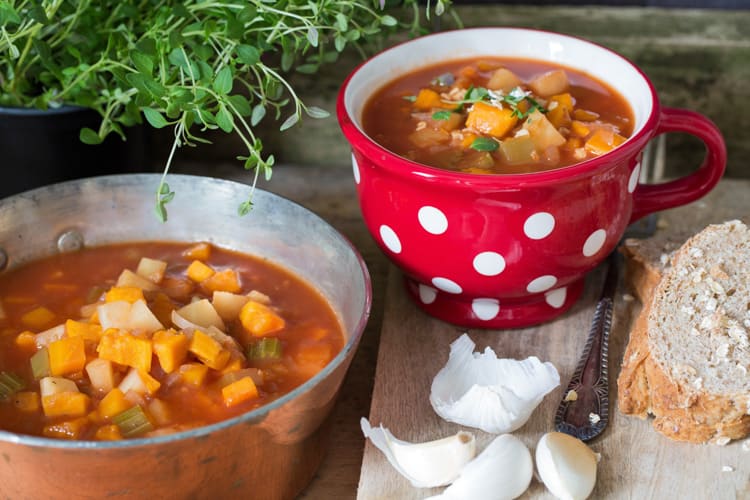 Posted in Recipes on 14.10.2017
Vegetable Soup
prep: 15 mins / cook: 40 mins / inactive: 0 mins / total: 55 mins / quantity: 4 portions Print recipe?
The Best Vegetable Soup
You know how I'm all about one bowl loveliness right?  Well let's extend that to one saucepan loveliness with this super easy, super tasty, thoroughly warming soup.  Chop a few vegetables, chuck in a saucepan, bubble for around 40 minutes and voila, soup for you, soup for someone else and leftover soup for later!
It's been a very long time since I had tinned soup – or even one of those trendy cartons of soup.  They have their place – when you just can't be arsed to cook and want something warming and filling – yep I definitely have those kinds of days.  But since I accepted that I'm merely human (that was a hard day ?) I'm largely better at planning ahead and keep a reasonable arsenal of warming/filling in the freezer for those can't be arsed days.
What Vegetables Should I Add to Vegetable Soup?
You can put whatever vegetables you like in this soup, from seasonal fresh veggies to frozen. Here's a list of what I used;
1 large sweet potato – peeled
1 large carrot – peeled or scrubbed if skin not too gnarly!
2 parsnips – peeled
2 sticks celery – washed
1 red onion – peeled and finely diced
You'll want to cut the vegetables to roughly all the same size as well as being just a bit smaller than bite sized.  When you're taking a mouthful you want a variety of veggies on your spoon for real flavour burst.  Smaller vegetables cook quicker too.
Anything else I should know?
Other than flavour, the absolute best thing about making something yourself is you know exactly what's going into it.  No strange unpronounceables that often accompany things that are designed to sit on an ambient shelf for months on end.  This is also another of those recipes that's more of a guide than a 'must adhere to' formula.  If there's a particular vegetable you absolutely don't like, swap it for one you do, or what you have to hand.
Just don't tell Phil there's celery in this.  He absolutely doesn't like celery.
What goes well with it?
I highly recommend some home made crusty bread with this soup – have you tried our Honey Oat Wholemeal Bread yet?  This soup + that = simple perfection ?
Oh quick side note, I've made this soup a few times now and have tried with either fresh thyme leaves or shredded basil – both work very well!
If you make this recipe or any of the recipes from The Cook & Him we'd LOVE to see! Just snap a picture and share it on Instagram using #thecookandhim and tagging @thecookandhim in the photo itself (as this guarantees we'll see your picture!
)
And don't forget to follow us on Instagram , Facebook or Twitter for even more recipe inspiration and chat, competitions, behind the scenes and so much more!
Vegetable Soup
prep: 15 mins / cook: 40 mins / inactive: 0 mins / total: 55 mins / quantity: 4 portions
Ingredients
1 large sweet potato – peeled
1 large carrot – peeled or scrubbed if skin not too gnarly!
2 parsnips – peeled
2 sticks celery – washed
1 red onion – peeled and finely diced
3 cloves garlic – peeled and crushed
3 cups of vegetable stock – or 3 cups of water and 2 veg stock cubes
500g passata
1 tblsp soy sauce
Salt and pepper
Optional
few sprigs fresh thyme OR handful fresh basil leaves
Instructions
Prepare all your washed/peeled veg by cutting into a smallish dice - about the size of your little fingernail
Put all the veg into a large saucepan along with the crushed garlic, diced red onion and the veg stock.
Optional: If you're using fresh thyme remove the leaves from the stalks and add to the pot
Bring to the boil then reduce the heat and simmer gently, stirring occasionally, for 30 minutes
Add the passata and soy sauce and bubble for a further 10 minutes.  Carefully check the seasoning and add salt and pepper to taste (you probably won't need to add too much salt because of  the soy sauce)
Optional: If you're using fresh basil, shred the leaves and stir through the soup at this point
Serve immediately or chill and refrigerate in a sealed container for up to a week or freeze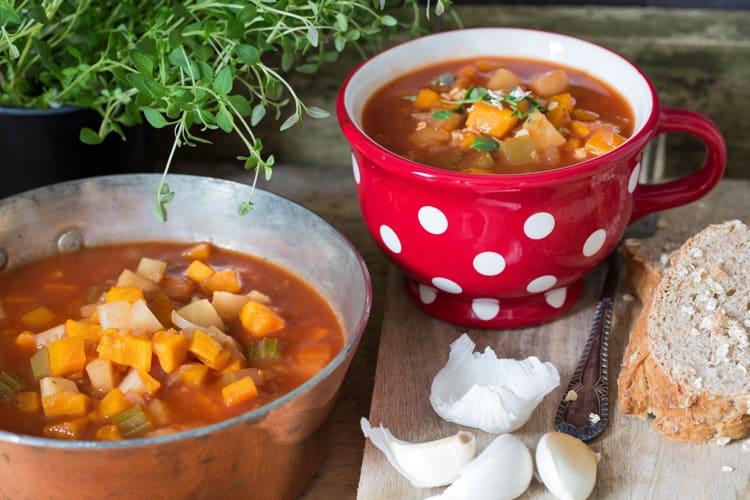 Hello and welcome to The Cook & Him.
We are Sam (The Cook), Phil (Him) and our little dog Nooch. What started with a plan to shed a few pounds back in 2016, soon became obvious that eating healthy doesn't have to be bland and boring.
So, combining Sam's 15 years of experience working within Michelin starred restaurants and our love for deliciously healthy food, we're creating recipes for you to make and enjoy. We've added our own unique spin on traditional and contemporary vegetarian and vegan recipes that keep you (and your pets!) healthy and full.  And we make sure they just work.
All things autumn - warming soups, savoury bakes and delicious sweet treats!
and I would like to see...
Or search for a recipe or post by keyword