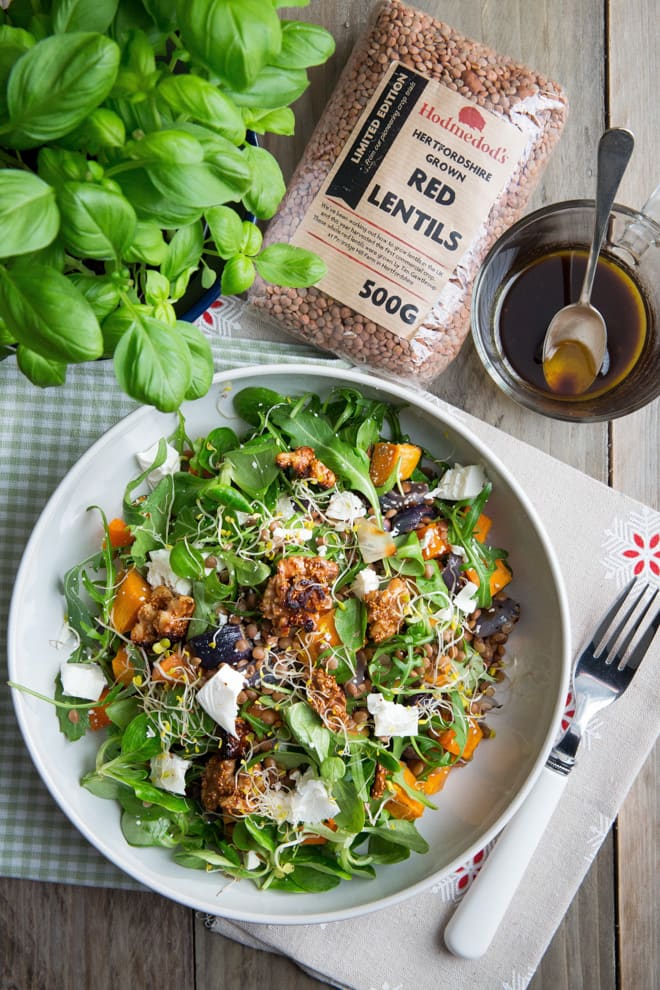 Posted in Recipes on 26.01.2018
Lentil, Roasted Veg and Feta Salad
prep: 20 mins / cook: 25 mins / inactive: 0 mins / total: 45 mins / quantity: 1 serving Print recipe?
One of the BEST and yet WORST things about being a food blogger is the food.  The sheer volume of food.  The many MANY different types of food.  Sweet.  Or savoury.  Sweet but also savoury.  The successes.  The failures.  Sometimes (but only sometimes) it all gets a bit much and you just want a bowl of something that's simple.  Using simple, healthy ingredients.
Ingredients that you KNOW without doing hours of research actually ARE healthy.  Not a healthy alternative or substitution that requires even more hours of research and practice to get a recipe right.  Ingredients that just work together.
Like salads.  I ❤ salad.  Mostly because I know it's healthy, but also because a simple salad can be just as tasty and satisfying as a big bowl of something that might have taken hours to perfect or hours to cook.  Or both.  I also ❤ salad because you can chuck practically anything together for some amazing flavour combinations and textures.
Take this Lentil, Roasted Veg and Feta Salad.  Herby roasted vegetables and creamy, salty feta cheese.  Hodmedod's protein packed very special lentils – you can read why they're special here.  And I didn't even mention those things that are the maple glazed walnuts yet.  OH.  MY.  GOSH.  Those walnuts.  I'm literally drooling as I type.  A couple of weeks ago I wrote about how I sometimes make something that I end up eating before I've actually remembered to take the photos.  Well, I've given up trying to get a better photo of these walnuts because I literally CANNOT STOP EATING THEM.  I'm at the point now where I'm hoping there's some kind of hotline I can call for this addiction.
Just 3 ingredients – walnuts, maple syrup, Hodmedod's Camelina Seeds – and literally 5 minutes of your time before you could be enjoying these babies.  Well, add another 2 minutes waiting for the little buggers to cool down because molten lava maple syrup.  I've tried them with pecans too, just as good.  As is pecans AND walnuts.  And just as good as when used on this Chocolate Orange Nutty Truffle Tart.  Told you .. addicted.
As for the salad, I could just sit with a GIANT bowl of it and nom for hours.  It's filling without bloating.  And it's so SO tasty and so full of texture.  Particularly if you actually save some of the walnuts to go with it rather than eating them straight out of the pan.
If you make this recipe or any of the recipes from The Cook & Him we'd LOVE to see! Just snap a picture and share it on Instagram using #thecookandhim and tagging @thecookandhim in the photo itself (as this guarantees we'll see your picture!
)
And don't forget to follow us on Instagram , Facebook or Twitter for even more recipe inspiration and chat, competitions, behind the scenes and so much more!
Lentil, Roasted Veg and Feta Salad
prep: 20 mins / cook: 25 mins / inactive: 0 mins / total: 45 mins / quantity: 1 serving
Ingredients
1 carrot – peeled or scrubbed clean and roughly diced
1 red onion – peeled and roughly diced
1 sweet potato – peeled and roughly diced
4 sprigs fresh thyme, leaves only
salt and pepper
Drizzle of olive oil
Optional
pinch dried chilli flakes
1/2 cup Hodmedod's Red Lentils
1/2 cup walnuts
2 tsp maple syrup
1 tblsp Hodmedod's Camelina Seeds
2-3 good handfuls of salad leaves – we love a mixture of baby salad leaves, rocket, shredded little gem, lamb's lettuce and alfalfa sprouts
50g feta cheese
Dressing
2 tsp balsamic vinegar
2 tblsp olive oil
1 tsp mustard – whatever your preference – I've used dijon, wholegrain and English and they all work!
Optional
Instructions
Preheat the oven to 180 Fan / 200 C / 400 F / Gas 6 and line a baking sheet with parchment or a silicon mat
Toss all your prepared veg and thyme leaves with a good pinch each of salt and pepper and a drizzle of olive oil (and optional dried chilli flakes)
Tip onto your prepared baking sheet and roast in the oven for 30 minutes, stirring halfway through
While they're roasting, cook your lentils by putting into a small saucepan and enough cold water to completely cover.  Bring to the boil then simmer for around 15 minutes until soft.  Drain and set aside
For the maple glazed walnuts put the walnuts, maple syrup and camelina seeds into a small frying pan and toss frequently over a medium heat until the outsides of the walnuts begin to caramelise.  Set aside to cool
Whisk together your dressing ingredients (or use a sealed container to shake together!)
To assemble put all your salad leaves into a large bowl, tip on the lentils, cooked vegetables and dressing and toss everything together until well coated in the dressing. 
Put into a serving bowl and scatter over the walnuts.  Enjoy!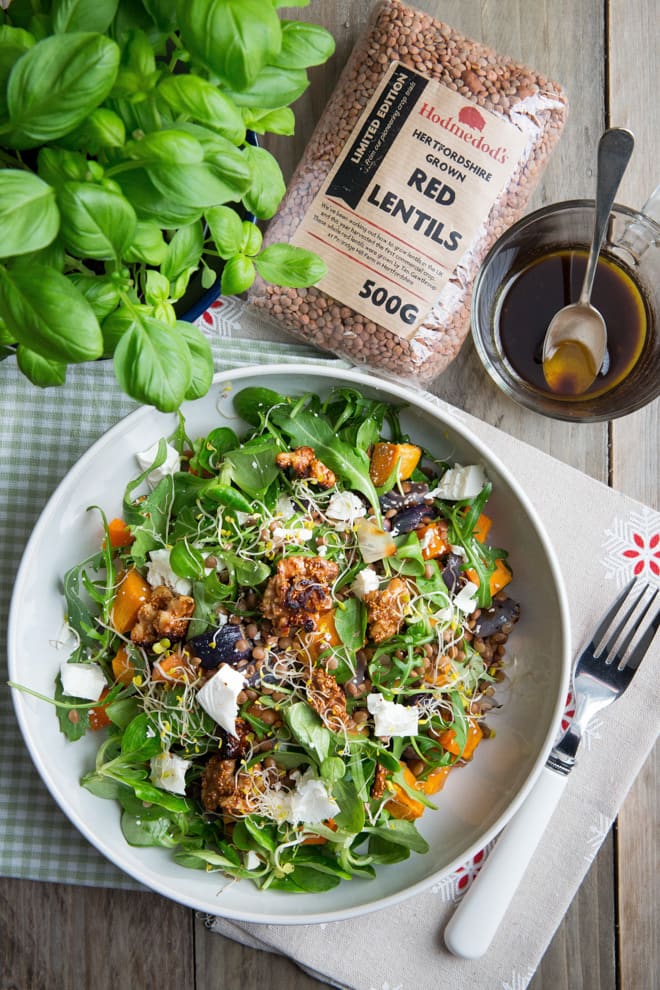 Some products I used in today's post...
Some of the links above are affiliate links, which pay us a small commission for our referral at no extra cost to you! Thank you for supporting The Cook & Him.
Hello and welcome to The Cook & Him.
We are Sam (The Cook), Phil (Him) and our little dog Nooch. What started with a plan to shed a few pounds back in 2016, soon became obvious that eating healthy doesn't have to be bland and boring.
So, combining Sam's 15 years of experience working within Michelin starred restaurants and our love for deliciously healthy food, we're creating recipes for you to make and enjoy. We've added our own unique spin on traditional and contemporary vegetarian and vegan recipes that keep you (and your pets!) healthy and full.  And we make sure they just work.
All things autumn - warming soups, savoury bakes and delicious sweet treats!
and I would like to see...
Or search for a recipe or post by keyword