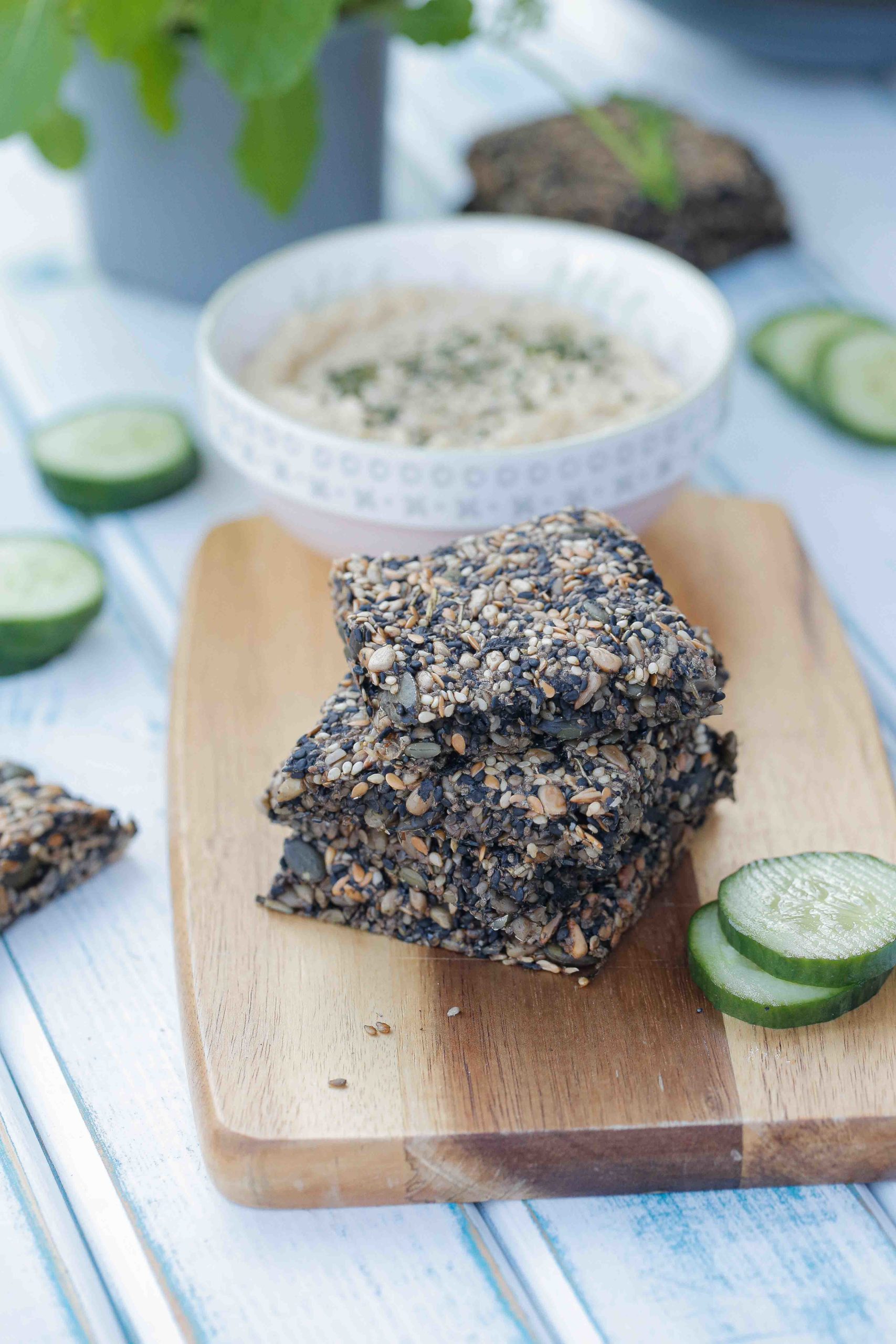 Posted in Recipes on 22.02.2023
Seaweed Snacks
prep: 10 mins / cook: 60 mins / inactive: 30 mins / total: 1 hour 40 mins / quantity: 12 crackers Print recipe?
A simple and easy seaweed snacks recipe, these healthy little crackers are full of seeds and crunchy flavour! So simple to make and perfect for mid morning hungries or after school snacks!
Are you a snacker?  Morning or afternoon?  Both?  Sweet or salty?  I find it's the afternoons that get me, something about years of working split shifts means my internal clock is famished around 3pm.  And it's a savoury snack I find myself reaching for these days.  So, in an attempt to curb my crisp addiction these seaweed snacks were born.
I also had a lot of odds and ends of seeds from various other recipes that I wanted to use up.  Plus they're healthy little things being full of nutrients, fibre and a decent amount of protein – good for keeping the hungries at bay.
Seaweed also boasts its own vitamins and minerals along with antioxidants that help protect your cells from damage.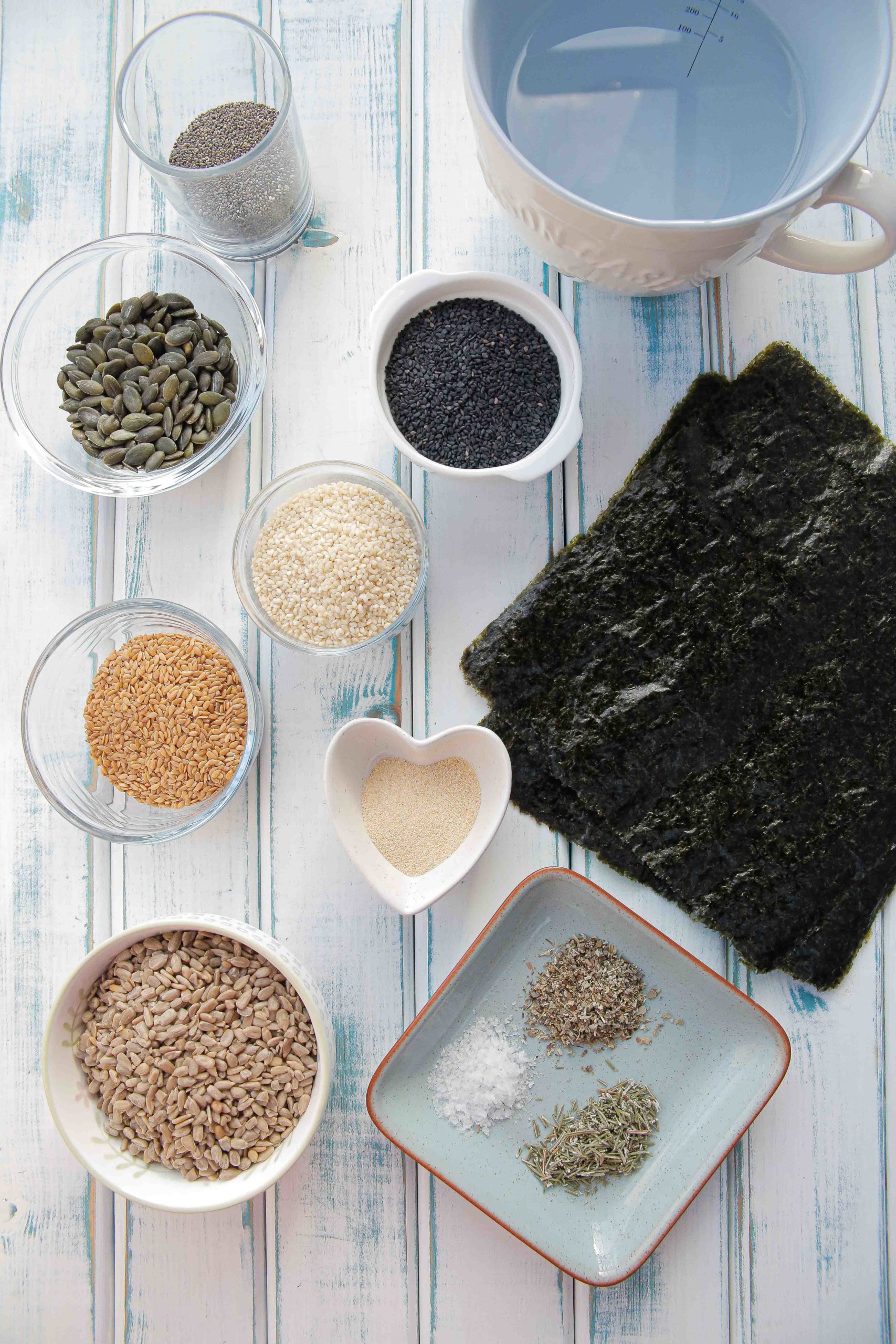 What is nori?
The particular seaweed I've used is the very readily available nori.  Dating all the way back to the 8th century Japan, Nori was a generic term used to describe lots of different types of marine life.  Nowadays nori refers to the thin, dried, edible sheets made from a species of red algae.
The most popular use for nori is as a wrap for onigiri and sushi rolls, but it can also be added to soups, noodle broths or minced with soy sauce to make a rich, flavourful paste called nori no tsukudani – a popular accompaniment to steamed rice.
Nori can be eaten on its own, though it's typically roasted before doing so.  Often with flavour additions during the roasting process such as soy sauce, sake, mirin, sugar or seasoning.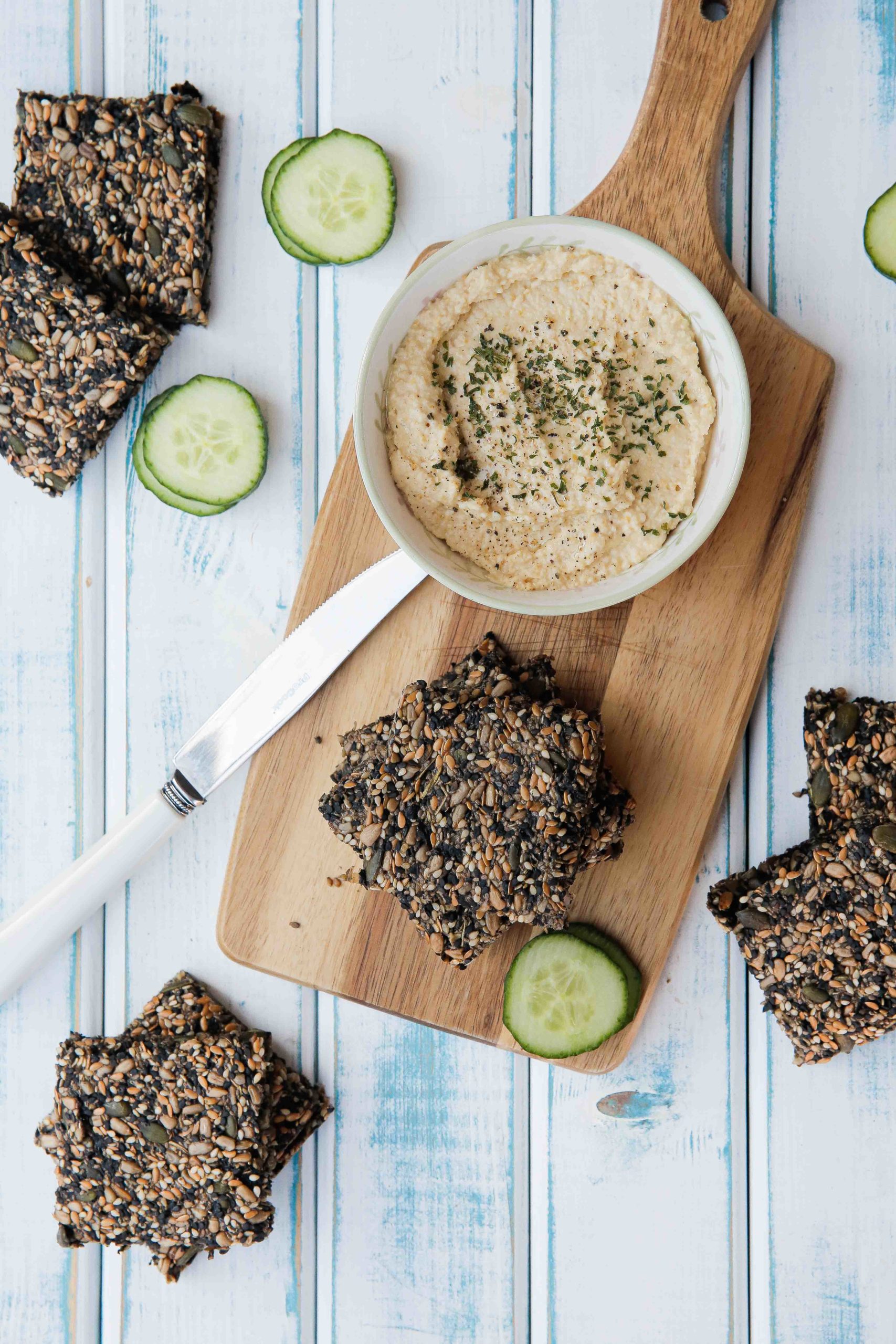 How to make these seaweed snacks:
All you need is a large bowl, spoon and a baking tray.
Start by weighing all the seeds into the bowl.  Then add the garlic and onion powder, herbs and salt and stir everything together.
Add the water, give it another stir then leave for 30-40 minutes.  The seeds will soak up the water and make a gelatinous like substance.
While they're soaking cut or tear the nori sheets into shreds or small pieces then once all the water has been absorbed stir the nori into the seeds.
Then simply spread the mixture all over a large tray.  How crisp you want your crackers will determine how thick you spread.  The thinner the layer the quicker it will cook and the more crispy it will be.  It also requires you to maintain a level of attention, nothing too much, just an occasional check on it and maybe turn the tray round a couple of times!
Spreading it thicker means it will take longer to cook and you'll end up with a softer, more chewy cracker.  I've tried these healthy snacks both ways and I honestly can't tell you which I prefer!
And that's basically it, no more work necessary!  Cut or break the cooked seaweed snacks into pieces and enjoy on their own, schmeared with hummus, nut butter, vegan cream cheese, dip in a spicy salsa or try with this minted pea guacamole.
Storing these nori snacks:
Leave to cool completely before storing in an airtight container at room temperature.  I wouldn't recommend storing in the fridge or trying to freeze them as I'm sure this would make them lose their crunch.
I love these healthy crackers – they're so easy to make, versatile with toppings, or crunchy and moreish on their own.  And way better for me than the bag of crisps I'd usually reach for!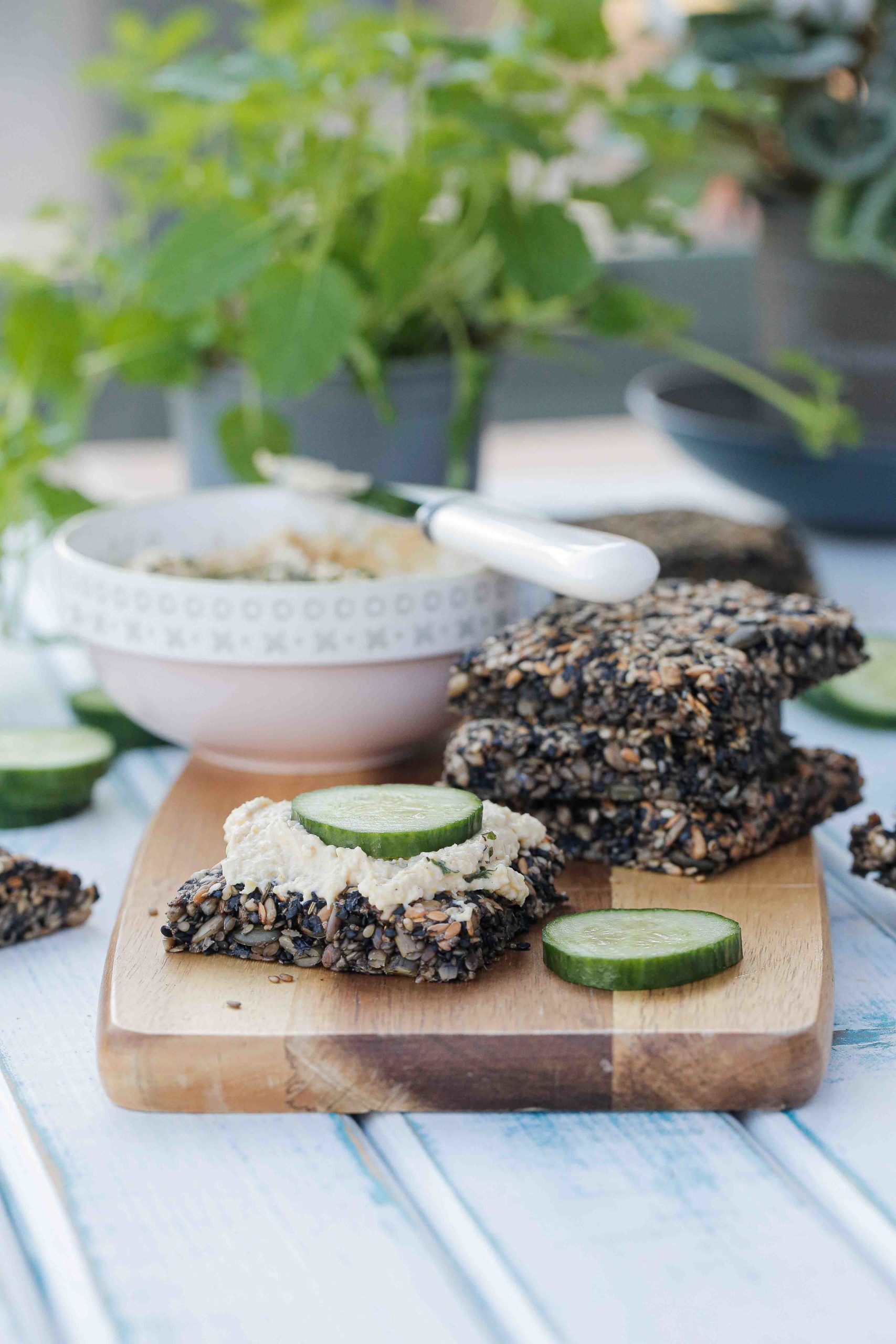 Looking for even more healthy snacks?  Try these:
Chocolate and Peanut Butter Homemade Larabars
Rainbow Vegetable Spring Rolls
If you make this recipe or any of the recipes from The Cook & Him I'd LOVE to see! Just snap a picture and share it on Instagram using #thecookandhim and tagging @thecookandhim in the photo itself (as this guarantees I'll see your picture!
)
Don't forget to follow me on Facebook or Pinterest for even more recipe inspiration and chat, competitions, behind the scenes and so much more!
Seaweed Snacks
prep: 10 mins / cook: 60 mins / inactive: 30 mins / total: 1 hour 40 mins / quantity: 12 crackers
Ingredients
1/2 cup (75g) sunflower seeds
1/4 cup (35g) pumpkin seeds
1/4 cup (35g) white sesame seeds
1/4 cup (35g) black sesame seeds (or use all white/all black)
1/3 cup (20g) chia seeds
1/3 cup (20g) whole flax seeds (also known as linseeds)
2 teaspoons garlic powder
2 teaspoons onion powder
2 teaspoons dried rosemary
2 teaspoons dried sage
1.5 teaspoons salt
1 cup (250ml) cold water
2 sheets of nori
Instructions
Place all the seeds in a large bowl and add the garlic and onion powder, dried herbs and salt. Give everything a good stir together
Add the cold water, stir again and leave for around 30 minutes until the water has been absorbed and you're left with a slightly gelatinous substance
While they're soaking cut or tear the nori sheets into shreds or small pieces then once all the water has been absorbed stir the nori into the seeds
Preheat the oven to 140 Fan / 160 C / 320 F and line a medium/large baking sheet with parchment or a silicon mat
Spread the gloopy seed mixture onto the tray - for a crispy cracker you'll want it spread no more than 5mm thick
Bake for around 1 hour, turning the tray roughly every 15-20 minutes
If you want neatly cut crackers around half way thorough the baking, cut into the size you want with a sharp knife or pizza wheel. Alternatively leave until cold then snap into more rustic shapes!
Leave to cool, break apart completely and store in an airtight container at room temperature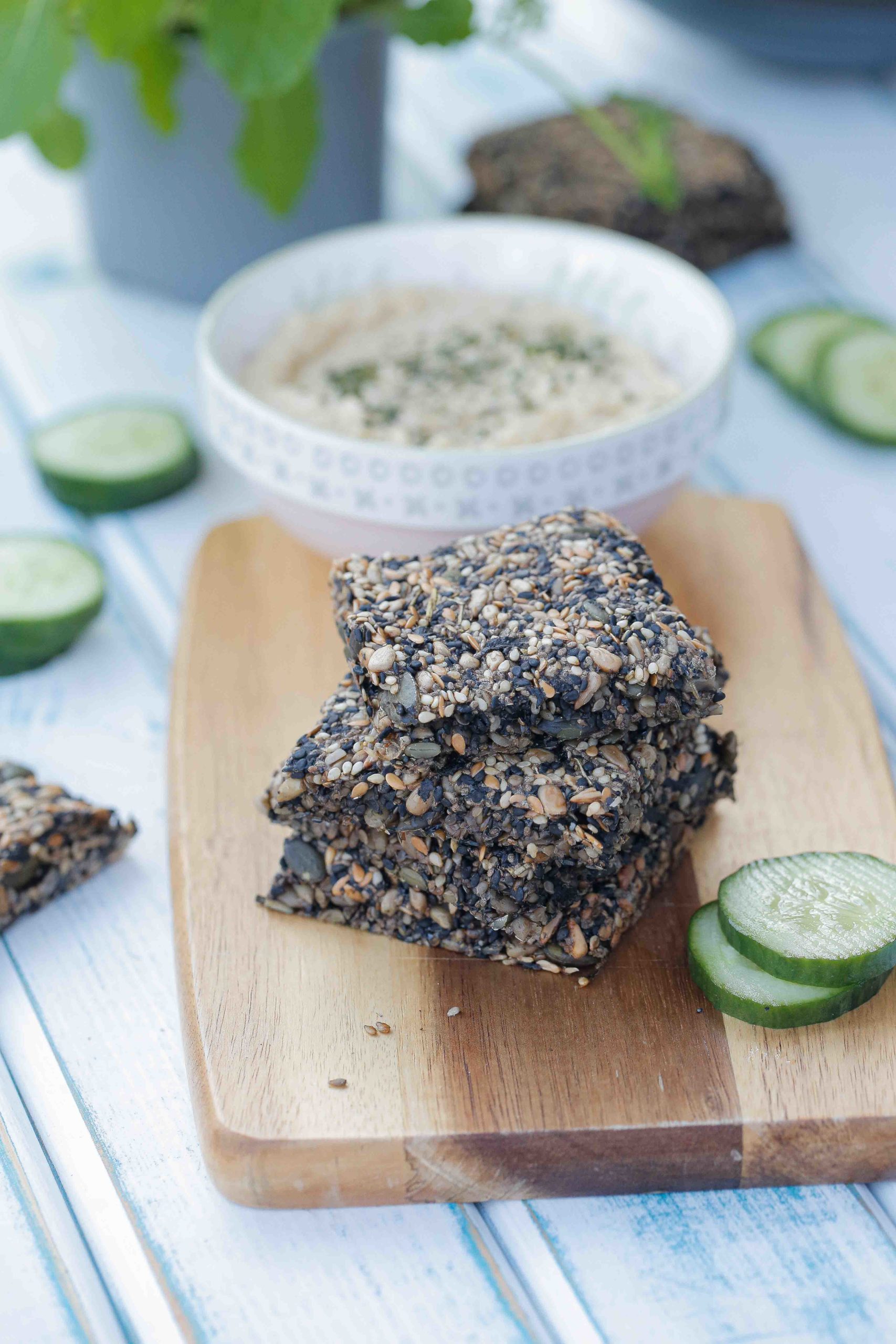 Hello and welcome to The Cook & Him.
We are Sam (The Cook), Phil (Him) and our little dog Nooch. What started with a plan to shed a few pounds back in 2016, soon became obvious that eating healthy doesn't have to be bland and boring.
So, combining Sam's 15 years of experience working within Michelin starred restaurants and our love for deliciously healthy food, we're creating recipes for you to make and enjoy. We've added our own unique spin on traditional and contemporary vegetarian and vegan recipes that keep you (and your pets!) healthy and full.  And we make sure they just work.
All things autumn - warming soups, savoury bakes and delicious sweet treats!
and I would like to see...
Or search for a recipe or post by keyword