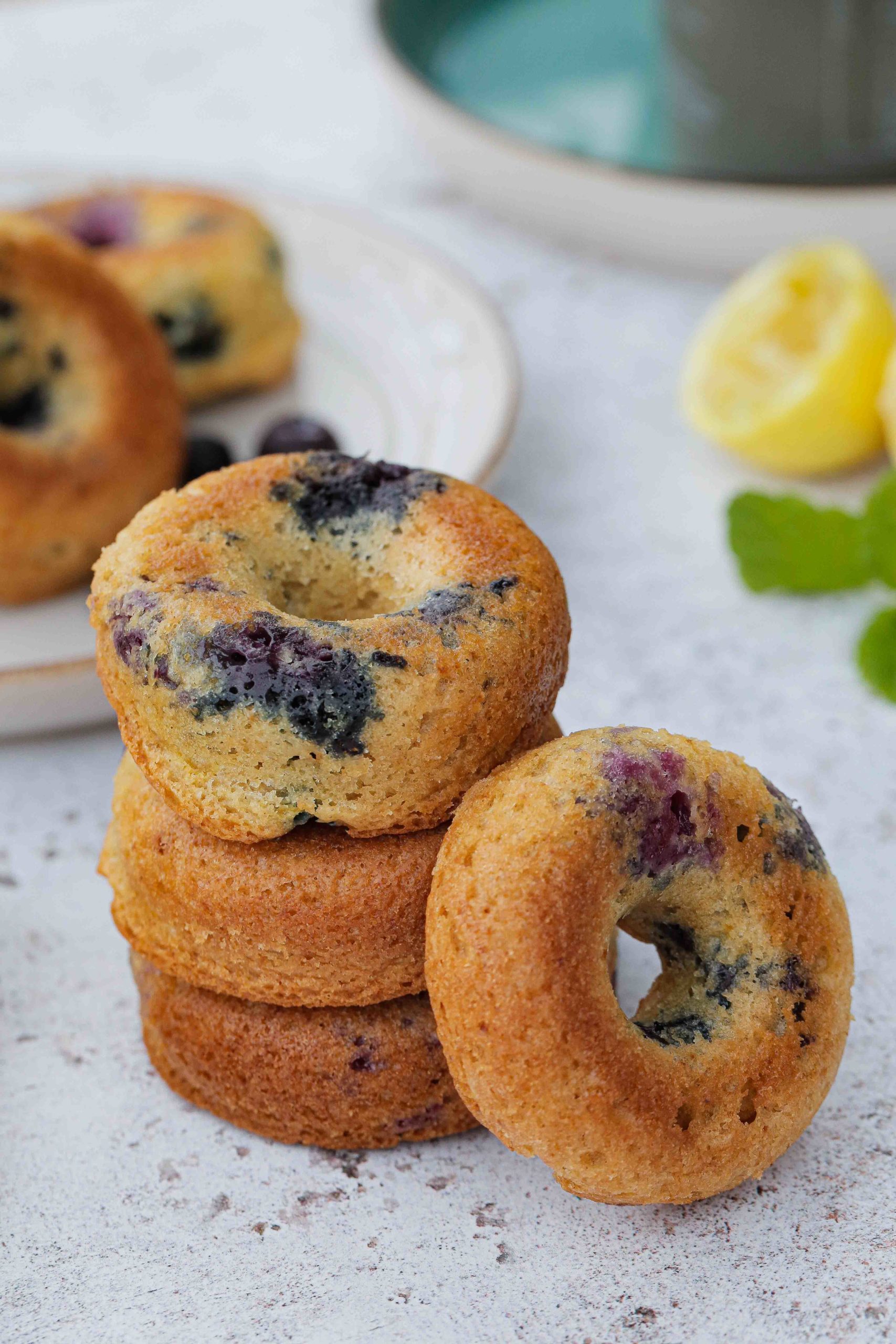 Posted in Recipes on 04.02.2023
Lemon and Blueberry Baked Donuts
prep: 20 mins / cook: 20 mins / inactive: 0 mins / total: 40 mins / quantity: 16 donuts Print recipe?
These baked donuts, flavoured with lemon and studded with juicy blueberries are squidgy perfection!
I'm not going to call these homemade donuts healthy donuts because they've still got an amount of sugar in them.  BUT.  They are baked donuts rather than fried and I chose to leave them un-iced or unsugared which honestly doesn't hurt them one bit.  They're sweet enough thanks to the golden caster sugar I've used – though regular caster sugar will do just fine too – and allows the lemon and naturally sweet blueberries to shine.
They're non yeast, more cake donuts which means they're super simple and quick to make. And they're absolutely delicious warm or cold with a cuppa for breakfast or an afternoon vegan treat!
And with the lovely lemon and blueberry flavours there's just a tiny hint of spring to them.  Something I think many of us could do with right now.  The last couple of months have been COLD.  I don't remember being this cold even living in the caravan last year!  I love WHERE I live now, but I really do miss actually living in the caravan.  It was so cosy and so much easier to heat and keep clean!
Ingredients for donuts:
Vegan yoghurt – I love the Alpro Greek style yoghurt.  Thick, creamy and so tasty.  I can eat this stuff by the spoonful!
Blueberries – I've used frozen but fresh blueberries will also work.  The first time trying out this baked donuts recipe I mushed the blueberries before adding them to the donut batter.  But that really didn't work, the donuts stuck to the silicon donut moulds, didn't rise properly and looked awful!  Still edible, just looked like I didn't care haha!
Lemon – I've used the zest and juice to really bring that lovely lemony tang!
Golden caster sugar – less refined than regular caster sugar and contains molasses, giving it a slightly more caramel like colour and flavour. If you don't have it, regular caster sugar is just as good for these blueberry donuts!
How to make these easy vegan baked donuts:
A simple donut batter needing just two bowls – or one bowl and one jug!
Step 1.  In a small bowl or jug mix together the oil, milk, yoghurt and lemon zest and juice.
Step 2.  In a larger bowl mix together the dry ingredients – the flour, sugar, baking powder and bicarb.
Step 3.  Mix the wet ingredients with the dry to make a smooth donut batter.  Use a whisk or spatula and mix up from the bottom of the bowl so that no 'pockets' of flour remain
Step 4.  Spoon the mixture into a piping bag and pipe into your donut moulds, filling each one roughly 2/3 full.  I use these silicon donut moulds and just brush a little oil inside each recess before piping in the mixture.  You could pour the batter into the moulds if you don't have a piping bag – it is a little extra faff and a bit more time consuming.  If using silicon moulds rather than solid tins you'll want to put them on a baking tray as well as they're just too floppy to transport to and from the oven and sit on the shelves unaided!
Step 5.  Push a few blueberries into the batter of each donut.  4-5 blueberries per donut is plenty.
Step 6.  Bake in a preheated oven for around 20 minutes until golden and set.  They should be springy to the touch.
Step 7.  Allow to cool for 5-10 minutes before removing from the mould onto a cooling rack.  Gently ease each donut out of its recess.
Step 8.  Consume immediately or allow to cool and store in an airtight container.  They also freeze really well!
Looking for even more vegan donut recipes?  Try these:
Fried Donuts with Grapefruit Curd
If you make this recipe or any of the recipes from The Cook & Him I'd LOVE to see! Just snap a picture and share it on Instagram using #thecookandhim and tagging @thecookandhim in the photo itself (as this guarantees I'll see your picture!
)
Don't forget to follow me on Facebook or Pinterest for even more recipe inspiration and chat, competitions, behind the scenes and so much more!
Lemon and Blueberry Baked Donuts
prep: 20 mins / cook: 20 mins / inactive: 0 mins / total: 40 mins / quantity: 16 donuts
Ingredients
1/4 cup (70ml) light vegetable oil
1 cup (240ml) non-dairy milk
1/2 cup (120g) vegan yoghurt
1 lemon – grated zest and juice
2 cups (330g) plain flour
1 cup (200g) golden caster sugar – or sub with regular caster sugar
1 + 1/2 teaspoons baking powder
1 teaspoon bicarbonate of soda
1 cup (150g) blueberries – fresh or frozen
Equipment:
Donut moulds – I used these silicon moulds
Disposable piping bags
Instructions
Preheat your oven to 180 Fan / 200 C / 400 F and lightly brush some oil round each of the recesses in your donut moulds. If using silicon moulds place them on baking trays for support
In a small bowl or jug whisk together the oil, milk, yoghurt, grated lemon zest and juice
In a large bowl whisk or stir together the flour, sugar, baking powder and bicarb
Add the wet ingredients to the bowl of dry and stir or whisk until well mixed - stir up from the bottom of the bowl making sure there are no flour pockets remaining
Spoon the batter into a piping bag, snip the end off - you only need a smallish hole - and pipe the batter into the moulds, filling each one roughly 2/3 full
Bake for 20 minutes until puffed and golden and springy to the touch
Allow to cool for 5-10 minutes before carefully removing from the moulds onto a cooling rack
Eat immediately while still warm or allow to cool and store in an airtight container either at room temperature or in the fridge
These donuts can also be frozen - defrost at room temperature. A quick zap in the microwave warms them up a treat too!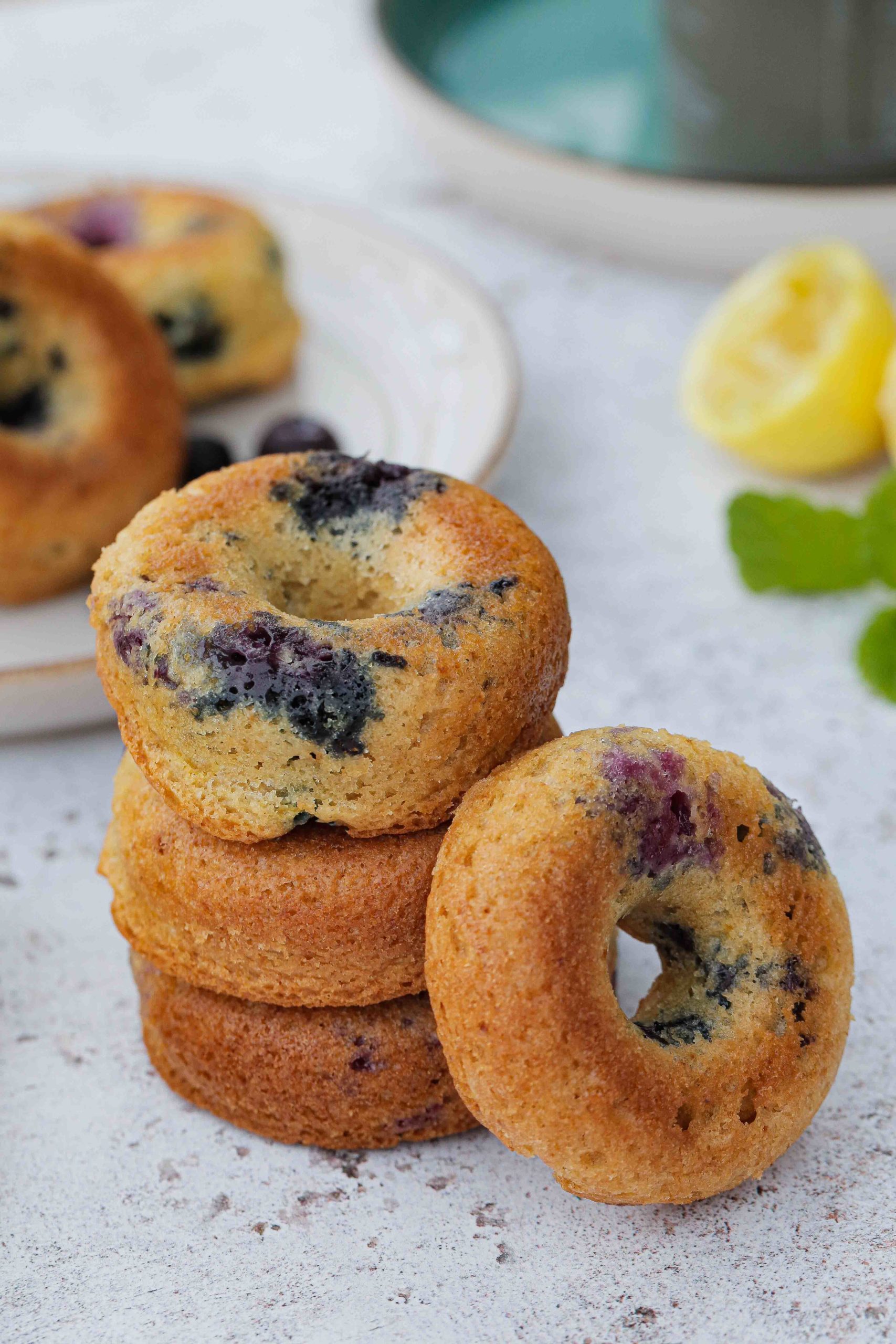 Hello and welcome to The Cook & Him.
We are Sam (The Cook), Phil (Him) and our little dog Nooch. What started with a plan to shed a few pounds back in 2016, soon became obvious that eating healthy doesn't have to be bland and boring.
So, combining Sam's 15 years of experience working within Michelin starred restaurants and our love for deliciously healthy food, we're creating recipes for you to make and enjoy. We've added our own unique spin on traditional and contemporary vegetarian and vegan recipes that keep you (and your pets!) healthy and full.  And we make sure they just work.
All things autumn - warming soups, savoury bakes and delicious sweet treats!
and I would like to see...
Or search for a recipe or post by keyword