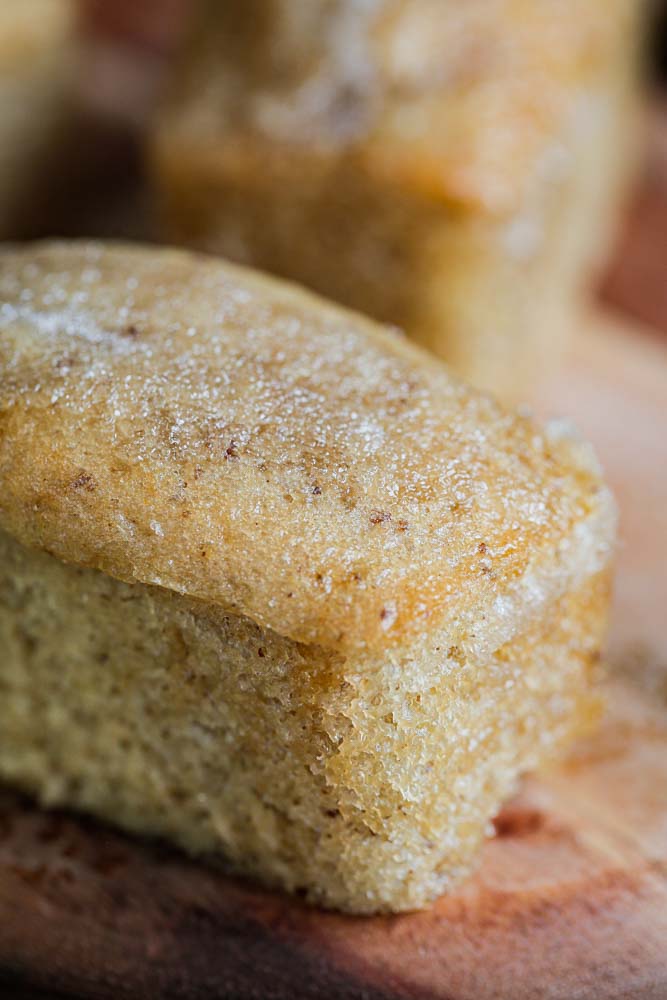 Posted in Recipes on 06.09.2021
Lemon Drizzle Mini Loaf Cakes
prep: 20 mins / cook: 30 mins / inactive: 0 mins / total: 50 mins / quantity: 12 mini loaf cakes Print recipe?
Dinky little vegan lemon drizzle mini loaf cakes. Full of zesty flavour with a sticky sweet lemon drizzle. Perfect lunchbox, picnic or because it's Tuesday sweet treat!
Ironically I'll almost alway choose chocolate something for dessert.  And every time I have something lemony I always disproportionately enjoy it.  Phil loves anything tart.  Saying that he also loves anything sweet.  Or savoury.  But having long been a fan of lemon drizzle cake and having some Foodie Flavours lemon flavouring and no lemons (gasp!) I thought I'd try something a bit different.  And I've not used my mini loaf tin for far too long.  So mini lemon drizzle loaf cakes were born.
Aren't mini loaf cakes just the cutest?  One hotel I worked at I used to make fresh bread mini loaves for the guest's tables, where they'd cut and butter it themselves on a little wooden board.  THE cutest!
And yes, lemon drizzle cakes without a single lemon do actually taste totally legit lemon drizzle.  Much like this Jamaican Ginger Cake or this Raspberry Meringue Pie or even this Thai Coconut Curry, Phil couldn't believe they didn't contain the main ingredient that gave them their name and flavour.
And that's one of the main reasons I love Foodie Flavours.  You may not have a specific ingredient, especially if it needs to be fresh, but that doesn't mean you have to lose out on something you fancy.  Oh and it's very easy to control the strength of flavour with these little bottles.  They're highly concentrated so a little goes a long way and you can really pack a punch of flavour.
How to make mini loaf cakes:
Well first and foremost you'll need a mini loaf tin.  You can make these into muffins and bake in muffin cases but where's the fun in that 😉
To make the cake start by mixing the ground flax seeds with 3 tablespoons of water.  This is called a flax 'egg'. Set it aside to thicken and become gloopy!
In a bowl or jug whisk together the rest of the wet ingredients.  That's the yoghurt, oil, milk, vinegar, Foodie Flavours lemon drops and vanilla.
In a large bowl mix together the dry ingredients.  The flour, baking powder, bicarbonate of soda and caster sugar.
Mix the jug of wet ingredients along with the flax egg into the dry.  Mix well, stirring up from the bottom of the bowl to make sure you don't leave any flour pockets.
Pour into your tin.  Divide the mixture equally  between the holes – this mixture makes 12 lemon drizzle mini loaves in total.  You may wish to grease your tin first – just brush with a little margarine or lightly spray with oil.  If your tin is relatively new you shouldn't need to do this.  The beauty of this tin is its loose bottoms, so you can just push up from the bottom of the tin to remove your little loaf cakes.
Bake for 25-30 minutes.  The cakes should be springy to touch and lightly golden.  You can test if the cakes are cooked by inserting a skewer or cocktail stick into one of the mini loaves.  If it comes out clean with no raw cake clinging to it the cakes are cooked.  If not, just return to the oven for a few more minutes until cooked through.
While the cake is baking make the lemon drizzle.  Put the demerara sugar, water and Foodie Flavours lemon drops into a bowl and stir together.
When the cakes are cooked remove from the oven.  Poke a couple of holes in each cake then immediately spoon or brush over the drizzle, coating each cake well with the syrup.
These are just divine warm with some vegan vanilla ice cream or whipped vegan cream – Elmlea has a fab whippable vegan cream!  These mini lemon drizzle loaf cakes also store very well in an airtight container at room temperature.
Looking for more lovely vegan lemon recipes?  Try these:
Lemon and Herb Orzo with Roasted Tomatoes
I'd also love to hear from you if you make this Lemon Drizzle Mini Loaf Cakes! Just leave a comment as it's so helpful and I love to hear how the recipe worked out for you! Thank you so much!
Don't forget to follow us on YouTube, Facebook or Pinterest for even more recipe inspiration and chat, competitions, behind the scenes and so much more!
Lemon Drizzle Mini Loaf Cakes
prep: 20 mins / cook: 30 mins / inactive: 0 mins / total: 50 mins / quantity: 12 mini loaf cakes
Ingredients
Cake:
1 tblsp ground flax seeds
3 tblsp water
3/4 cup (170g) vegan plain yoghurt
1 cup (250ml) plant milk
1/4 cup (55ml) light vegetable oil
2 tsp apple cider vinegar
30 drops Foodie Flavours lemon flavouring
1/2 tsp Foodie Flavours Gorilla Vanilla
2 cups (350g) plain flour
2 tsp baking powder
1/2 tsp bicarbonate of soda
1 + 1/4 cups (250g) caster sugar
Drizzle:
Equipment:
Instructions
Preheat your oven to 180 Fan / 200 C / 400 F / Gas 6
In a small bowl mix together the ground flax seeds with the water and set aside
In a jug or bowl whisk together the yoghurt, vegetable oil, milk, vinegar, lemon drops and vanilla
In a large bowl mix together the flour, baking powder, bicarbonate of soda and sugar
Add the yoghurt and milk mixture along with the flax water (also known as a flax egg) to the bowl of dry ingredients and stir everything together well. Stir up from the bottom of the bowl to catch any flour 'pockets'!
Divide the mixture equally among the loaf tin holes and bake for 25-30 minutes until lightly golden, well risen and springy to the touch
While they're cooking mix together the ingredients for the drizzle and set aside
Once the mini loaf cakes are cooked poke a couple of holes in each cake and generously spoon or brush over the lemon drizzle
Allow the cakes to cool for 10 minutes then carefully remove from the tin, pushing up from the bottom with the loose bases
Serve immediately while still yummy and warm with vegan vanilla ice cream or whipped vegan cream or allow to cool completely before storing in an airtight container and keeping at room temperature
Notes
You can also freeze these little cakes! Allow to defrost thoroughly before eating. You can also warm them up in a microwave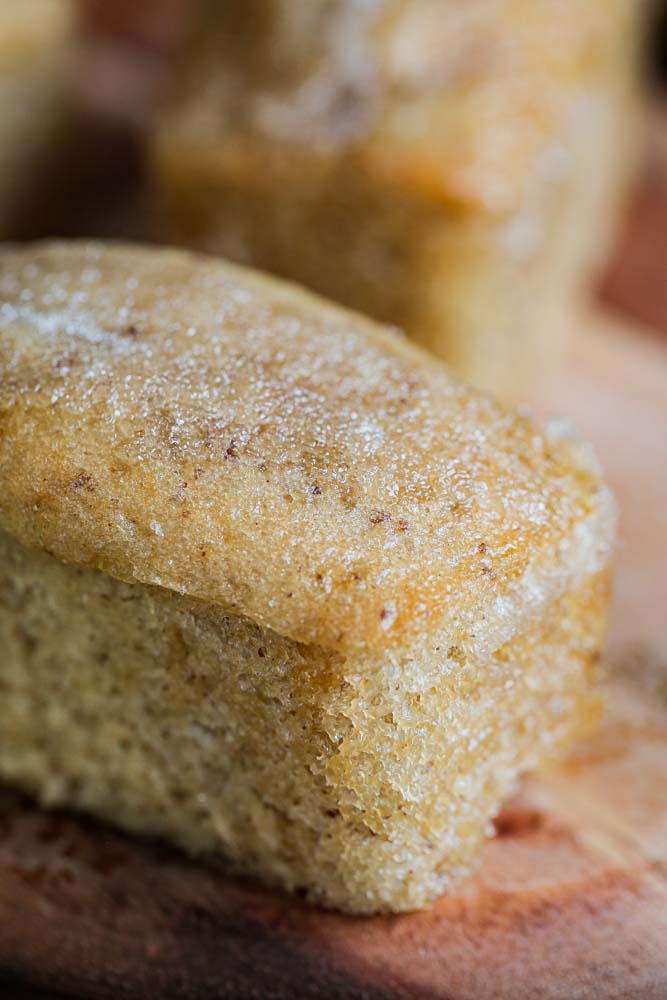 Hello and welcome to The Cook & Him.
We are Sam (The Cook), Phil (Him) and our little dog Nooch. What started with a plan to shed a few pounds back in 2016, soon became obvious that eating healthy doesn't have to be bland and boring.
So, combining Sam's 15 years of experience working within Michelin starred restaurants and our love for deliciously healthy food, we're creating recipes for you to make and enjoy. We've added our own unique spin on traditional and contemporary vegetarian and vegan recipes that keep you (and your pets!) healthy and full.  And we make sure they just work.
All things autumn - warming soups, savoury bakes and delicious sweet treats!
and I would like to see...
Or search for a recipe or post by keyword