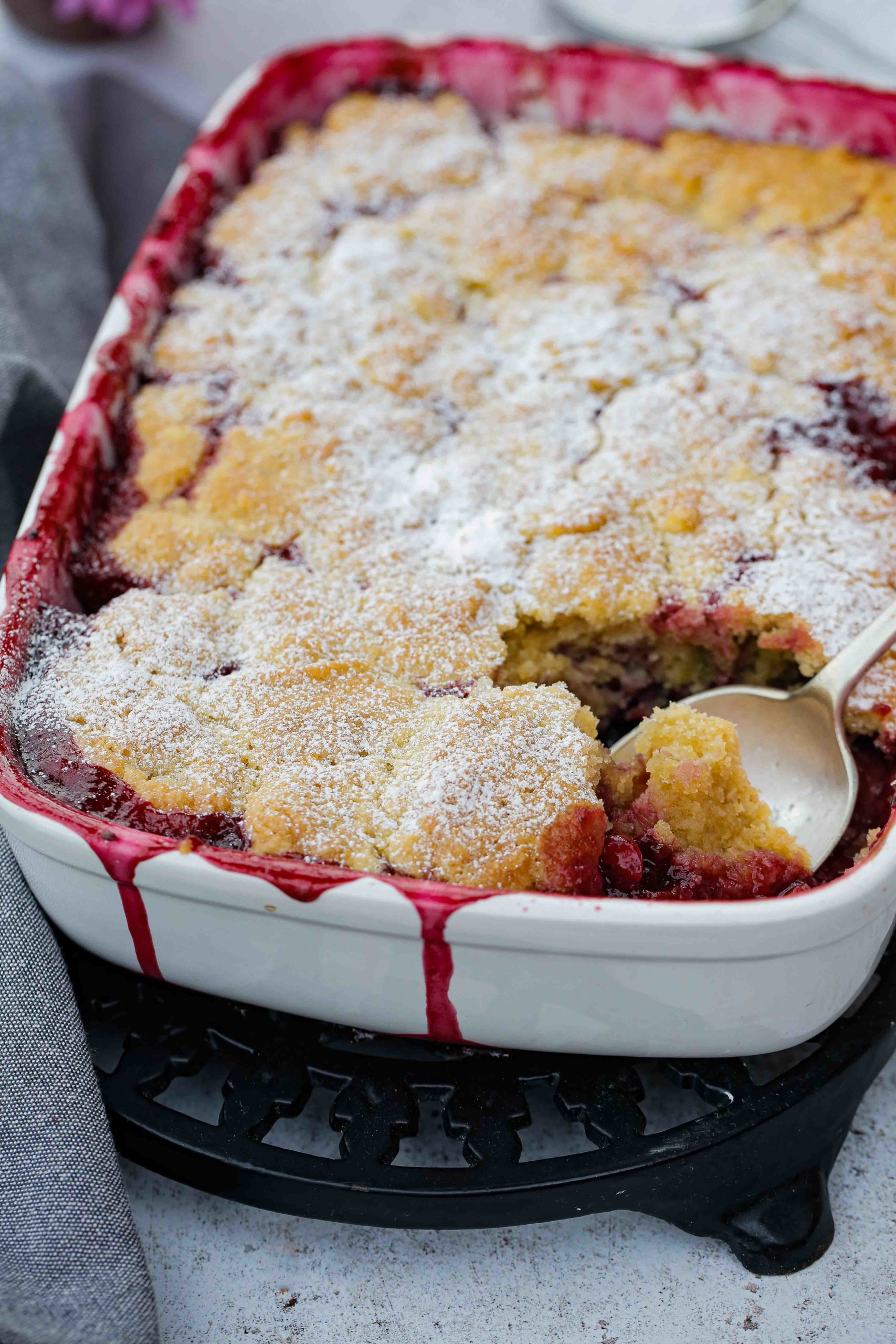 Posted in Recipes on 09.11.2022
Quince and Berry Cobbler
prep: 20 mins / cook: 40 mins / inactive: 0 mins / total: 60 mins / quantity: 8 portions Print recipe?
Ripe quince and juicy berries cooked in a sticky sweet syrup then topped with a rich, buttery and crisp cobbler. Perfect for using up any frozen summer berries. Just add vanilla ice cream to this berry cobbler for the perfect late summer or autumn dessert!
I cannot believe it's been almost a year since I posted anything new.  So much has happened and yet I feel like I've come full circle with posting recipes again!  I won't bore you with all the gory in between details but in short, Phil and I are irrevocably no longer together, I still have Nooch and Baxter and I'm no longer living in a caravan. instead I found my way to the most gorgeous village filled with the most honest to goodness loveliest people. I've also rediscovered my love of recipe creation and development and thus was born this quince and berry cobbler!
Because speaking of lovely neighbours, one very kindly brought me some quince from the tree in her garden, having heard along the village grapevine that I quite enjoyed cooking!  Yep, it's THAT kind of village.
Quince is an odd fruit.  It looks sort of like a knobbly pear.  And the flesh inside can be quite coarse and tough with only a couple of varieties able to be eaten raw.  Their flavour is somewhere between an apple and a pear and if you put them in a fruit bowl they have the most wonderful smell!
I had a bag of frozen berries that had been lurking in the freezer since my summer smoothies that I just wanted to get used up.  And I fancied doing something a bit different to a crumble – remembering fondly this apple and blackberry cobbler from last autumn.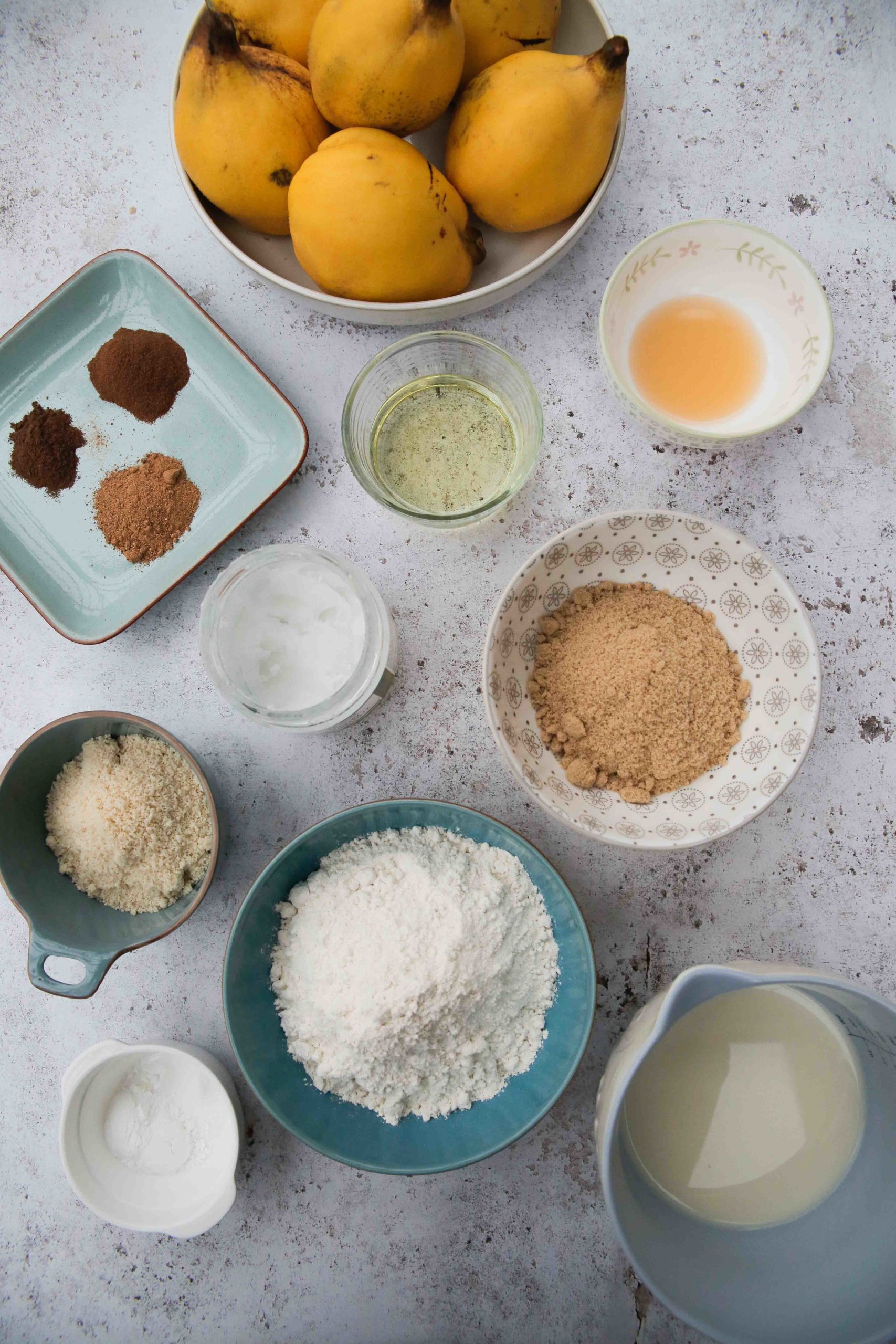 How to make this easy berry cobbler:
Start with the fruit.  Peel and cut around the core of the quince.  The core is VERY woody and quite a bit thicker than a pear or and apple.  It's up to you how you chop the flesh, I simply cut it into wedges.
Make a sugar syrup by bringing the sugar, water, lemon juice and zest to a boil then adding the quince.  Cook this for about 10 minutes until the flesh is just starting to soften then add the berries and vanilla.  The cooking time here depends on whether you're using fresh or frozen fruit.  For frozen fruit you'll need to bubble them for another 10 minutes, for fresh, just 5 minutes.  Ideally you want the berries to still retain some shape rather than be mush!
Using a slotted spoon or similar scoop the fruit out of the pan (it doesn't matter if a few stray berries remain!) then rapidly boil the liquid for around 5 minutes until it's thicker and more syrupy.  This syrup acts as a sort of sauce in the finished berry cobbler and is quite delicious!
Once the syrup is thicker add the berries back and give a good stir then tip into your prepared baking dish.
For the cobbler topping:
Rub the butter into the flour using the tips of your fingers until you have no large lumps of butter remaining.  You want a very course looking sand texture.  Stir in the sugar then the milk to make a soft, slightly sticky dough.
Dollop (technical term) various sized pieces of the dough on top of the berries and quince until they are completely covered.  Bake for 30 minutes until the cobbler part of the berry cobbler is golden and just firm to the touch.  One tip – unless you're using a MUCH deeper dish than you need put the baking dish on a tray before putting it in the oven.  The juice from the fruit will bubble over and we don't want anyone's ovens ruined 😉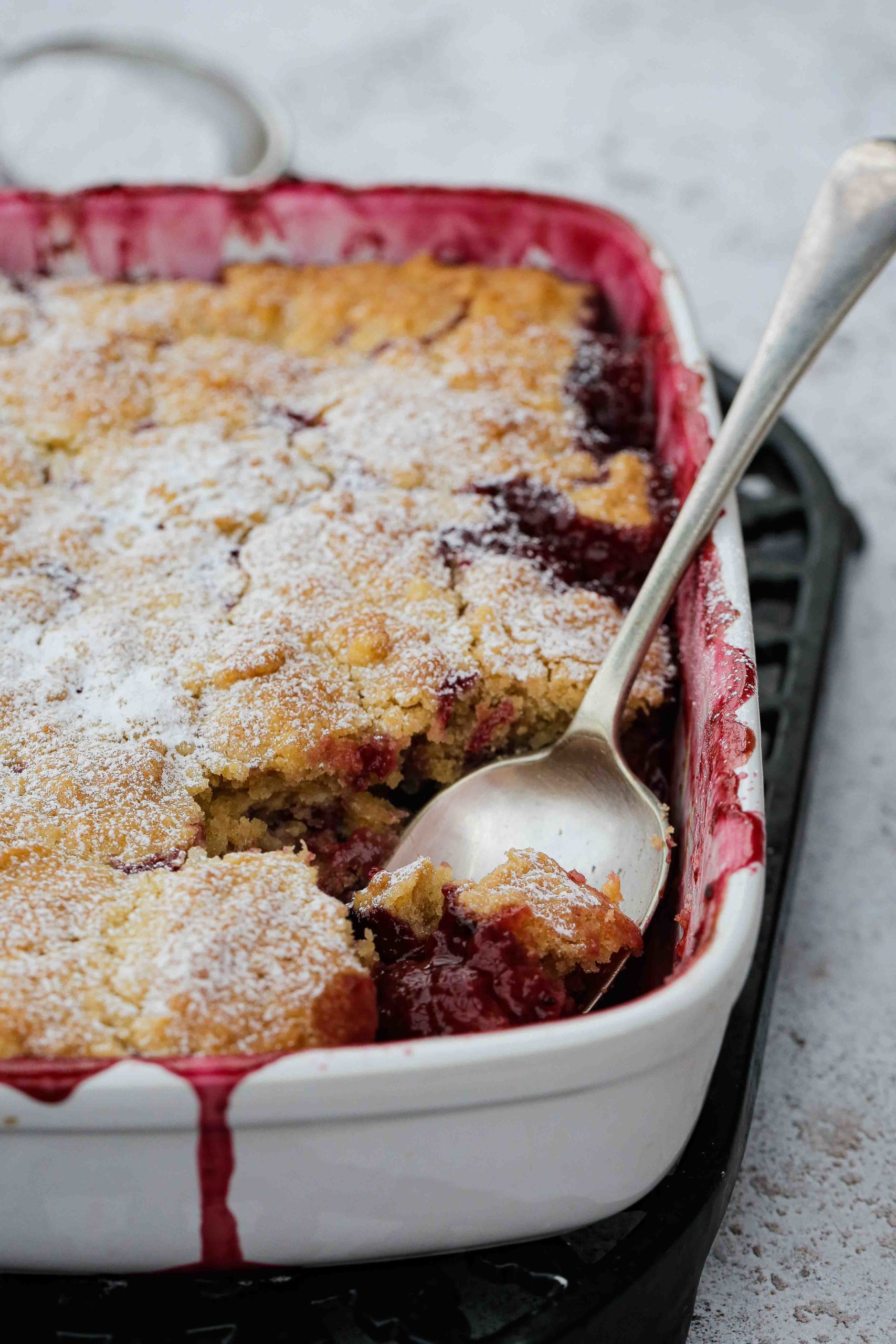 Looking for more deliciously comforting vegan desserts?  Try these …
Vegan Basbousa – this is wonderful with custard!
I'd also love to hear from you if you make this Quince and Berry Cobbler Just leave a comment as it's so helpful and I love to hear how the recipe worked out for you! Thank you so much!
Don't forget to follow along on Instagram, Facebook or Pinterest for even more recipe inspiration and chat, competitions, behind the scenes and so much more!
Quince and Berry Cobbler
prep: 20 mins / cook: 40 mins / inactive: 0 mins / total: 60 mins / quantity: 8 portions
Ingredients
Fruit:
1 cup (250g) sugar
1 cup (250ml) water
1 lemon – grated zest and juice
3 quince – peeled, core removed and flesh sliced or diced
approx 3 cups (500g) berries – fresh or frozen – can use a mix or one type of berry
1 teaspoon vanilla
Cobbler Topping:
1 + 1/2 cups (200g) plain flour
200g vegan block butter
1/2 cup (125g) sugar
1/4 cup (65ml) non-dairy milk (I used oat milk)
Instructions
Pour the sugar and water for the fruit into a large saucepan along with the lemon juice and zest and bring to a boil
Add the prepared quince and cook for 10 minutes until the fruit just beginning to soften
Add the berries and the vanilla. If using frozen fruit bubble for a further 10 minutes, for fresh cook for another 5 minutes
Using a slotted spoon or similar remove the berries from the syrup (it doesn't matter if a few stray berries remain!), increase the heat and boil rapidly for 5-10 minutes until the liquid has thickened and become more syrupy
Return the berries to the pan, stir together then tip into a baking dish
Preheat your oven to 180 Fan / 200 C / 400 F / Gas 6
In a bowl put the flour and butter then rub the two together using your fingertips until no large lumps of butter remain and you've got what looks like very coarse sand
Stir in the sugar then the milk and mix to a soft, sticky dough
Drop lumps of the dough on top of the berries in the baking dish until they are completely covered with the dough
Put the baking dish on a baking tray then pop in the oven for 30-35 minutes until the cobbler topping is golden and just set
Allow just a few minutes to cool before serving
Notes
Vegan vanilla ice cream or pouring cream go very well with this berry cobbler!
Leftovers can be kept in the fridge and warmed in the microwave or oven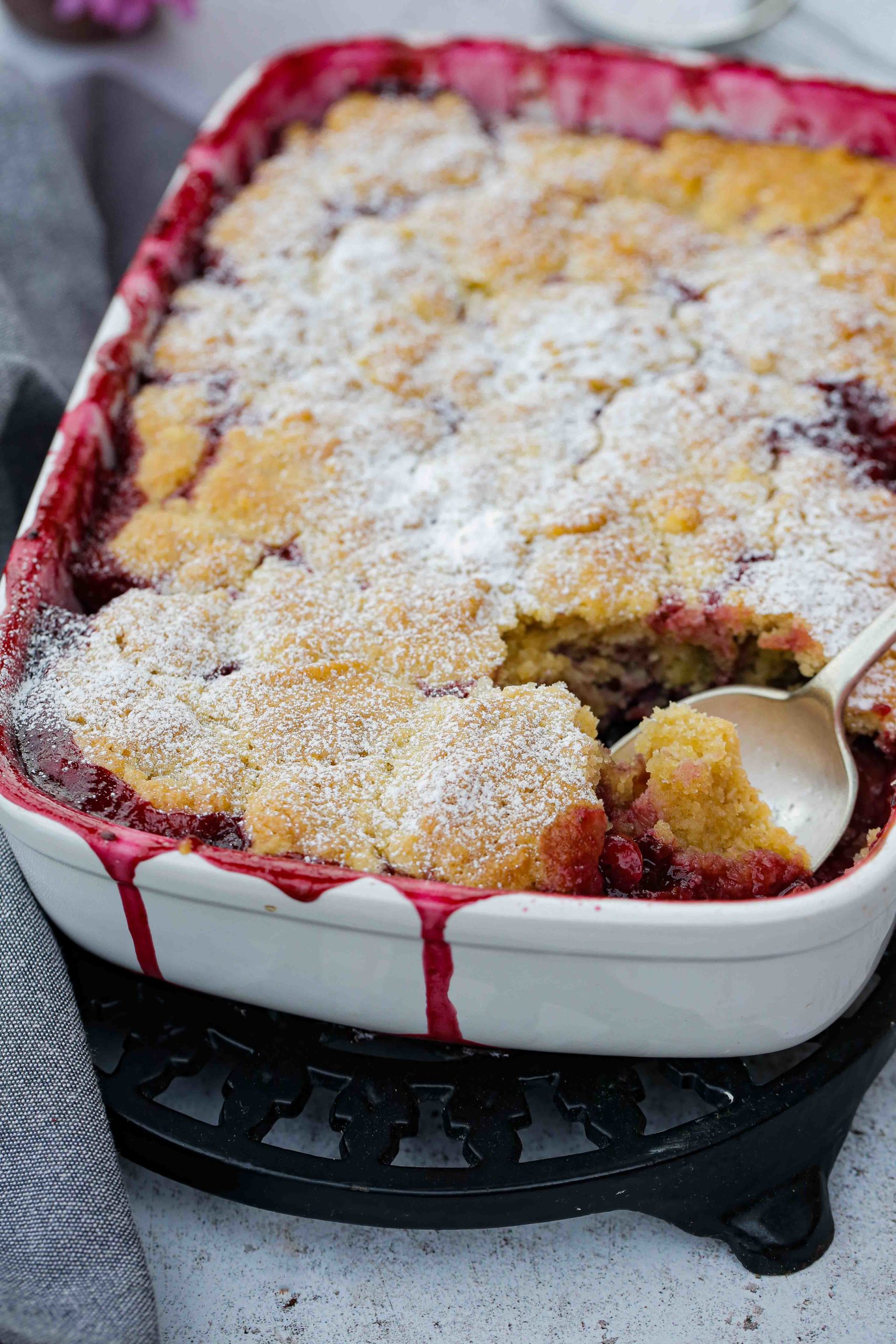 Hello and welcome to The Cook & Him.
We are Sam (The Cook), Phil (Him) and our little dog Nooch. What started with a plan to shed a few pounds back in 2016, soon became obvious that eating healthy doesn't have to be bland and boring.
So, combining Sam's 15 years of experience working within Michelin starred restaurants and our love for deliciously healthy food, we're creating recipes for you to make and enjoy. We've added our own unique spin on traditional and contemporary vegetarian and vegan recipes that keep you (and your pets!) healthy and full.  And we make sure they just work.
All things autumn - warming soups, savoury bakes and delicious sweet treats!
and I would like to see...
Or search for a recipe or post by keyword