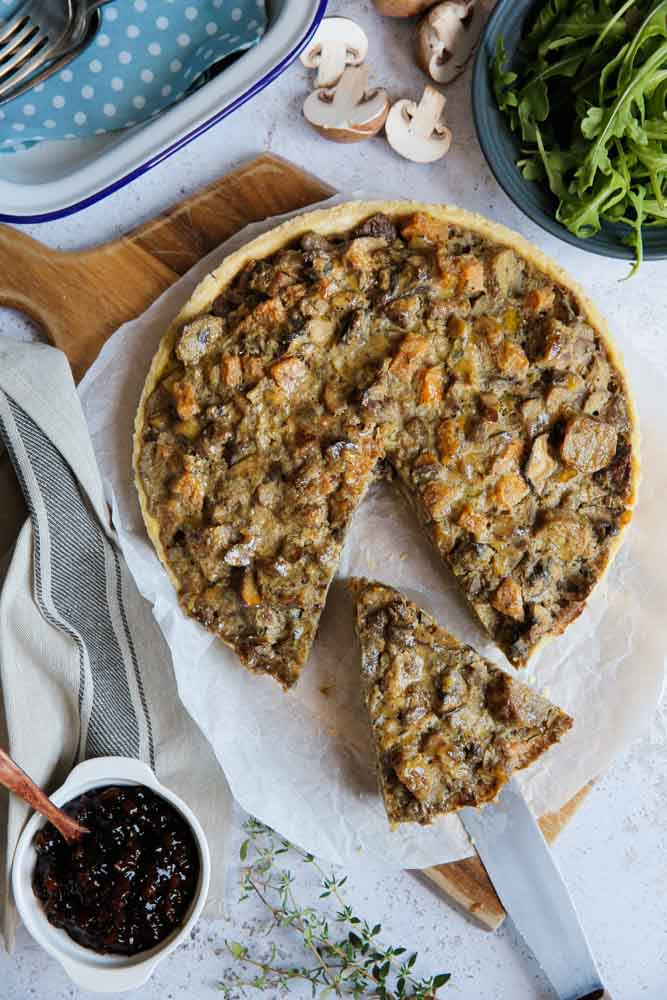 Posted in Recipes on 06.12.2021
Mushroom Chestnut and Cumberland Tart
prep: 30 mins / cook: 20 mins / inactive: 0 mins / total: 50 mins / quantity: 8 portions Print recipe?
Crammed with veggies, herbs, spices and vegan sausage this mushroom tart is brimming with flavour and would make the perfect Christmas centrepiece!
Long gone are the days of a vegan alternative for Christmas being the good old nut roast.  Supermarkets have some great vegan alternatives but I always prefer to make something myself.  And this mushroom tart is deceptively easy to make but tastes beyond good.  And nothing says you care quite like home cooking.  Well, at least that's what I think anyway.  But then again, I am a feeder through and through 😉
This mushroom tart may also become a firm favourite week after week for your Sunday roast! It really is so easy to make and can be prepared in advance and either cooked or reheated later.
How to make a simple vegan tart:
For this recipe I've included making your own pastry. This really isn't as difficult as it might sound.  Especially if you have a food processor.  This takes all the elbow grease and messy fingers out of the equation!  BUT you can also use ready rolled shop bought pastry.  It's very good and takes some of the pressure off.
The tart will need to be part baked to cook and 'set' the pastry before adding the filling and cooking to delicious perfection!  I always freeze my pastry straight after rolling and lining the tart tin.  This means no faffing with parchment and beans and minimal shrinkage!
Mushroom Tart Filling:
I've crammed in a few veggies because not only are they good for you (because THAT'S what we all think about at Christmas of course!) but they are also full of flavour.  And I've used black garlic for a milder, umami flavour than regular garlic.  If you can't get hold of any feel free to use normal garlic, the tart will still taste great!
We've also got cooked chestnuts in this vegan tart recipe.  Simply because I love them and they sort of scream (in a quite voice, if that's possible) all things hearty, nourishing and well, seasonal.
As this tart is egg free the thing I've used to bind it all together so it's not just a pile of veggies and stuff in a tart case is vegan cream cheese, cream and ground flax seeds.  I tried a few different combinations (hummus, chickpea flour) but this held everything together and gave it an almost egg set like quality once it's baked.
Honestly, I'm drooling as I'm writing about this tart.  I so need to make it again.  This is one of the best and worst things about food blogging.  All the new recipes that are constantly going through my kitchen.  Which also means there's not often time to make some of the older ones.
There are a few that live on in daily eating – mostly breakfast stuff – granola, baked oats.  And some are just so quick and easy that Phil enjoys making them – Instant Pot Mac and Cheese, Creamy Tomato Tagliatelle.  But with several incarnations of a recipe getting made to make it perfect there's a constant flow of new food.  And if it's a meal rather than breakfast or a treat (mmmmm cake) I make sure to include it in the meal plan.  Do you meal plan?  I can't live without it.  I love the structure.
But if you're looking for something different for a meal I really recommend this mushroom tart.  It makes a few portions and freezes really well.  And of course it's a great vegan Christmas recipe – whether you're cooking for all vegans or just a few.  Or even visiting ones!  Whoever it is, I promise they'll appreciate something that's so tasty and of course homemade.
Looking for more vegan meal ideas for Christmas or .. whenever!? Try these:
Pumpkin Lasagne with Sage and Walnut Pesto
Butternut Squash and Gnocchi Bake
Vegan Enchiladas with Spinach and Lentils
I'd also love to hear from you if you make this Mushroom Chestnut and Cumberland Tart! Just leave a comment as it's so helpful and I love to hear how the recipe worked out for you! Thank you so much!
Don't forget to follow us on YouTube, Facebook or Pinterest for even more recipe inspiration and chat, competitions, behind the scenes and so much more!
Mushroom Chestnut and Cumberland Tart
prep: 30 mins / cook: 20 mins / inactive: 0 mins / total: 50 mins / quantity: 8 portions
Ingredients
Pastry:
1 + 1/2 cups (200g) plain flour
2 tblsp (20g) cornflour
1/2 cup (110g) vegan butter
1/2 tsp salt
Filling:
4 vegan Cumberland sausages
1/2 small butternut squash – peeled, seeds removed and flesh roughly diced
2 whole bulbs of black garlic – roughly chopped
1 stick celery – finely diced
1 tblsp vegan butter
2 cups (130g) shiitake mushrooms – sliced
2 cups (130g) chestnut mushrooms
few sprigs of thyme – leaves only (or sub 1/2 tsp dried)
few sprigs of rosemary – needles only, roughly chopped (or sub 1 tsp dried)
1 cup (180g) cooked chestnuts – roughly diced or crumbled
3 tblsp nutritional yeast
1/2 cup (125g) vegan cream cheese
1 tsp miso paste
good pinch each of salt and pepper
1 cup (250ml) vegan cream
2 tblsp ground flax seeds
8 inch (20cm) loose bottomed pie or tart tin
Instructions
To make the pastry put all the ingredients into a food processor and whizz until you have what looks like fine sand or breadcrumbs
Add enough cold water, a tablespoon at a time to make a soft but not sticky dough
Tip the dough onto your work surface and roll out to fit an 8 inch (20cm) loose bottomed tart tin. Prick the base all over with a fork then freeze for at least 30 minutes
While the tart case is freezing make the filling
In a large pan cook the sausages until browned all over, using a little oil if necessary
Once cooked, remove the sausages and set aside
In the same pan add the butternut squash and cook for 2-3 minutes over a medium high heat until it's just starting to caramelise. Add in 1 cup of water, put on a lid and bubble for 5 minutes until the squash is just softened
Add the chopped garlic and celery to the pan and saute for 1 minute
Melt in the butter then add both the mushrooms and cook until slightly softened
Stir in the herbs, chestnuts and nutritional yeast, then melt in the cream cheese and miso paste
Add a good pinch each of salt and pepper then stir in the cream and ground flax seeds
Chop the cooled sausages then add those back to the pan
Put the frozen tart case in the tin onto a baking tray and cook at 180 Fan / 200 C / 400 F / Gas 6 for 15 minutes
Remove from the oven and tip in the filling - it will be a very full pie!
Bake the tart at the same temperature for 20-25 minutes until set and lightly golden
Serve immediately or chill and reheat when needed
Notes
You can also freeze this pie. Portion once cooled and wrap well. Defrost and reheat thoroughly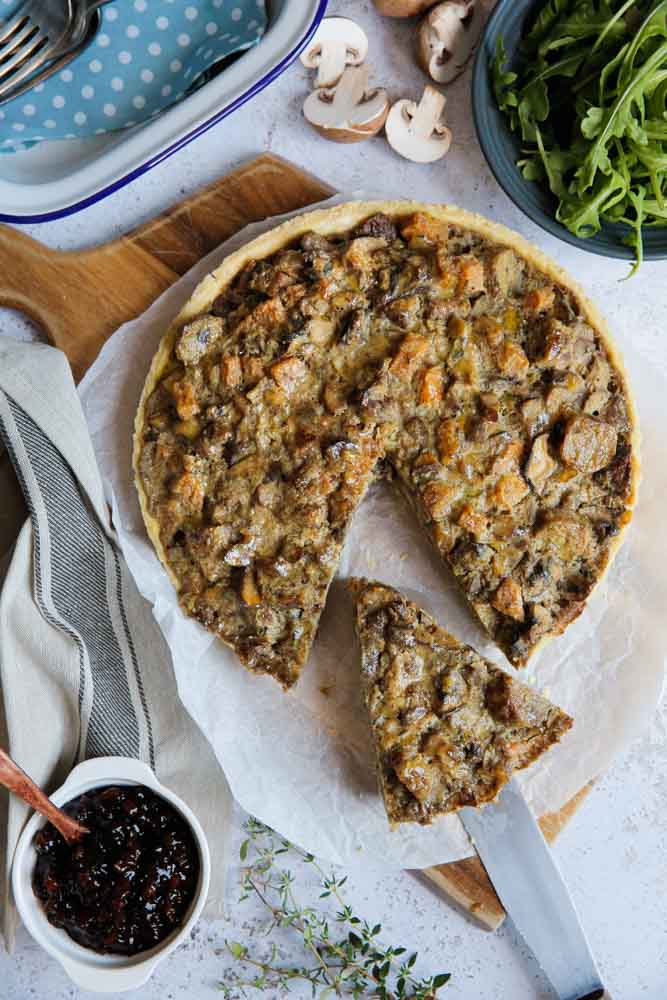 Hello and welcome to The Cook & Him.
We are Sam (The Cook), Phil (Him) and our little dog Nooch. What started with a plan to shed a few pounds back in 2016, soon became obvious that eating healthy doesn't have to be bland and boring.
So, combining Sam's 15 years of experience working within Michelin starred restaurants and our love for deliciously healthy food, we're creating recipes for you to make and enjoy. We've added our own unique spin on traditional and contemporary vegetarian and vegan recipes that keep you (and your pets!) healthy and full.  And we make sure they just work.
All things autumn - warming soups, savoury bakes and delicious sweet treats!
and I would like to see...
Or search for a recipe or post by keyword